by Priscilla Howe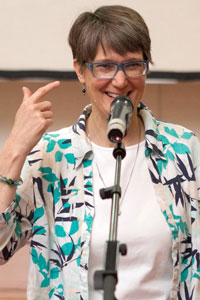 What is that? See it, down there, under ages of dust and grime, just a glint of gold? Pick it up, use your shirttail to wipe it off. Wow! What a marvel! Needs a bit of cleaning, polishing, maybe a small repair or two, but it's all there, a new story from the depths of tradition.
I've found great satisfaction in bringing old stories to light, specifically (though not limited to) long-form traditional stories. I started with Tristan and Iseult, not a terribly obscure story but one that is rarely told. In a remainder bin at a bookstore, I'd found a paperback edition by Joseph Bédier. One day while casting about in my office for a new story to tell, I picked it up and read it in one gulp.
Despite an archaic quality to the written language, I fell in love with this epic tale of good luck, bad choices, giants, dragons, fools, betrayal and of course, Romance. Call me fickle, but I later fell in love with another Medieval tale, Queen Berta and King Pippin, and now have a dalliance with Amleth, better known to audiences since the 1590s as Hamlet.
Falling in love with the story, though, is only the first step. From there, we have to go farther, to create a story worth telling and worth hearing. Long-form traditional stories, generally at least an hour long and sometimes much longer, can be a rewarding challenge.
How do you tackle a long traditional story? What are the cultural considerations? How do you craft the language for modern audiences without jarring them or boring them? What do you do with conflicting versions? How do you practice the story? How do you break the work into manageable bits? How do you find the stamina for the performance? Where are the venues for stories like this? Will people really listen? What works? Those are questions we'll consider in my workshop this summer in Phoenix/Mesa, Bringing Old Tales to Light: Long-Form Traditional Stories.
Many years ago, Liz Warren, Olga Loya and I started Going Deep, the long traditional storytelling retreat, because we wanted to tell long-form stories and play with the questions they raise. We found many storytellers who yearned to tell and hear this kind of deep story, but didn't know where to start. We found storytellers who already tell long traditional tales and wanted a place to perform them and to talk about the process. We can't cram an entire retreat into a workshop session, but we can at least catch a glimpse of that gold under the dust and grime. Hope to see you in Arizona!
About Priscilla
Priscilla travels the world with a headful of stories and a bagful of puppets. She has been a full-time storyteller since 1993, after five years as a storytelling librarian. Priscilla is thrilled beyond belief that she has been awarded a Fulbright Scholarship to do folktale research for five months in Bulgaria in 2015. Priscilla also coaches other storytellers (in person and on Skype), writes, hangs out with puppets and is on a lifelong quest for the best restaurant pie on earth (fruit, not cream).
Contact Priscilla
Email: Facebook: https://www.facebook.com/pages/Priscilla-Howe-Storyteller/77498847062
Website: www.priscillahowe.com