by Adah Hetko, guest editor for New Voices (Katie Knutson)
The "Bayit," the home of Jewish Life at Vassar College, sits right outside Vassar's gate. On an evening in November, we set the Bayit's parlor with a circle of chairs ready to welcome students, administrators, members of the surrounding community… and their stories.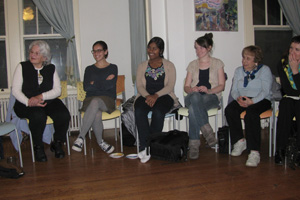 The event was an interfaith story circle: a collaboration between Vassar's Office of Religious and Spiritual Life and the Dutchess County Interfaith Story Circle. The November story circle was one of several storytelling events that I have had the opportunity to facilitate at Vassar during the past few months. As a teenager I trained with Children at the Well-Youth Storytellers for Peace & Understanding (jump-started by NSN's 2006 Brimstone Award for Applied Storytelling). In college, I continued telling stories and engaged in interfaith organizing, but never combined the two. When I graduated from Oberlin College, and was hired as the Tanenbaum Inter-religious Fellow at Vassar, I was curious to see how I could use storytelling in my work to build community on campus and support students' exploration of identity. Six months into this experiment, here are my thoughts.
Let's return to the Bayit's parlor. A change from the often tightly structured and hierarchical classroom environment, the circle of chairs was both welcoming and challenging. As the students and community members found seats, there was an initial discomfort. Then, they began to look into one another's faces and smile. Once the storytelling began, full attention was given to each teller in turn. This intense focus generated a shared creative current with the energy flowing around the circle rather than from one speaker.
From this centrifuge, the stories flowed. The theme of the evening, "travel," carried us from international flights and death-defying escapes to family road trips and summertime journeys. The first student to share a story later told me that she wasn't sure how her story would be received. In the process of describing her transitions between home and college that included her religious practice, she became aware of the particularity of her experience, and adjusted her story to make it more accessible to the diverse audience. I thought that it took great courage for her to acknowledge the differences in the room, and make her story so accessible. Later, she told me that the process of sharing her story had actually given her courage. She had also gained a greater appreciation for the community surrounding Vassar. With this ethos of discovery, it's no surprise that the evening was filled with laughter, an expression of both relief and delight.
So far, storytelling has burst the "bubble" of a tight-knit campus. Telling and listening to stories has helped Vassar students to reframe their experiences and absorb an enriched sense of what is relevant to their lives. Storytelling has empowered them to appreciate the present moment as well as one another, and the larger community. What more could you want from an education?
Following the story circle, a storytelling workshop, and a storytelling-infused Shabbat service, students were abuzz with ideas for using storytelling elsewhere on campus: to build community in residence halls, to personalize coursework in International Relations, and to help survivors of violence articulate their experiences. While I don't know how many of these ideas will come to fruition, I'm glad to have planted the seed of story.
About Adah:
Adah Hetko, a founding member of Children at the Well Youth Storytellers for Peace and Understanding, has performed and facilitated storytelling in a variety of settings. Adah graduated from Oberlin College in 2013, and currently works as the Inter-religious Fellow with Vassar College Religious and Spiritual Life.