By Katie Green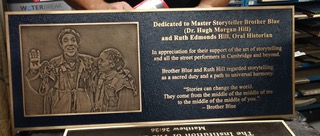 Hugh Morgan Hill, known as Brother Blue, referred to Ruth Edmonds Hill, his wife, as his angel. I never saw Brother Blue perform without Ruth nearby. Many people said that Blue would have floated up and away without Ruth. She was the centering, or grounding energy, necessary for Blue to share his creativity. We are blessed to still have Ruth among us. She is widely respected for her many contributions in oral history.
Brother Blue passed away on November 3, 2009. As we stood around chatting after Brother Blue's funeral in November 2009, several of us spoke of wanting to have a permanent piece of public art in Harvard Square. We didn't want to let him go. We wanted to preserve his love for story forever. We envisioned a bronze statue that captured Blue's rhythm. And, of course, there would be a statue of his beloved wife, Ruth Hill, seated nearby.
When I was first knew I was a storyteller in the early 1980's, I heard Brother Blue do an interview with Miss Wunderlich on NPR's WGBH. I was teaching a special class for children with language learning difficulties. The story lifted my spirits and reminded me that my work makes a difference. Years later, I taught a course for teachers at Fitchburg State College (now University). Every year, I started the first class by playing a video of Brother Blue telling Miss Wunderlich.
Although I lived about an hour away from Cambridge, I often drove into the city to attend the weekly storyswap that Brother Blue hosted. During the years, the location changed, but Blue's love of stories and his appreciation of the tellers was constant. Seasoned storytellers as well as people who might never have had told a story glowed in the effusive praise that Blue gave. He always found something positive to say about the telling, and it was clear that his praise was from the heart. Blue's effervescent energy and love of life was transformative. He had a deep and unfiltered love of life, and he knew that storytelling keeps people connected. He often said that stories come from God, for God, and of God. "Storytelling is a sacred act."
The thought of a piece of public art was kicked around for years in the New England storytelling community. Nothing came of it, other than keeping our memories of Blue alive. I moved to Florida in 2017, and I was surprised to realize how much I missed the storytelling in New England. My longing for storytelling was the incentive that motivated me to revive the dream of public art to honor Brother Blue and Ruth Hill. Numerous people had expressed excitement about the project. Some offered ideas. A few offered to help make it happen. Robert Smyth of Yellow Moon Press and poet Carol Burnes kept me going though several years. Robert Smyth and Bruce Marcus acted as the primary contacts "on the ground" with the Cambridge officials. As it turned out, the cost of creating and maintaining bronze statues was beyond our pocketbooks and Cambridge's financial budget. We decided to have a bronze plaque created. After several years of interacting with city officials and learning who to talk with, the plaque was designed.
On July 11, 2021, the centennial of Brother Blue's birthdate, the plaque was placed at the site in Brattle Square where Blue and Ruth were frequently seen. The city of Cambridge created a fantastic dedication ceremony. Strings of blue butterflies decorated the umbrella tables. The event was complete with speakers, music, food, and dancing. Ruth Hill unveiled the plaque and spoke about her experiences. Robert Smyth of Yellow Moon Press sold some of his books about Brother Blue for donations. This allowed a donation of $200 to be sent to the National Association of Black Storytellers in Brother Blue and Ruth Hill's names.
I am so very happy to have a part in making this happen. Knowing Blue and Ruth has enriched my life immensely, and taught me a great deal about the power of storytelling.
www.katiegreenstories.com