by Kristin Pedemonti
Joy is contagious in a good way.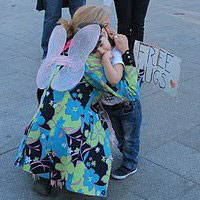 Whether it's Blowing bubbles on Subways, offering Free Hugs, or sharing Stories world wide that connect culture; I seek to build bridges between people, to illustrate we are more similar than we are different.
Arriving on stage on my Big Wheel, I announce "We all arrive in different ways!" Indeed we do. We are all on a journey called life. We all meet challenges along the way. Even out of darkness we can arrive to brighter times. I was 3 pounds when born and they called in the Priest for last rites. I was born into a family filled with depression; a suicidal father, anxiety ridden mother, and – by the time he was 13 – alcoholic brother (who this year celebrates 20 years of sobriety!) When I left home at age 18, I made a decision; to search out JOY wherever I could find it.
The Journey was not without obstacles; however, there was a realization when searching for JOY, when focusing on JOY, often JOY is what one will see.
Free Hugs hold Super Power. True Story:
I had just finished my monthly Free Hugs in Union Square, NYC and was walking back to Harlem where I lived; I saved subway fare by walking as often as possible. I saw a woman sitting on the pavement, her shopping cart to her side piled high with her possessions, her shoes worn to nearly nothing. I got out my Free Hugs sign and approached her: I smiled gently and asked if she would like a hug. She looked at me with disbelief. "You'd hug ME?" I opened my arms and walked closer to her, "if you want a hug, absolutely." She reached out for the hug and then told me she had not been touched in almost 20 years. I hugged her tighter. I apologized to her that I had no money to give her that day and she responded that the hug I'd just given was worth more than any amount of money.
JOY Shared Through STORYTELLING!
It's important to me to share my JOY through story. In 2005, I sold my home and most of my possessions to Found/Facilitate volunteer project Literacy Outreach Belize; to date I have donated programs for 33,340 children in Belize and trained 800 teachers and librarians to use their own indigenous legends in schools. Unbeknownst to me these stories had been banned for decades from being told in schools. I began collecting indigenous legends and sharing them with students and teachers in 2006 and did not learn of the ban until January of 2012.  Sometimes Ignorance IS Bliss (aka, JOY).  Culture given back; gosh, too late now. I've been invited to expand the literacy project to Nairobi, Kenya; Accra, Ghana and Tamilnadu, India. My goal in each country is to share stories of the various indigenous cultures and to build bridges between.  I will also share StorySolving ™ a program I developed that uses Story to Problem Solve.
To fund my volunteer travel I am organizing Superhero Big Wheel Races and touring Superhero 101; Every Day Superheroes. The first race is Oct 13/14, Lehigh University, Bethlehem, PA!  Come join the fun!
About Kristin:
TED Talks Worldwide Talent Search Finalist and International Story Bridge ORACLE Award recipient, Kristin Pedemonti shares her vision of a JOYFUL, Kind World.
Kristin is the Founder/Facilitator of volunteer project Literacy Outreach Belize.
Watch Kristin's TED Talk for a 5 minute dose of a JOYful world where there are bubbles on subways, Free Hugs are offered on street corners and Superhero Big Wheel Races are Adults ONLY!
If you enJOY what you see, please log-in to TED and rate (Kristin's favorite number is 5 :)) and leave a comment.
Contact Kristin:
If you would like to organize a Big Wheel Race or invite Kristin to speak in your community, contact Kristin at .   Website:  http://storytellerkp.com.