Told by Laura J. Bobrow
Click to listen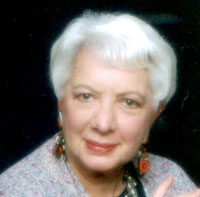 Selecting a story to tell from among my repertoire of more than 500 stories, poems and anecdotes was, to say the least, daunting. I chose this from one of my CDs, "I Wrote These for You."
Little details please me.  Not everyone needs to get the joke, but once I had determined that the story would begin in ballet class, naming the girl  came naturally.  "Rhonda" stands for the ballet move Rond de Jambe  which ends in perfect fifth position as does Rhonda's miraculous jump.
About Laura
Laura is an award-winning poet.  She has been nominated for the Pushcart Prize. Her work has been likened in print to A. A. Milne, Hilaire Belloc, and Edward Lear.  One of her children's poems is part of educational material for the state of North Carolina and is included in a fourth-grade textbook in Abu Dhabi. She uses poetry extensively in her storytelling, telling whole stories in rhyme or sometimes inserting rhymed refrains.
A recent project was to turn forty-nine folk tales of Giambattista Basile's "Il Pentmerone" into narrative verse.  The rhymed versions of these wonderful tales from the late 1500's can be seen on her website www.laurajbobrow.com/poetry.html.
Contact Laura
Phone: 703-771-7571
Website: www.laurajbobrow.com
Email:
Podcast: Play in new window | Download