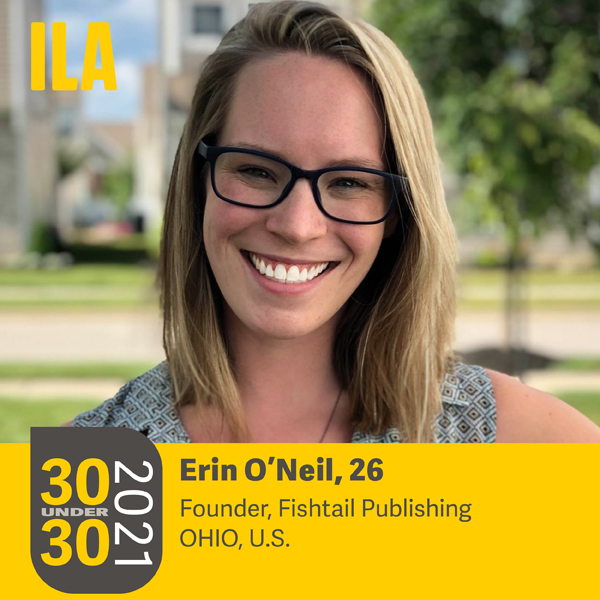 Newark, Del. (January 11, 2021) — Erin O'Neil, owner of Fishtail Publishing LLC and author of Gui Ren: Extraordinary Stories of Ordinary People is one of 30 literacy leaders named to the International Literacy Association's (ILA) 2021 30 Under 30 list. The global list celebrates rising innovators, disruptors and visionaries in the literacy field.
The 26-year-old of Reynoldsburg, OH, U.S., was recognized for developing programs to help students and educators use storytelling as a platform for personal growth and amplifying the voices of artists by providing support in publishing and digital marketing. She also offers coaching in presentation narrative to further strengthen the impactful research of professionals across the country. Her work with the National Storytelling Network and Storytellers of Central Ohio has helped the art of storytelling reach the hearts of people all over the world.
"Storytelling extends beyond the creative measures we take to express ourselves and our experiences to the world," she says. "It enables us to build empathy and understanding, while offering opportunity for reflection and analysis. I am honored [to be] witnessing the transformation that occurs when someone realizes the power behind their personal narrative and begins sharing that story with others."
Representing 12 countries, this year's list of honorees includes educators, nonprofit leaders, authors, volunteers, researchers and social entrepreneurs.
"The start of 2021 is filled with much promise thanks to the work of this year's class of honorees," said ILA Executive Director Marcie Craig Post. "Their work—whether it's research on multicultural literacy, helping young students find the power of their voice or dismantling systems of oppression in education—is impacting the lives of countless individuals and communities. Not only do these emerging leaders share in our mission of literacy for all, but also they are helping to ensure that the post-COVID era, when we get there, will be grounded in equity for all."
O'Neil joins a growing cohort of leaders. Past honorees include Gerald Dessus, social justice teacher and curriculum developer in Pennsylvania; Shiza Shahid, cofounder of the Malala Fund; Allister Chang, founder of Civic Suds; and Freshta Karim, founder of mobile library Charmaghz in Afghanistan.
ILA's 30 Under 30 honorees are featured in the January/February 2021 issue of Literacy Today, ILA's bimonthly magazine, which published today. To view the Literacy Today feature and read more about the honorees' accomplishments, visit literacyworldwide.org/30under30.
About the International Literacy Association
The International Literacy Association (ILA) is a global advocacy and membership organization dedicated to advancing literacy for all through its network of more than 300,000 literacy educators, researchers and experts across 128 countries. With over 60 years of experience, ILA has set the standard for how literacy is defined, taught and evaluated. ILA's Standards for the Preparation of Literacy Professionals 2017 provides an evidence-based benchmark for the development and evaluation of literacy professional preparation programs. ILA collaborates with partners across the world to develop, gather and disseminate high-quality resources, best practices and cutting-edge research to empower educators, inspire students and inform policymakers. ILA publishes The Reading Teacher, Journal of Adolescent & Adult Literacy and Reading Research Quarterly, which are peer reviewed and edited by leaders in the field. For more information, visit literacyworldwide.org.
###