told by Lynn Ruehlmann
Click to listen
About the Story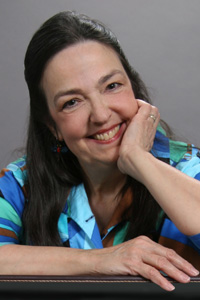 It excites me when I find the perfect connection between a classic myth and contemporary life—the connection gives both stories such a potent new focus.  So I've really enjoyed developing this coming-of-age story. It combines the story of getting my driver's license with the story of watching my son get his with the myth of Daedalus and Icarus.  It's a great delight to let the audience in on the humor lurking in my life, even as it's paired with the pathos of this myth.  An equal delight comes after the telling when I'm talking to audience members, who always want to share their own learning-to- drive tales.
About Lynn
Lynn's three CDs have won four national awards.  Two are stories from history:  "Spy! The Story of Civil War Spy Elizabeth Van Lew" and "It Happened in the White House."  The third, called "Mischief!," is original stories from her life growing up in a family of musicians.
Lynn loves traveling, whether it's for storytelling or story creating, so she's performed from Alaska to Massachusetts, and she's cavorted from Tasmania to Honduras.   She's chaffing for the next adventure!
Contact Lynn
website: www.cascadingstories.com
phone:  757-642-6813
email: 
Podcast: Play in new window | Download