Told by Kevin Cordi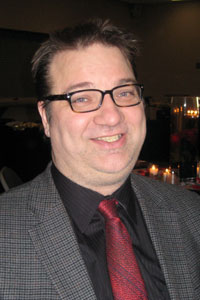 At 16 we think we can rule the world. This is a  tender age when we cross the divide into responsibility.  This story is about that journey. It is about the first time I rode "The Blue Streak" at Cedar Point, the largest amusement park in the country and the second oldest roller coaster in the park.  One would think this would be a quick safe journey.  All I can say is it was quick.
I can't say the ride ended with this ride. It continued at the next park. I use this story to talk about the rides we take in life, whether we want to get on or not.
As a storyteller we often tell the stories that happen to others. We see a window of another life as something worth sharing. We found stories in landscapes of folktales and fairytales.  However, I would challenge us to examine our own experience with a new lens. When we tell what we  know about story and view our own landscape, we open new possibilities for our telling.
I hope this story invites you to explore risky choices in your life and find those worth sharing.  Our job is not to relive, but perhaps to review the events in our lives and find those that are invaluable to share with others.
Since telling this story, I have met, believe it or not, others who have fallen or "near fallen" out of roller coasters or ferris wheels. Others who had someone save their life or take their place.  Remember, when we share our lives, it may invite the rich life stories of our listeners.
About Kevin
Dr. Kevin Cordi has been a professional storyteller for over 25 years.  He is the co-author, with Judy Sima, of the award-winning book Raising Voices. He teaches Applied Storytelling at Ohio Dominican University and is a Co-Director of the Columbus Area Writing Project at Ohio State University. Kevin has recently completed a doctorate investigating the importance of play and the story making process. He stresses that as artists we need to find more collective ways  to improve the storytelling and story making process. He has been working with a new way to add 20 tellers to one experience with his "ensemble storytelling" process.  He outlines this in his new work at www.permission2play.com.  He believes, "Together we can make a difference with stories."
Contact Kevin
www.kevincordi.com
559-213-0161

Podcast: Play in new window | Download