India with its numerous states and varied cultures, has folktales beyond imagination Kathai Kalatta promotes and nurtures Indian culture and heritage through stories. We will be presenting Indian folktales to give a glimpse of Mother India.
Kathai Kalatta is an initiative to revive the age old Indian tradition of storytelling from homes to the public space. Our strength is that we have showcased international storytellers to the Indian public over the last six years consistently. Our extremely talented 40 plus tellers from across the globe have entertained over 50000 people in these six years across India. Presented by Kathai Kalatta.
www.kathaikalatta.com
If You Would Like To View This Video You May Purchase Access In The Digital Library. If You Have Already Purchased Access And Are Having Difficulties Viewing The Content, Please Contact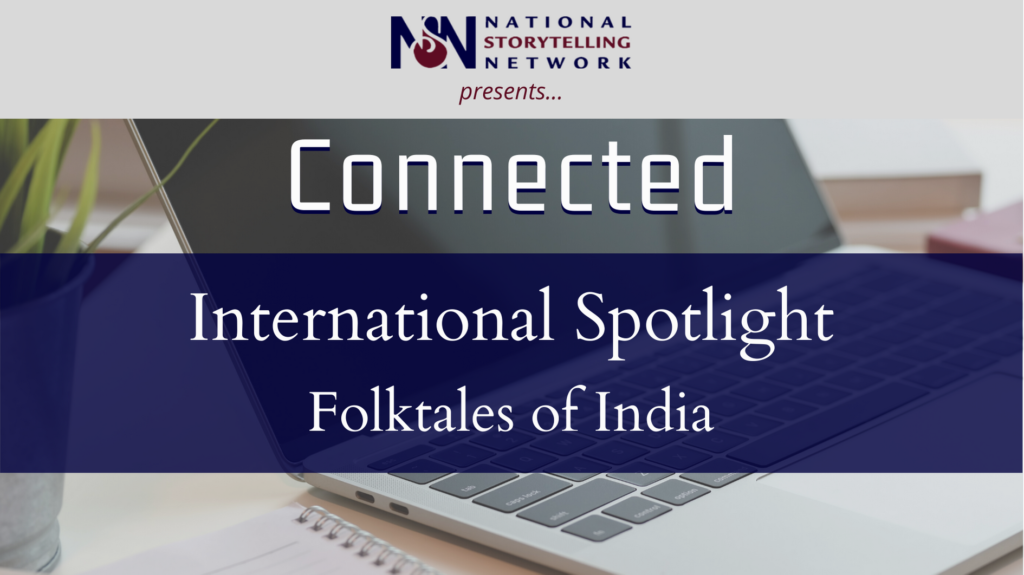 Stories
Checkmate # Iam Savitri told by Lopa Mudra Mohanty
It's a Mythology. Savitri ( heroin) a strong woman who negotiates with the Death God "Yamaraj" and places Him in a checkmate position!
Lopamudra Mohanty is the Founder of BBW Education Pvt Ltd. aka Big Buddy World which provides a Reading and Storytelling programme for children and adults. She is a Professional Storyteller and a Certified Phonics Trainer. She uses Indian mythology, epic and legends and weaves it into a contemporary tale as oral storytelling and also as performance storytelling.
The Mysterious Oils told by Usha Venkatraman
A Folktale from Bengal. The story examines 'Time' as the greatest healer.
Fearless princesses, beautiful cockroach with a street smart granny, wonderfully quirky kings and queens – this is the world of Usha Venkatraman, an award-winning International performance storyteller, educationist and classical vocalist from Mumbai India, who weaves magic with her words. Her puppetry skills make her tales fascinating.
www.puppetwonders.com
Keeping A Secret Is Not Easy told by Vikram Sridhar
A young lad discovers a pot of gold while going to the market to sell a buffalo. How does his mother react? Can she keep this a secret?
Through folktales, he is trying to discover our rich heritage of Oral literature and tradition which is slowly being lost and just sitting in books. He believes in storytelling as a strong medium of conservation from nature to human relationships.
http://www.facebook.com/AroundTheStoryTree | http://www.instagram.com/the_storytellingfellow/
The Heroine of Ramayana told by C. Mangalam Senthil
Do you know who the real "Heroine" of Ramayana is?? Not Sita ! Listen to this beautiful story to find out!!!
C.Mangalam Senthil is a StoryEnthusiast, Tedx Speaker, Abundance Consciousness Practitioner, founder of KathaKuteeram. She strongly believes that everyone steps into a world of possibilities with stories. She is vibrant when she shares or listens to stories.
http://m.facebook.com/kathakuteeramm/
The Wrestler's Daughter told by Deeptha Vivekanand
The Wrestler's Daughter is a tall tale in which a young woman, through sheer physical strength, is able to overcome the challenges.
Deeptha Vivekanand has been telling stories for a decade.Deeptha loves to tell stories about stories, strong women, and political satire.
http://www.deepthavivekanand.com/
Fish Curry told by Jeeva Raghunath
How a wife outsmarts her husband using her wits and wisdom.
Thanks to her genes and her joint family that taught her stories, storytelling, story sharing comes naturally to Jeeva.Her expressive voice and her big eyes added colour to her personality and her telling. Her voice and connect with the audience is par excellence!
www.kathaikalatta.com
Presenters:
Lopa Mudra Mohanty
Usha Venkatraman
Vikram Sridhar
C. Mangalam Senthil
Deeptha Vivekanand
Jeeva Raghunath