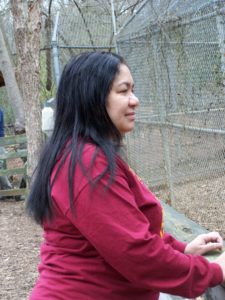 by Lyn Ford
A young student in a story-sharing / story-writing workshop that had been organized specifically for "gifted and talented" students hung back from those who rushed to their lunches.
He never looked directly at me; he shuffled his feet and watched his shoes, and nervously glanced up at me as he spoke. He said, "I like to write, but, y'know, I can't just tell a story the way you do. I know we only have to read to a partner and tell the story to a partner. But, do we have to tell our stories? It's hard to talk when somebody's looking at you."
I said, "You definitely don't have to do what I do! Just share your story as if you are talking with your friends." He replied, "But, y'know, we don't talk the way you do. We 'tweet'. Nobody looks at you, nobody tells stories. I guess we don't really talk very much."
In the past year I've met: brilliant students who cannot speak (I'm not talking about the fear of public speaking; I'm talking about the inability to verbalize ideas); an angry student who did not verbally express her feelings until she told them in her original fairy tale; an adult who said, "I don't have any stories. I never had a life"; bullies who could attack with fierce and cruel words via notes and Internet social sites, but who couldn't carry on a face-to-face conversation. Tappa-tap go the fingers on little phone keyboards, as kids sit with their friends and read about them on tiny screens. If all the batteries disappeared, how would these children speak to one another?
Our world is getting smaller and smaller thanks to technology, but, even when in the same room, some folks remain worlds apart. Nowadays, the statement, "Use your words," may only confuse.
One outcome of a lack of narrative communication skills may be expressively aggressive behavior:
I can't tell you how I feel, so I'll show you.
I'm excited! I don't know what to say! I'll just scream and throw things! AAAAAH!
Other outcomes may be limited judgment and prejudicial thinking: I don't know you, or anyone like you. That makes you someone I will distrust, dislike, fear, hate.
"Talking story", a wonderful Hawaiian description of oral narrative, is essential to the well-being of individuals and the social foundation of our country and our lives. As they did in ancestral times, our spoken stories can help us to: face our fears; meet folks, see the similarities among people, and respect the differences; view the world as "home" and its inhabitants as "family"; imagine, create and recreate as we live among our fellow Earth-dwellers.
Story-telling is a simple and natural way of being and knowing. Story-telling, on the front porch, around the kitchen table, in the car, at family gatherings; in folk and fairy tales, our first and safest adventures into the dark woods; in personal story and familial memory, in tall tale and true tale, from trusted voices. Our children, our families, our hearts, our world need more story-telling.
Technology is a wonderful thing, but perhaps we need to let the birds twitter while we talk.
About Lyn Ford
Lyn is a fourth-generation Afrilachian storyteller and teaching artist, who will be a featured artist at the 2011 National Storytelling Festival. She is also a writer, published in storytelling magazines and newsletters, as well as award-winning teachers' enrichment books and story anthologies, including: The August House Book of Scary Stories, edited by Liz Parkhurst; Literacy Development in the Storytelling Classroom and The Storytelling Classroom: Applications Across the Curriculum, edited by Sherry Norfolk, Jane Stenson, and Diane Williams. Lyn is an award-winning recording artist. Her CD, "When the Gourd Broke", is a NAPPA (National Parenting Publications Award) Honors Award winner. Best of all, Lyn is a mama, grandmama, and good cook!
Contact Lyn