by Pat Nease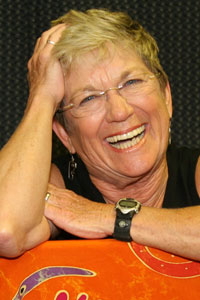 I spent a year in Vietnam (Aug. '66-Aug.'67) working with the Red Cross SRAO Program.  Our job with the military was to build morale and be a touch of home, but as you can imagine we needed to interact with the troops in some sort of structured environment.  So we created portable programs of activities and games. Every day we hopped a chopper and, in pairs, flew out to remote fire bases. We'd arrive with our satchel of tricks, the guys would gather in a tent and then we'd launch our activity (how to read your palms, hand writing analysis, etc.) or play a game.  A game usually meant dividing the men into two groups (all the games were designed for large groups. In a tent. With little space for movement.) and might be based on TV shows such as Jeopardy or What's My Line? or be a huge board game of Concentration (the one with Playboy Bunnies was very popular) or whatever we devised. We were always either learning a game or making one up.  We played games about everything: sports, geography, trivia, movies, movie stars, fish, cars, food, animals, songs, music, musicians, TV shows, history, advertisements, and fairy tales.
For just a little while we were somewhere else, involved in something besides bullets, bandages, and jungle rot.  It gave the guys something to look forward to the following week – if we could get to them.
I wish I'd been a storyteller then.  I think we'd of done a good bit of sharing and swapping.
Returning home, I spent 36 years as an educator.  I wanted to always give the students a good reason to get up in the morning and come to school.  I used games again.  Rather than rote memorization of states and capitals, get a giant outline map and make it a game.  Challenge the class across the hall.  Play multiplication baseball, applaud at the homonym bell game.  Celebrate Crazy Hat Day.  Play What's My Question? Present The Weekly Reader News (complete with advertising and weather.). Guess the idiom. Post the weekly riddle-rhyme challenge for Hinky-Pinky.  Hey!  Who wants to find out what it's like to eat a worm?  List three possible uses for this object. Guess what's in the bag.
Learning, cleverly camouflaged as games, is a win-win because we learn by doing, by applying, by figuring out, jumping in and taking part.  We're often surprised by ideas and stories triggered by our participation in something out of the ordinary.
Now days games have pretty much left the classroom. There's no time. Everyone is on a lock-step curriculum so that no matter where you move in the USA, you can join a new class and be exactly where you were in your old class.  And free play?  No.  Kids cannot be left to their own devices. Someone might get hurt. We'll be sued. Structured play. That's what we need.  Line up here.  Play this.  Play it this way.
Ugh.
I don't believe we ever outgrow our love of games.  Those included in this workshop were gleaned from talented tellers and story coaches including Olga Loya, Mary Hamilton, Doug Lipman, Len Cabral, Anndrena Belcher (who introduced me to my first storytelling activity) and others. They were found in books, played during workshops, adapted from commercial games, and learned at conferences.
I invite everyone to come; play again. Stretch a little, have some fun, and leave with something new to try at home.
About Pat
Pat is a three-time winner of Florida's Liars' Contests.  Or at least that's what she says.  Who can believe such a liar?  In addition to her wide array of folk, family, original, and bone-chilling tales she offers a variety of workshops including "What's So Funny?"  "Creative Soup," and "Building a Whopper."  Information about these and other workshops are available on her website.
She currently serves as secretary of the Florida Storytelling Association and as the NSN Florida Liaison. She is the recipient of FSA's Lifetime Achievement Award and NSN's Oracle Award. Or so she says…
Contact Pat
Pat Nease
4435 Pratt Avenue
Panama City, FL 32404
Phone: (850) 871-0165
Cell:  (850) 814-2616
E-mail:  Website:   www.patnease.com