Told by Tom Sparough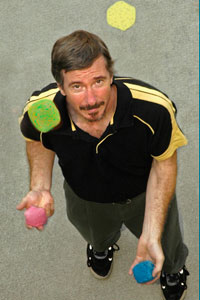 My story is humorous, visually stunning, and truly uplifting.  It blends the skills of juggling and storytelling.  It is a bit strange to listen to it without seeing it, but in some ways that makes it better, more imaginative for the listener.
For me the story answers the question 'What does God have to do with juggling?'  In it, I blend the Judeo-Christian seven days of creation with the Islamic 99 names of God.
I have been juggling for 38 years.  Jugglers basically come in two types: those who juggle to music, and those who talk while they juggle.  I have always been a talker, and right from the beginning I was drawn to story juggling!
If you try to count the 99 names of God used in this story, you'll find 33 of them!  Perhaps one day I will up the count.
About Tom
Most groups can benefit from one of my programs.  I work with businesses and organizations leading days of renewal and creativity.  I specialize in the metaphor of juggling, giving a tangible expression to what so many people feel as their lives pull them in multiple directions.  I am widely booked at libraries and schools throughout each year.  And I work with all kinds of faith traditions bringing joyful, uplifting, and reflective pieces to their congregations.  One particular interest I have is in creating experiences where everyone participates!  I have also written several books.  All this is available through my website.
Contact Tom, The Space Painter
Cincinnati, OH
(513) 542-1231
Email:
Website: http://www.spacepainter.com/
Podcast: Play in new window | Download