told by David LeBarron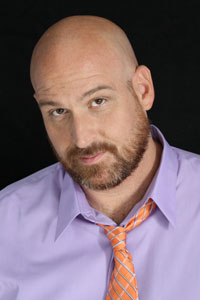 I had so much fun at the NSN conference and was glad to be able to perform this story. I was nervous about taking my own spin on a classic, which has always been my thing: including setting Othello in the basement of a gang's meth lab (oddly that went well too), but my fellow storytellers were so kind afterwards.  I think this story resonated so well because, as most of us work with children, we see war equaling the loss of young lives: a price that can never be taken lightly.  Sorry with the heavy, but it is the message of this story…the gifting of grief…whether it be a Goddess or an "official," the powers that must know – own the price you are asking us to pay.
About David
David LeBarron is a storyteller in a variety of medium and media. His last play The Sex Life of Achilles got excellent reviews at Hollywood Fringe. He is proudly working on Stories to be Told, a collection of LGBT stories for children; a CD fresh off pro tools Stories from a Magical World which includes the Story of Evolution; facilitating a project called Any Given Day, cultural exchange between students in Echo Park, Los Angeles and in Banda Village, Rwanda; and he's shooting a terribly funny webseries called Wicca Please.
Contact David
Websites:
www.talesofthetribe.com
www.davidlebarron.com
Podcast: Play in new window | Download