By Cindy Rivka Marshall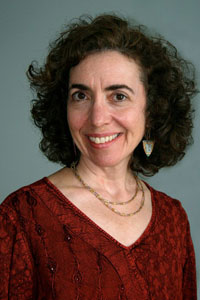 How do communities or organizations encourage understanding and respect of human differences? Those of us who deeply understand the potential of both story sharing and story listening have a lot to offer.
I use personal storytelling as a tool for diversity work. I have strong faith in the power of story to build bridges across differences. I have developed models for groups that can help to break down barriers and connect people across differences.
The fourth annual "Hear Our Voices" event was held in early March at a Boston area high school. Devoted to increasing understanding of people who identify as lesbian, gay, bisexual, transgender, queer, or questioning (LGBTQ,) the program included speakers, some of whom are members of the school community. They shared anecdotes from their personal experiences and received appreciations from listeners with a structured response technique. Small groups of students and staff debriefed after the program in facilitated sessions.
Since its inception in 2013, I have had the privilege of consulting on the design of the program and have trained the staff, provided prompts to the speakers, offered behind the scenes story coaching, edited the flow of the stories, and most importantly, helped to create a safe space for marginalized voices to be heard.
One year, the prompt was: "Tell about a time when you kept silent about your LGBTQ identity."
Avi, a confident young professional, returned to his former high school to tell this story: "The summer after junior year, I was part of a volunteer trail-building crew in the White Mountains," he said. "One evening, this guy, Josh, said he couldn't imagine being friends with gay people, since they're all so feminine and flamboyant, and he jokingly started talking with a lisp and dangling his hand. I remember thinking, you should say something. If ever there was a good situation to prove him wrong, it's now. I remember my heart pumping quickly, because I actually was considering coming out to the group. But in the end, I got too scared and didn't."
When asked to offer appreciations, one student stood and said, "I resonated with Avi's story about how it feels when some part of you is invisible to others. My dad has a disability, but I don't usually talk about it."
Another teen stated, "Avi's story made me realize I shouldn't assume anything about the people around me. I'm going to stop making gay jokes." Many students nodded in agreement.
At the end of the program, the Head of School said, "You've given us a new modality. It helps us to shift out of the rebuttal and debate mode into empathic listening. It encourages us to listen from the heart rather than just the head."
While the model I describe here was used to address LGBTQ issues, it can be applied to other identity issues such as race, religion, class, gender, sexual orientation, disability or ethnicity. Hearing personal stories, particularly those of people who have been silenced, marginalized, or targeted, has the potential to open the hearts of the listeners and create change—change in attitudes, policy and social change.
Of course, changing attitudes and working towards equity is an incremental and complex process for any group. Story sharing programs alone cannot satisfy the need for systemic change. But I am eager to continue offering these programs to help make communities safer for all.
Cindy Rivka Marshall will be offering a participatory workshop "Hear Our Voices: Build Understanding Across Differences" at the NSN Conference. It will be a chance to experience some of the techniques described here and think about ways of bringing this work into your own communities.
About Cindy
Cindy Rivka Marshall aims to "reach, teach and change with stories." Her consultation and training in the use of story modalities addresses the needs of congregations, schools, organizations and individuals. Along with performing stories, Cindy facilitates groups to share stories and coaches individuals to craft stories, with the goals of enhancing learning experiences and building community. She runs the Dancing Tree Story Workshop in Needham, MA and has produced several award winning recordings of her stories.
Contact Cindy
Website: www.cindymarshall.com
Email: