Adults Only Event
Five stories from Decameron delivered with modern language and spiced with medioeval ballads and music. Sexy, funny and highly entertaining! An icon of Italian culture, humor, glamour and style, the performance delivers to the audience an unmatchable moment of pleasure and laughter. Paola and Davide unique style of tandem telling embodies all the elegance, passion and depth of their tradition.
Raccontamiunastoria is the leading Storytelling Company in Italy. Funded in 2004 is steered by performing Storytellers Paola Balbi and Davide Bardi. It has gained across the years a worldwide reputation for performing excellency and top class Storytelling training. It organizes Festivals, events, swaps, performances, tours and workshops.It has a branch in the U.A.E called The Storytelling Company. Presented by Raccontamiunastoria Storytelling Company.
https://www.facebook.com/festival.storytelling/
If You Would Like To View This Video You May Purchase Access In The Digital Library. If You Have Already Purchased Access And Are Having Difficulties Viewing The Content, Please Contact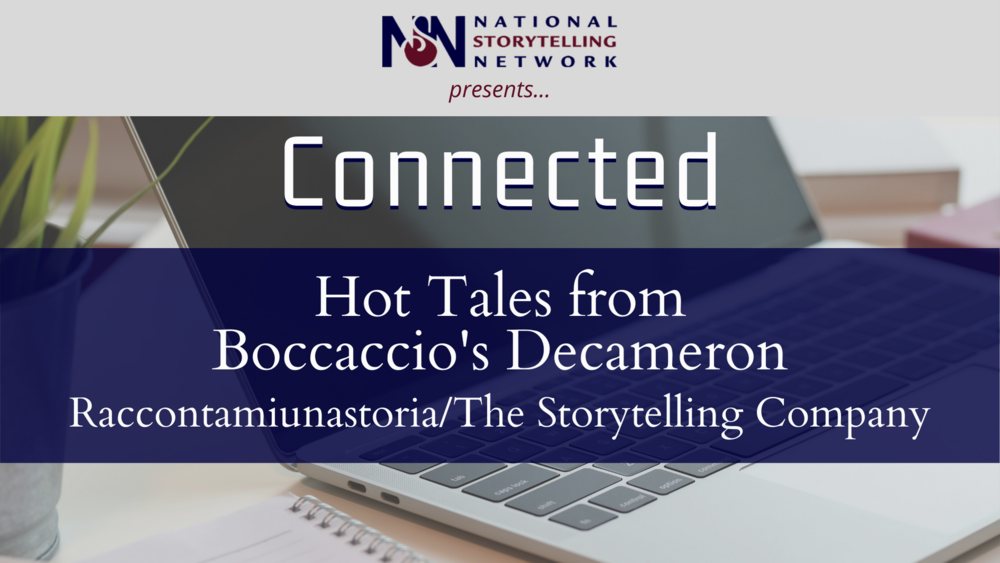 Stories
Isabetta and the Priest's Underwear told by Paola Balbi
Isabetta is resolved to become a nun. Will she stick with her vow of chastity?Have faith, mother Abbess will find a solution.
Paola Balbi is a graduated actress (specialised in Shakespeare) and performing storyteller with more than 20 years of experience.She is also a Festival organizer, a workshop leader, a drama school teacher and a University professor, always for PA. Her repertoire ranges from Greek and Roman myth, to Decameron, Arabian Nights, folk and fairy tales from both the European and Arab cultures.
https://www.facebook.com/storytellingdubai/
The Song of the Nightingale told by Germana De Ruvo
A young couple devises a very smart solution to fulfill their passion.What will their parents say when they discover the deed?
Germana De Ruvo is a graduated young actress, trained as a storyteller by Paola and Davide and she is a member of Raccontamiunastoria. She has a passion for stories from the native city of Rome and for the Arab Culture. She has lived extensively with Paola in Dubai where she collected many traditional stories.She is an enthusiastic and committed professional young perfomer.
https://www.facebook.com/germana.deruvo
Masetto told by Paola Balbi and Davide Bardi
The Tale of the Tail told by Davide Bardi
Alibech told by Paola Balbi and Davide Bardi
Is it ever possible to transform a woman into a mare and back? Listen and discover what will be the most difficult part of the enchantment.
Davide, actor and musician, has devoted his entire career to telling stories in all artistic forms (theater, film, music). He is co-artistic director of the Storytelling Company Raccontamiunastoria, the International Storytelling Festivals of Rome, Bolzano and Sharjah (U.A.E). He plays guitar, harmonica and several percussions. He accompanies his performances with improvised original live music.
www.raccontamiunastoria.com
Paola Balbi is a graduated actress (specialised in Shakespeare) and performing storyteller with more than 20 years of experience.She is also a Festival organizer, a workshop leader, a drama school teacher and a University professor, always for PA. Her repertoire ranges from Greek and Roman myth, to Decameron, Arabian Nights, folk and fairy tales from both the European and Arab cultures.
https://www.facebook.com/storytellingdubai/
Presenters:
Germana De Ruvo
Paola Balbi
Davide Bardi