Told by Yvonne Young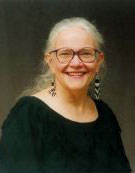 I chose to tell "Lifting the Sky" at the Pacific Showcase Concert to honor deceased Skagit elder Vi Hilbert. Some years ago, I had the privilege of hearing Vi tell this tale.
The message this story contains is important for audiences elementary school age through adults. If people took it to heart, it would do much to bring peace to the world.
Vi gave Margaret Read MacDonald permission to publish the story. It can be found in her book Peace Tales: World Folktales to Talk About. I have successfully told this story many times, using audience participation. It was very well received at the Pacific Showcase concert.
About Yvonne
Yvonne Young, is an eclectic educator and storyteller extraordinaire, who invites audiences into her stories using audience participation techniques. Yvonne offers storytelling workshops for both children and adults, and served for many years as Oregon State Liaison to NSN. She went to China on the first NSN trip, and has also told stories in India and Thailand.. Yvonne performs at schools, community events, and festivals in Oregon and the Northwest. Yvonne is author of "Lifting the Sky".
Contact Yvonne
Email:
Telephone: (541) 302-2848
Podcast: Play in new window | Download