Adults Only Event
The Mid-Atlantic Region of The National Storytelling Network brings together storytellers from varying styles and applications in the states of VA, PA, MD, WV, Metro DC, and Metro NYC.
The Mid-Atlantic Regional Spotlight will feature some of the hottest storytelling talent in a region bustling with storytelling events, shows and talent. The show will feature personal narrative, folktales, and historical narrative from and ten tellers and the innovative organizations and shows that they represent.
Emceed by Nick Baskerville & Robin Gelfenblen
If You Would Like To View This Video You May Purchase Access In The Digital Library. If You Have Already Purchased Access And Are Having Difficulties Viewing The Content, Please Contact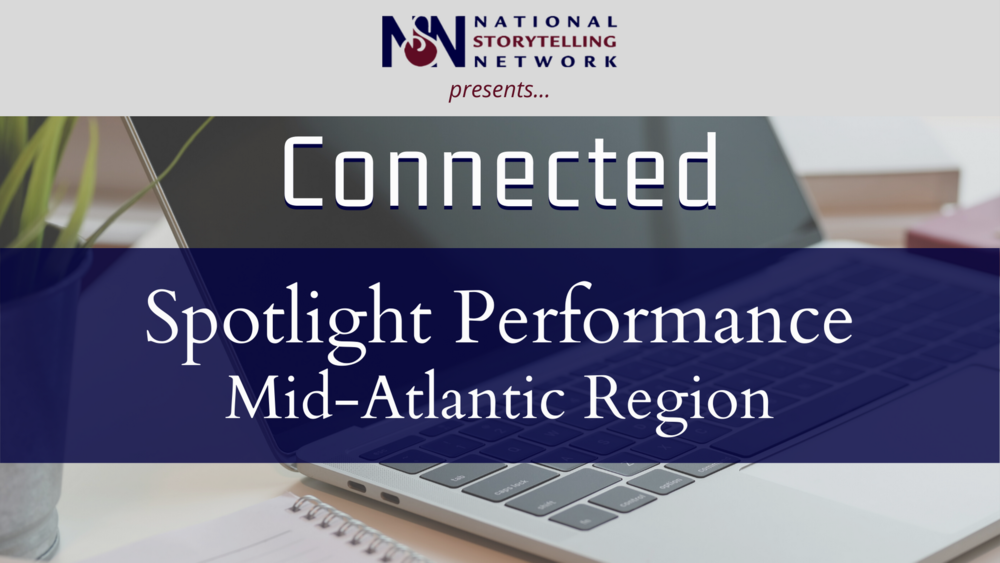 Nick tells stories in the DC, MD, and VA. He's performed for The Moth, The Story Collider, Better Said Than Done, Mistakes Were Made, and Perfect Liar's Club. He hosts storytelling shows for Better Said Than Done and Armed Service Art Performance. Nick currently hosts the stand-up comedy show Clean AF Comedy Show, Friday nights on Facebook. Nick regularly posts on Storytelling On Purpose.
https://stop365.blog/
Robin Gelfenbien is a NYC-based storyteller, writer and comedian. A three-time Moth Story SLAM winner, she's performed on PBS, RISK!, Mortified and more. She's shared the stage with Hannah Gadsby, Trevor Noah and more. Robin is the Creator and Host of the storytelling series/podcast, "Yum's the Word," featured on CBS Sunday Morning and named a New York Times and Time Out New York Critic's Pick.
www.robingelfenbien.com | @robingelfenbien (TW) @robin.gelfenbien (IG)
Stories
The Party told by Oni Lasana
A poem (told in character) about a party on a SC plantation, celebrating Juneteenth, when enslaved African's were set free in America, circa 1866.
Oni Lasana, "Desirable Poet of The People" is a Storyteller, Poet, Performing and Teaching artist who was born in Philadelphia, PA.
www.OniLasana.com
The Contest Between the Sun and the Wind told by Ingrid Bohn
An Aesop fable in which the Sun and the Wind duke it out to see who's the strongest.
Ingrid Bohn is an Interactive Theater and Storytelling performance artist who engages audiences of all ages through story, song, dance, and poetry. Performing in PA & NJ, her career spans nearly a decade.
https://iubtheater.wixsite.com/ingrid-b-storyteller
The First Kiss told by Jessica Robinson
A funny, personal story. Self-authored.
Jessica Robinson, Founder of Better Said Than Done, has performed for The Moth, Story District, Perfect Liar's Club, The Grapevine and Stories in the Round. Jessica was at Exchange Place at the International Storytelling Festival in 2018, and on the World Channel TV show "Stories from the Stage," and featured in the Women's Storytelling Festival, in 2020.
http://www.bettersaidthandone.com/storyteller/
Little Buffalo told by Jack Scheer
A funny, personal story. Self-authored.
Jack Scheer has been a storyteller (at least officially) since 2015. Before that, he spent nearly thirty years telling other people's stories as an amateur actor and director. He holds a B.A. in Communications from Northern Illinois University, where he participated in speech and debate. A native Chicagoan, he now lives in Silver Spring, MD. His strongest belief is in the power of the human.
Social media: @jzscheer on Twitter and Instagram
Davy finds a Wife told by Gary Lloyd
A traditional tall tale about Davy Crockett, funnier than a long tailed cat in a room full of rocking chairs!
Gary has been telling for 22 years. Over 1.2 million listeners have heard his style of blending fact with fiction. Former recipient of the Oracle award, he served two terms as president of the state-wide organization, the Virginia Storytelling Alliance and as Vice President of the local Voices in the Glen.
The Drug-Sniffing Dog told by Jane Dorfman
What happens when Jane is stopped in the airport by an elderly beagle and hauled away by the DEA?
Jane tells stories for children and adults at festivals and in libraries and in the schools. She loves stories that carry the listener away. Jane Dorfman is a performing member and president of Voices-in-the-Glen, and a member of the National Storytelling Network and on the program committee for the Washington Folk Festival.
A Personal Narrative told by Stacey Bader Curry
Stacey Bader Curry is a writer, storyteller, mother of four, and real estate broker from NYC. Stacey is a Moth Grand Slam winner, an 8-time Moth StorySLAM winner who just won The Moth's first-ever virtual StorySLAM and has recently appeared on PBS's Stories From the Stage.
A Personal Narrative told by Srilatha Rajamani
Srilatha is an immigrant from India who started doing stand up comedy and storytelling in Boston, then later in New York City. The more she performs, the more she's been able to face herself honestly, and connect with people around her. Credits: Women in Comedy Festival, Asian Comedy Festival, WGBH Stories from the Stage.
Website: http://srilathacomedy.com | Instagram: http://Instagram.com/SrilathaSauce
Mama! told by Laura Kaighn
Awakened early in the morning by a baby crying outside, I learned a lesson in my mother's patience and my own ignorance.
Laura Kaighn, of Lady Hawke Storytelling, is an author, educator, nature docent and storyteller for audiences two through timeless. Her favorite tales: Native American, nature, spooky, urban legends, original and pourquoi stories. Workshops are available. Laura combines showmanship, science, culture, props and fun for programs which run the gamut of sensory experiences.
The Mask of Truth told by Judy England-McCarthy
Judy England-McCarthy is a member of several Guilds and performs in both NJ and PA. As a storyteller, poet and author she has shared her talents at numerous events and festivals. Her stories are filled with both humor and wisdom. and one of her original tales was performed at the National Storytelling Conference in 2013.
Presenters:
Oni Lasana
Ingrid Bohn
Jessica Robinson
Jack Scheer
Gary Lloyd
Jane Dorfman
Stacey Bader Curry
Srilatha Rajamani
Laura Kaighn
Judy England-McCarthy