The Chronicle   August 9, 2019
Recently the N.C. Association of Black Storytellers event at the National Black Theatre Festival delighted their audience, from the  young children to the older adults.
The North Carolina Association of Black Storytellers, Inc., (NCABS) a part of the National Black Storytellers Association, has the goal of keeping alive the art form that embodies the history and cultures of Africans and African Americans, especially those in North Carolina.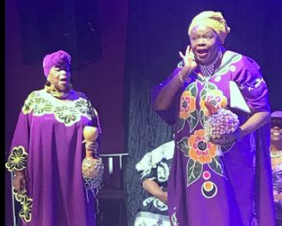 Over and over again, the storytellers enthralled the audience, making them laugh, sing along, and for a short time be transported to another world, one of the storytellers' making.
Teresa Love sat with her seven-year-old son, Anthony (AJ) Washington. She has been bringing him to the NBTF since he was a baby and the storytelling is one of their favorite activities. She appreciates the festival for introducing African culture through these stories and said, "It adds richness to our culture."