told by Linda Gorham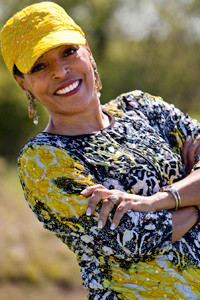 Many years ago, I heard Elizabeth Ellis tell her story, Grandmother Spider. As she told it, I got an amazing visual of the action and I imagined how the story could be told with lots of physical and vocal audience participation. Happily, Elizabeth granted me permission to tell it my way, "… with attitude!"
The story is a bit Native American, it's a bit African American, and it's all woman. "… No matter how small, how wobbly or how old, Grandmother Spider and her boogie-down-with-her-bad-self-dance," is one powerful woman. And, of course, as a powerful woman, she saves the day.
I tell this story to middle school audiences and above. Teachers are usually amazed that their students eagerly participate. They especially enjoy doing all the body movements – yes, even eighth graders! At the end, I usually bring 80 or so students up in front to join me as we do the movements for the grand finale. Teachers come too! As you can imagine, students love seeing their teachers up on stage doing just about anything. No Time for a ParTAY makes a great ending story and it is one of my favorite stories to tell.
About Linda
Dynamic and exciting, Linda Gorham uses movement, humor, and sometimes zaniness as she tells imaginative folktales, twisted fairy tales, and history stories updated with "attitude!" Her stories, keynotes, and history programs inspire, entertain and engage people of all ages. Don't plan to sit quietly during Linda's performances. Her stories are sometimes very interactive and often downright funny. Even her serious topics are engaging and have moments of humor. Linda performs internationally as a storyteller, speaker, and workshop presenter. Her latest CD, I Am Somebody, is a revealing look at the poignant, quirky and often unpredictable world of family, love and self-identity. It recently won a Storytelling World Award.
Contact Linda
Website: www.LindaGorham.com
Email:
Podcast: Play in new window | Download