WTOP   October 10, 2018
By Rachel Nania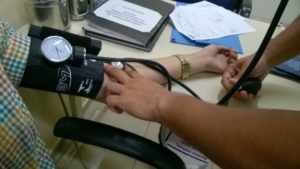 WASHINGTON — There is no denying that cutting-edge equipment and pharmaceutical breakthroughs can help save lives — but so can a doctor trained in storytelling.
Dr. Rita Charon is a Harvard-trained internist who practices general medicine. She is also a literary scholar who earned her Ph.D. studying the works of Henry James. And these days, Charon is merging her two areas of expertise to advance the medical field.
As the chair of the Department of Medical Humanities and Medical Ethics at Columbia University Medical Center, Charon helps train health professionals on the art of storytelling in order to better understand patients.
"For many, many years, it was impossible to really grasp what patients were trying to tell me. I knew that so much of what they wanted to tell me, I didn't know how to hear," she said about her own experience practicing medicine.
Charon didn't find the answer to her dilemma in medical books, but rather, in literature. Now, she is educating others on the coupling of humanities and health care with her courses in narrative medicine.
"Narrative medicine was born in order to give doctors, nurses, social workers, some real deep skills on how to listen to people as they give complex stories about themselves," she said.
How does it work, exactly? At Columbia, Charon trains medical students on the elements of storytelling. In her classroom, creative writing exercises and discussions take precedence over clinicals.
"You feel like you're in a writing workshop and not a medical school, but it allows students to write with abandon, to write for discovery, and they'll always say, 'I had no idea I would write about that.' When they read to each other what they've written, they start to develop, among themselves, a story-based trust. They come to know one another at quite deep levels," Charon said.
"The idea is that reading together, paying close attention, serious attention, to words and what they're doing, and then actually creating some words … students learn how to listen."
This classroom skill has real clinical applications. Charon said instead of walking into an exam room and asking patients what diseases they have or what medications they take, she starts with a greeting along the lines of, "I'm going to be your doctor, so I need to know a lot about you — about your body, your health, your life. Tell me what you think I should know."
"Starting a medical relationship that way enables us, from the beginning, to have trust in one another," she said.
Focusing on a patient's narrative also helps providers better understand underlying issues that contribute to health outcomes, such as income, race and culture. Charon thinks American medicine has gone "farther toward the technical and the mechanical transactions," and that physicians need to be better equipped to truly see the suffering patients bring to them.
Introducing narrative medicine into mainstream medical care has been a decades-long process, but Charon feels the industry is finally at a tipping point.
"We're all ready to try new things, to bring into the care of the sick some of the ingredients that have been missing," she said.
"We're harnessing all that the arts and the humanities have known for so long toward improving health care, and I think that's a fantastic and magnificent thing."
Dr. Rita Charon was recently named the National Endowment for the Humanities 2018 Jefferson Lecturer in the Humanities. She will speak on how the arts and humanities enhances medical care on Oct. 15 at Warner Theatre in Northwest D.C.