Welcome to the National Storytelling Network Events page, where you can find information about upcoming events hosted by NSN. Information on the most current events planned can be found by simply scrolling down this page. You can also find the link to the registration page here.
Looking to submit a proposal for one of NSN's upcoming events? You've come to the right place! Click here to be taken to the submission area.
ANNOUNCING NSN's Bold New Calendar of Events for 2021!
NSN announces a dynamic calendar of Virtual Events for 2021! YES! We will grow storytellers, share great tales, feature membership voices & voices from the world beyond to build a treasure chest for NSN's secure future. NSN will produce monthly events in a variety of forms.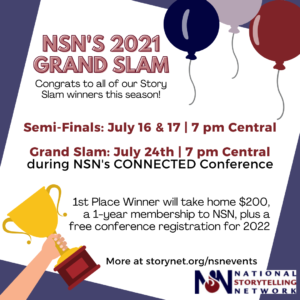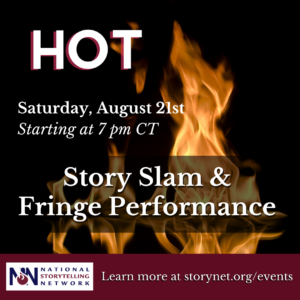 NSN's 2021 CALENDAR – UPCOMING EVENTS
July 16th & 17th: NSN's 2021 Grand Slam Semi-Finals
July 21st – 25th: NSN's Connected Virtual Conference & Festival – Mark your calendars now! Details coming soon.
August 21st: Hot (Slam + Fringe)
Throw your name in the hat to tell at the Story Slam (don't forget to register for the event!)
Learn more about Jean's Fringe Performance
September 18th: Schooled (Slam + Fringe)
October 23rd- 24th: Spooked (Weekend)
November 13th: Stuffing (Slam + Fringe)
December 11th: Light (Slam + Fringe)
Ready to register to attend one or more events? You can find the registration forms for all events with open registration by clicking the button below.
Submit a proposal/Throw Your Name in the Hat
Click the section title below for more information on the event and to view the proposal submission form (if currently available).
Upcoming Fringe Performances
Click the performer below for more information on the fringe performance and to register for the event (if currently available).