Told by Garry McCandless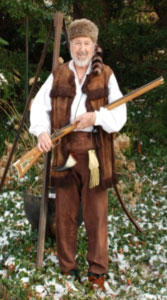 After listening to storytellers Cynthia Changaris and Mandy Dick tell stories at the Lou Tate Foundation, The Little Loomhouse' "Spin A Yarn Storytelling Festival" in Louisville, Kentucky, I was inspired to go home and write Ole Man Mac and The Bear Family. It was my first story for storytelling.  Later that same year Cynthia Changaris invited my wife Rosemary and myself to attend and, if I so desired, tell my story at her Pot Luck Storytelling Luncheon, which she hosted at her home.  At her luncheon I entered into the ancient art of Storytelling.
Ole Man Mac and The Bear Family, is about an old Mountain Man who has run out of vittles and is out hunting in the woods and meets two baby bear cubs and their very irate mother.  A wild chase around Sunshine Hill and a friendly reunion with the baby bear cubs.  Finally momma bear shows up again and Oh, My!!!
About Garry McCandless (Ole Man Mac)
Ole Man Mac, a new comer in the art of storytelling brings his yarns to school age, middle age and young at heart.  He has a twinkle in his eye and a mysterious charm that could only come from being blessed by the Storytelling Princess.  With his fingers crossed on both hands behind his back he promises to not tell a lie but also to stretch the truth wherever needed in his time with you.  He will fill your minds and hearts with gallantry, love and laughter that you will want to take home to your family and friends.
Contact Garry (Ole Man Mac)
Podcast: Play in new window | Download