by Lillian Rodrigues-Pang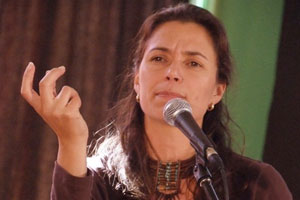 Twenty years ago I sat in the concrete surrounds of the mental health ward next to my brother with nothing to say. I couldn't talk to him about the beautiful sunny day outside, about awesome surf conditions, or my nephew's first soccer game that was coming up. All of these were unobtainable to him locked up in that ward against his will. I saw the moon out early, which reminded me of a story that our grandmother used to tell us. How the moon…
And so began my life as a storyteller. When I shared stories with my brother I found a safe way to communicate. I also found that everyone in the institution loved stories. Stories were a magnet and something that we all needed in life.
Stories are how we shared, found common ground and delved into difficult conversations. They connected us, despite our version of reality being so far apart.
Ultimately my brother committed suicide and that day I threw in my job as an economist in a leading international firm to become a full time storyteller.
I trained up and got out there. I felt committed to the gold and honesty of storytelling, not only in performance but also as a tool for healing and connection.
Over the years I have created and run numerous community storytelling programs, a few of which I will outline below, all of which served to build a sense of self worth, identity and community.
Bilingual story sharing: ran for three years in highly multicultural schools and regions. It was aimed at 9 to 10 year olds with the explicit purpose of bringing in the wider community and valuing 'homeland' or 'non-English" knowledge of all people.
Storytelling for resilience: funded by the Juvenile Justice courts, this was a five year program that targeted disadvantaged schools and youth at risk. This program used stories to explore and discuss resilience and goal setting.
Digital stories of migration and connection (one year fully funded with art gallery display and digital materials)
Teaching storytelling skills to children's hospital workers/therapists.
I have taught English using TPR storytelling and percussion over eight years and ongoing, run storytelling programs for parents of people with mental illness, newly arrived women and teens and new mothers.
The projects I currently run are:
Indigenous communities engagement: Indigenous Australian story sharing project for reconciliation. This is the collection of regional Indigenous stories, sharing these stories and the creation of a theatre experience.
Our journey our stories is a story gathering and performance project that I run in the second half of the year with newly arrived refugees. In 2015 they were all Syrian refugees between the ages of 11 and 21 yrs.
Weekly storytelling and percussion workshops for users of a mental health day recovery program/centre.
While every community and group is unique I have found that I can use the one framework or structure to approach community storytelling. This framework has been developed by trial and error over the life of all the projects above. To my surprise I have found a consistent approach that works with adjustments according to age/group/literacy. Theoretically the structure I have developed is also influenced by three other fields, namely improvisation theatre, music therapy and theatre puppetry.
I am exited about coming to the USA and Kansas City for the National Storytelling Conference, July 21-24. It is an honour and great opportunity to present the framework for community storytelling that I have developed to you and to share in our experiences. I hope to see you at the workshop I will be presenting.
Stories connect us all. When we share and listen to stories we share a piece of ourselves and we form links with others. I look forward to developing new links in Kansas City.
About Lilli
Lilli can only be described as a dramatic, involved and passionate storyteller. She will create worlds and journeys and characters that take over your imagination and win your heart. Lilli tells stories in English and uses a range of languages and instruments to honour the country of origin, so be prepared to clap, dance, sing, creep and enjoy. Join her and share in the beauty of storytelling at its best.
Lilli has travelled Australia and the world performing including at The Opera House, Dreaming Festival, in Peru, Colombia, Singapore and many other stages. When the stage lights aren't on she is working consistently with community; mental health centre, with recently arrived refuges and facilitating Indigenous story gathering and sharing.
Contact Lilli
Website – www.thestoryline.com.auCD available – Vamonos with Stories
Touring theatre shows available – 'Señor Rabbit' and 'Curious Jac'