told by Rivka Willick
Click to Listen
About the Story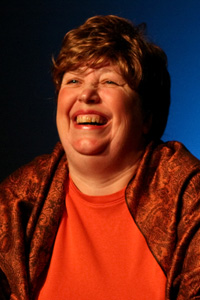 Patricia is a true story.  It's about people we remember and those we take for granted. It's about people we ignore and those we will never forget. I've told this story many times and am usually approached after the telling.
This is a sticky story that stirs people up. About two years ago a nurse came up to me. She said she didn't know why she ended up at the storytelling festival, not until she heard "Patricia".  She said "there's a young girl who came to the USA for a kidney transplant, but it didn't work. Her family doesn't have enough money for a second attempt and up until five minutes ago I just felt helpless. Now I feel different. I'm going to start making calls and others will join me." The nurse walked away smiling.
Another time a fellow came up whose brother had been unemployed for months. Before the story he was fed up, after the story he decided to give him a call.
I've seen the power of spoken word stories, their power to inspire change and make connections continues to amaze me.  And now…allow me to introduce you to Patricia.
About Rivka
Rivka Willick is a professional storyteller, story coach and writer. She orally composes and tells healing, personal, historical, Jewish, and sci-fi fantasy tales to Adult, Teen, and Family audiences. She has performed all over New Jersey and the USA.  Her appearances include festivals, colleges, award luncheons, corporate and municipal lectures, schools, senior groups, and lots more. She also coaches people around the world in a wide range of applications in the art of story. Her clients include Entrepreneurs, professional lecturers, an Australian Rock n Roll Composer, artists, family story searchers, teens and individuals. CDs & DVDs available.
Contact Rivka
www.SimplyExtraordinaryTales.com
Podcast: Play in new window | Download