Told by Jim Stowell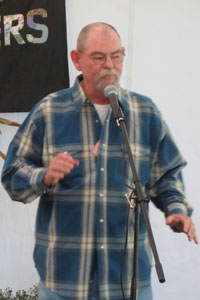 Pie is a part of a one-man play I wrote and performed titled Traveling Light at the Brass Tacks Theater in Minneapolis. The play was filmed live in a stand of six grain elevators by the Mississippi River in South St. Paul. It was shown at the Sundance Film Festival in 1988.
These are traveling stories.  The title was spoken to me, when I was just eighteen years old and on the road for the first time, by an amazing very old Negro gentleman who looked at my huge and very heavy bag and said, "Man, you are just going to have to learn to travel light if you want to do all that traveling you said you want to do."
Stories based on hitchhiking, taking the bus, driving old cars back and forth and up and down across America for almost twenty years. The 1960's, 70's and into the 1980's.
About Jim
Jim was a Featured Storyteller at the National Storytelling Festival 2011 in Jonesborough TN where he also returned in Spring 2012 to serve as Storyteller-In-Residence at the International Storytelling Center.
This June 2012 in Cincinnati Jim told in the National Storytelling Network Conference Story Showcase. While there he filmed two stories with Susan O'Halloran for JustStories/Storytelling Festival.
Jim also teaches two storytelling workshops: Going Long focuses on what it takes to create and tell a long-form story, and From the Page to the Stage offers basic training in how to bring your written word to life onstage.
Jim has a live performance DVD of a mix of stories and live performance DVD shot at the KTCA Public TV in St. Paul/Minneapolis titled Talking Pictures.
Contact Jim
Email:
Website: www.jimstowell.com
Podcast: Play in new window | Download