By Kevin Cordi
Pleasant Journeys: Tales and Travel of who Lives Story
October 24, 2019
It was 1992, I was honored to teach storytelling full time in California, according to NSN serving as "the first full-time high school storytelling teacher in the country." However, at the time, even now, little curriculum was available on teaching storytelling, but my 'go-to' collection of stories, multiple volumes, were retold by the talented Pleasant Despain.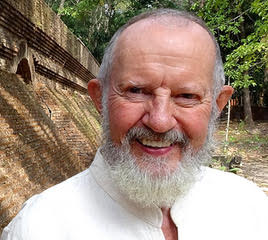 At the time I thought Pleasant created stories that were easy to tell for youth. However, after years of working with story, this was naïve of me. Where I thought the stories were easy to tell, they were more than that, it was a collection that worked to speak to the essences of the folktales, the hidden gems of language and plot to make the story sound easy, but instead was a way to echo what made the tale real. These tales could only be revealed if you lived in the land of the story. This is the work of Pleasant Despain.
I remember when I met Pleasant, it was a joyful day. I remember mostly his laughter. He relayed that he had room and board for the year with the simple payment of the work of stories. With this space, he was the official storyteller of the city. I marveled at this, but he did not tell this in a spirit of arrogance but instead shared how much he valued story and followed the path it led him.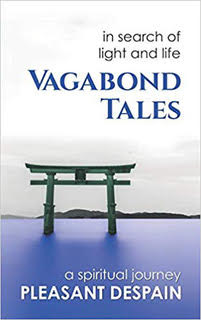 My recognition has grown even more as I read about the journeys of Pleasant's life in his new work Vagabond Tales: in search of light and life (2019) (StoryPro Press). In this rich account, we hear the stories of a modern troubadour, but his trumpet is not only his stories of promise, but also rich discoveries on the value of breathing, silence, sound, and entering the cave of comprehension and mystery when it comes to life choices.
Pleasant is using story and following karma, employing many religious practices that lead him closer to being calm, peaceful, and resonate with the harmony in life that occurs when we release ourselves to experience it. What guides him and us on this journey is the value he places in being and the work that he does daily to follow his heart and soul that as he meditates, he finds awareness. His contemplation offers him new choices or tests that ones he makes. Story is a comfort that he keeps in his bolsa bag.
We listen as he advocates for a public TV show called Pleasant Journeys and when it looks like he will lose the offer to the producer, he tells him a story and the show is approved. It is only one example of the power of story. We also hear about how a school gives him an unhealthy, actually rude unwelcome when he offers story, but when he searches his soul, he answers the call to bring stories to his audience and try again and initially the wind blows a different way but on his second time, the kids, teachers, and school welcome him with open arms for a fine performance. A performance they will remember.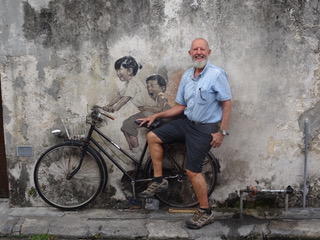 Story is a guide for Pleasant, but he also guides others with story. People pay attention to him because he is a storyteller, but he realizes with this title comes honor, grace, work, and tradition. He does not view this title lightly, he honors it.
This work is not told chronologically but relayed by significance. We are there when he falls into being a debater, we sit with him in rooms of quiet contemplation and spend quality time with the guru "Baba" Muktananda.
We are with him when he travels to a land that he read about as a child, beautifully described by Marco Polo. Although we hear about him as a child, this book is about the promises and troubles as a boy becomes an adult. It has adult themes. He allows us to travel to Arizona, Thailand, and the land of his thinking and struggles. We in a real sense swap eyes and ears with him as we are invited to see his work as a living storyteller, but also as someone who wrestles with understanding his father, his search for identity, and the forgiveness of a mother who doesn't understand his relationship choices. As a gay man he runs into obstacles, especially for the time, including the horrible tragedy of AIDS, but we also hear about real love.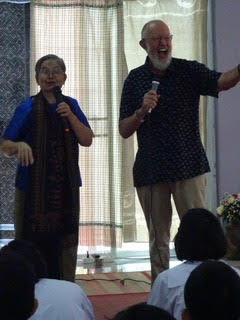 Threaded throughout this collection, he shares folktales including his signature story "Old Joe and the Carpenter," and like the traveling craftsman, Pleasant skillfully provides not only folktales and his own personal narratives to guide us but also exercises on breathing, being, and living. He wants to nurture us not only with his narrative but assist us in finding our own story journey.
I am so glad Pleasant guided me when I started as a storytelling teacher and now continues to lead me as I meditate about my path as I follow story. I have experienced his road; my road becomes more inviting. Thank you Pleasant, I look forward to the next path. Hopefully, time and opportunity will bring that laughter back in real-time.
You can find this book on Amazon and Pleasant at www.pleasant-despain.com.
About the Reviewer…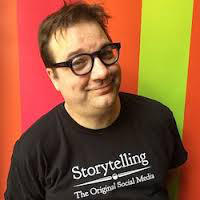 Kevin D. Cordi is the author of Playing with Stories (Parkhurst Brothers, 2014) —Story Crafting for Writers, Teachers, and Other Imaginative Thinkers and You Can't Tell Jack: A Storyteller Goes to School (University of Mississippi Press) which can be ordered at https://amzn.to/2CzHTv0. He believes play makes real connections in story development. You can find out more at www.kevincordi.com.
Contact Kevin
Telephone: (559) 213-0161
Website: www.kevincordi.com
Email:
Facebook: http://www.facebook.com/kevin.cordi.professional.storyteller
Twitter: http://www.twitter.com/kevincordi
NSN loves publishing items submitted by the storytelling community! If you're interested in writing something for publication on the NSN website, newsletter, or Storytelling Magazine please contact the NSN office for more information.
Contact the National Storytelling Network
c/o Woodneath Library
8900 N.E. Flintlock Road
Kansas City, MO 64157
Telephone: (800) 525-4514
Website: https://storynet.org
Email:
Find us on social media!
Facebook: https://www.facebook.com/National-Storytelling-Network-217381542906/
Twitter: https://twitter.com/NSNStorytellers
Instagram: https://www.instagram.com/nationalstorytellingnetwork
YouTube: https://www.youtube.com/channel/UCBedmDdaRi9N-4Hs-QeYNqw