Told by Randel McGee & Groark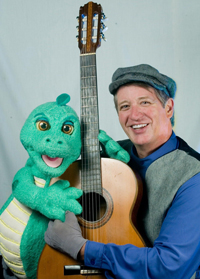 In Western Culture, the story of "Sir George and the Dragon" is THE quintessential dragon tale of a daring knight, a lovely maiden in distress, and a monstrous dragon. Since Groark, my "friend", is a young dragon, we are naturally drawn to dragon tales as he seeks to find his heritage. This tale is loosely based on the versions of the story told by Edmund Spenser from the time of Shakespeare and Margaret Hodges' abridged version (1985 Caldecott Award Winner). I enjoy sharing this story, with Groark interjecting his feelings and insights into it, for many reasons:
It is a classic tale that everyone should know as part of our cultural heritage.
It fits so well into my "act" with Groark, a lively little dragon.
It has what I call "the magic 3" situation, there are 3 different days that Sir George and the Dragon fight, with 3 different results. A pattern of  3 seems to be a magic formula in stories and comedy to establish a pattern for events (and punch-lines) to build on.
Its theme is bravery in the face of formidable foes or problems. "You shouldn't give up when you're doing what's right."
About Randel
Around the world audiences are stunned when Randel appears
on stage holding a lively, talking dragon on his right hip!
Adults and children alike claim, "That dragon is real!"
And they wonder, "How is this possible!"
Randel McGee & Groark, the incredibly funny and endearing comedy storytelling duo, have performed at storytelling festivals and concerts all around the USA and Asia.Visit their website to see more examples of their outrageously humorous stories, songs and video productions! Also see Randel's amazing portrayals of Hans Christian Andersen and Santa Claus in storytelling performances that will leave audiences craving more.
Contact Randel
McGee Productions / Randel McGee
P.O. Box 1723 Hanford, CA 93232
Telephone: (559) 582-5307
Email:
Website: www.mcgeeproductions.com
Podcast: Play in new window | Download