By Ellen H. Munds
Member, Producers & Organizers SIG ()
Originally published in Storytelling Magazine, November/December 2006
At the 2006 business meeting of the Producer's & Organizer's SIG during the National Storytelling Conference in Pittsburgh, we decided to use this column as a means to share some successful programs. Here in Indianapolis, Storytelling Arts of Indiana hosted a new series which we named Small Talk. The purpose of the series was to introduce new audiences to the art of storytelling and to Storytelling Arts of Indiana.
Through our electronic newsletter, we asked board members and current audience members to invite a friend to Small Talk. We described Small Talk as an event to mingle with friends, and partake in delicious appetizers, a cash bar, and storytelling. Small Talk took place in a private dining room at Santorini Greek Kitchen the third Tuesday of the month from 5:30 – 7 pm. During the first half of the evening, those in attendance mingled, ate and drank. Beginning at 6:15 pm, the board president spoke briefly about Storytelling Arts of Indiana, the upcoming programs and then introduced our featured storyteller for the evening. The storyteller shared stories for thirty minutes.
We hosted four Small Talks, once a month from May – August 2006. We wanted Small Talk to be an intimate gathering of twenty – thirty individuals. We charged $20 per person. The restaurant charged us $10 per person plus we tipped the wait staff 20%. The storytellers donated their time.
The intimate event was rather simple to plan and implement but it would not have worked without the support of the board members. Most of our guests were guests of our board members. Did we introduce new audiences to the art of storytelling and Storytelling Arts of Indiana? Yes, we did, but the real test of the success of Small Talk will be if these new audience members attend one of our upcoming events during the 2006 – 2007 Season.
For more information on Small Talk, contact Ellen Munds.
Author's Bio: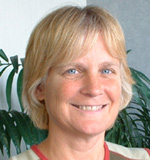 Ellen H. Munds is the Executive Director as well as one of the founders of the Storytelling Arts of Indiana. As director, Ellen oversees many programs including the annual Hoosier Storytelling Festival, Storytelling Series, Frank Basile Emerging Stories, Sharing Hoosier History Through Stories (in collaboration with the Indiana Historical Society), Special Events and Family Programs.
In addition, Storytelling Arts publishes: (a) annually the Directory of Indiana Storytellers and distributes it across the state; (b) quarterly the newsletter The Story Continues which is mailed to all donors and supporters of Storytelling Arts of Indiana.