DIVING IN THE MOON
HONORING STORY, FACILITATING HEALING
---
©Joseph Andrecjahk Galata
There is a saying in the professional marketing arena – "Anytime that you can easily
and inexpensively distribute your product that the public wants, then you have a chance
for success.
"Both novice and experienced storytellers can more readily than not – either in a quiet whisper or a loud shout – exclaim, "Why do I sometimes struggle marketing my storytelling presentations? Why must I spend money rather than earn money to be a storyteller?"
These two respective questions can justifiably be connected to those whose stories' themes, plots and characters focus on HEALING.
In my thirty-six years of a storytelling career – whether on stage, television, radio, or in classrooms and conferences – my original works have focused on healing from diverse
realms of grief, i.e.; deaths, loneliness, abandonment, divorce, and sexual abuse. Has it
been easy during those three and a half decades to be awarded grant funding and/or
monetary compensation from agencies and organizations? Actually, yes.
A recent example. Four years ago on my son's high school soccer field, I was struck by
a 144,000 mph lightning bolt, knocked unconscious, and set on fire. Two women saved
my life by rolling me around in the dirt to put out the fire.
Two months later I was asked to create a story for a specific group about both the
psychological trauma and the spiritual catharsis of being struck by lightning. The
invitation – 30 minute storytelling (not lecturing) presentation and a check for $1,000.
One element necessary for marketing oneself as a storyteller of "healing stories" is to
CONVINCE THE FUNDERS AND/OR PRODUCERS THAT YOU ARE A PERSON OF
PERSUASION.
Stories are a dime a dozen, but you are one-of- a-kind.
Another element is not promoting yourself as a general storyteller but that YOU APPEAL
TO A SPECIFIC DEMOGRAPHIC MARKET.
Another recent example of mine. The last words my beautiful storytelling friend from
Romania said to me, before he disappeared from my life, were: "Myuoso, there are two
animals inside you. One is a turtle buried upside down in the sand of your soul. That
turtle represents forgiveness. You need to turn it upright and release it into the ocean waves. The other animal is a crocodile in your mind – seeking revenge. You need to lure
it back into the swamp and let it swim away."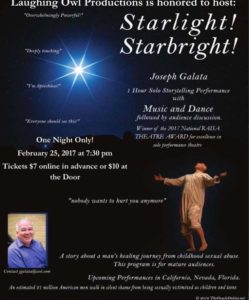 Those eighty-six words serve as the lead in towards the closing segment of my 2016-2017 original 75 minute storytelling production STARLIGHT! STARBRIGHT! With seven costume changes, original Middle Eastern music as well as that from Hungarian and Chinese musicians, plus three dance segments in the production, this storytelling project has brought attention to what is a 'taboo' subject in countries throughout the world, especially in the Middle East, Europe, and America where it truly is an epidemic.
There are an estimated twenty one million American men walking around in 'silent shame' from childhood sexual abuse. It is now estimated that one out of every six American males currently attending a university or community college was victimized by sexual abuse as a boy. Yet, this tragedy remains, in many areas of  American professional counseling services, an unapproachable subject. Not only is it a silent topic in many areas of social service, counseling and therapy, but also the service professions offering what little help there appears to be a lack of necessary group of professionals – MEN. Ninety seven percent of boys being sexually abused are victimized by adult men.
Furthermore, the primary reason for not revealing the abuse is fear of being stigmatized by other boys, male adolescents, and adult men. Men who have been victimized as boys and are willing to admit their horrendous abuse and in need of healing, will honestly risk harsh judgment by stating they need a male to confide in rather than a female professional.
STARLIGHT! STARBRIGHT! traces the journey of Myuoso from his village in Afghanistan, where he is sold as a Bachi Bacha boy (one who dances as a girl for men, including providing sexual favors) and his survival on the streets… to his being rescued by an Irish circus owner and traveling the world as a dancing circus clown. The story also shares his failed marriage, alcoholism, and his inner chronic imposter trying to hide his childhood identity, his work as a storyteller in schools and community agencies, his friendship with the Romanian storyteller who was also a sexually abused child… and finally returning to Afghanistan five decades later, to stand at his father's death bed.
In creating this project, whom did I have in mind as potential groups of funders and audiences? Certainly not certain Afghani men in Kabul! Though I aimed to have in the audiences men who were in need of healing from childhood sexual abuse horrors, I knew they weren't going to fund my cost factors of travel, costumes, music, advertising which would get me started and keep me firm in business.
While writing the story, my primary self-reminder was the necessity of researching which health, government, social service, therapeutic, performing arts organizations were currently or in the near future offering either grant funding, stipends, or at the minimum travel expenses for performances about healing from a social issue or a medical, mental or emotional affliction.
I began the marketing before finishing the script and beginning rehearsals. Within one month I was engaged by six groups in California, Nevada and Florida, resulting in performances before audiences comprised of therapists, medical professionals, university students, senior citizens, gays, lesbians, and transgenders, actors and musicians – and refugees.
During the discussion period after each performance, men in the audience have stood up and announced, "I've never told anyone this, but I was sexually abused as a boy."
We now have a generation of seniors, baby boomers, young adults, teens, and even children facing one or more physical, mental, spiritual, social, financial, emotional crisis, and desperately in need of healing. Common sense from daily life experiences really does teach us that people don't learn as much from lectures as they do from stories. Professional research studies show that we retain only ten percent of what we hear from a classroom lecture; however, we can remember our favorite books, television episodes, films – STORIES – that moved us to tears and laughter.
What other elements are needed for a person to become a successful storyteller focusing on healing?
1. Find the subject(s) you have been or are affected by in your personal healing journey(s).
2. Aim at finding the potential market for your product. Gather factual statistics and weave them into your entertaining stories.
3. Research private and public grant funders, corporate sponsorships, future agency conferences, and festivals. In 2018 we will be producing in Reno, Nevada, a HEALING ARTS FESTIVAL. This type of festival is becoming a wonderfully common occurrence throughout the United States. At the 2017 Sarasota, Florida SARASOLO FESTIVAL, of the twenty-two professional storytellers, I counted fourteen focusing on healing with stories about surviving cancer, rape, sexual abuse, loss of a loved one and the world war two holocaust.
4. Learn how the producers of the events work – their inner operations. Who you know is the old cliché that continues to work. Who is the General Manager? The Account Executive? The Social Media Director? The Production Coordinator?
5. Actively engage in non-stop social responsibility advertising including COUNTER ADVERTISING, which generates controversy by directly advertising against the cause of a disease or affliction. For example, in a brilliant storytelling production I saw by a professional in New York City whose performing schedule appears to be both exciting and exhausting, she focused on her journey through breast cancer. There were moments of hilarity, poignancy, and controversy. Audience members everywhere she performs include representatives of the
healthcare, insurance, and pharmacology businesses sitting side-by- side in the audience with cancer survivors or family members who lost a loved one to cancer.
6. Attach yourself to a non-profit charity (5013c in America) that would be interested in engaging you as a paid Independent Contractor.
7. Join a Gatekeeper Group – it's a chain of people who engage in interpersonal communication about a specific affliction whether it be medical or social. This includes being skillful in electronic journalism.
Everyone has difficulty at some time or another turning their passionate dreams into
manifestation. A vulnerability for storytellers focusing on sensitive issues such as sexual
abuse, addictions, cancer and other illnesses, grief and mourning, is how easy it can
be during emotional moments in front of an audience to forget that we are
EDUTAINERS – educators + entertainers equally.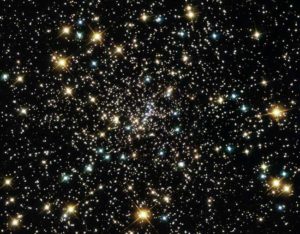 We are appearing before an audience to emotionally and mentally (and perhaps also
spiritually) TOUCH, STIMULATE, and ACTIVATE each audience member for their well-being. If we use audiences to garner anything but appreciation for our creativity, (e.g.; pity for our sufferings, sympathy for our afflictions, or even admiration for our triumphs), then we are misusing the purpose of being their EDUTAINER. We would be asking them to work for us rather than working for them.
It takes courage for a storyteller to tell a vulnerable personal story. As a storyteller
focusing on HEALING, the most important element for success is to have COURAGE in
telling the story that may be extremely sensitive or even taboo… and taking care that
your courage is not diminished by becoming bravado energy.
As for myself, when I'm presenting a story that is reflective of a sensitive issue I've
experienced along my journey through life, I'm always asked after a performance, ;How
much of your story is true?" My response is:"There are old clichés that I adhere to –
that a writer should only write what he or she knows firsthand and a performer should
always take artistic license." For me, that leaves the audience members knowing that I
was on that stage as an EDUTAINER.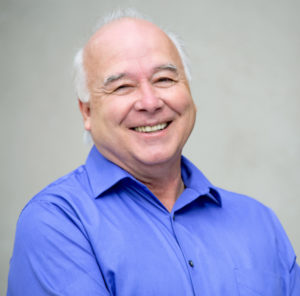 JOSEPH ANDRECJAHK GALATA is an Arts and Media Education Specialist, a former
representative to the United Nations Socio-Economic Council, licensed therapist, university faculty member, teacher, and television, theatre, radio producer, director, host, and performer, Joseph has taught storytelling to thousands of economically disadvantaged adolescents including former street gang members, sexually abused kids in foster care, youths with eating disorders, and those with substance abuse histories. Joseph's career also includes hospice where he used storytelling to help terminally ill teens and adults create oral history stories. Currently, Joseph serves on numerous boards of directors for international, national, and local non-profit agencies representing arts, culture, education, health and media. He resides in Reno, Nevada.