At the National Storytelling Network, our mission is to advance all forms of storytelling within the community through promotion, advocacy, and education.
STORY NOW! Interview Series
The theme of our 2019 annual conference was Story Now!
Now! From the boardroom to the classroom, and the page to the stage, personal stories and folktales are catalysts for change in every aspect of our lives.
Now! We are witnessing the power of stories to tear down the walls that divide us, build bridges between people and cultures, and connect us, human-to-human. In this interview series, we'll talk to storytellers who exemplify this Story Now! movement.
Each month we'll sit down with an NSN member or member organization, from around the globe, and go behind the scenes to explore how they are personally harnessing the power of storytelling to tear down walls, to be a catalyst for change and connect us human-to-human. Through one-on-one, in-depth conversations, we'll discover the type of storytelling they do, how they do it, who their audience is and, most important, they'll give examples of the real world, tangible results they get.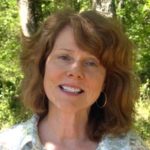 Kathy Greenamyre is NSN's Community Relations Manager. She will be conducting interviews and contributing content each month for our Story Now! Interview Series. Kathy is the owner of a video production company. She's interviewed hundreds of people over the past 12+ years. Her passion is to discover the world (and maybe even learn how to fix it) through listening to, recording and spreading personal stories.
---
Jerome Deroy – Brooklyn, New York
Narativ
CEO
and
Julienne Ryan – New York, New York
J Ryan Partners, Be engaged at work
Coach/Trainer/Facilitator/Speaker
Note from Kathy:
This is our first Interview since the COVID-19 experience took hold in the US. I want to personally thank Jules and Jerome for putting so much time and effort into telling their stories, especially at this difficult time. As residents of New York City they are dealing with a lot right now. Regardless, they put all of themselves into this in-depth interview. I believe that by the end of this conversation you will have learned a lot that you can apply in your own businesses — and may even feel like you've been through one of their workshops.
P.S. For those storytellers who are looking for new ideas to reinvent and shore up their businesses, don't miss the part where Jules and Jerome talk about their decision to collaborate (about a year ago) and how successful that collaboration has been!
Kathy Greenamyre: Jerome, you and Julienne Ryan met through a series of interesting coincidences that involved NSN. What I find really inspiring is when our storytellers collaborate. There's sometimes an assumption that people will take business from each other, and there's not always examples of productive collaborations. I'll ask you about that in a little bit. For now, can I ask you why you started working in this field of storytelling?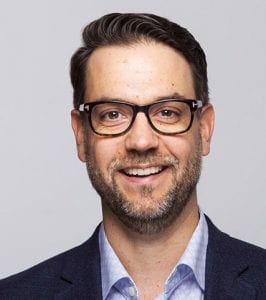 Jerome Deroy: A little background: I grew up in France. My father's French. My mother's American.
My father was a CEO of a grocery chain that was founded by one of his great uncles in the 1900s. It's a very large grocery store chain, similar to the Walmart concept we have here in the States.
When I was a child, my father would take me with him on store visits. We'd go through each aisle and he would check on everything. He'd say hello to the managers and I'd follow him around watching and listening. I did internships for that company as I was growing up. Throughout high school, I worked as a cashier in one of the stores during the summer.
When I turned 16, The French academic system required me to make a decision about my career path. I had to decide if I wanted to pursue the arts or the sciences or business. I had no idea, so I took the middle road and chose a concentration in business. Then at 18, I had to decide on a specific focus. Again I didn't really know, but I knew that I was pretty good in the economics and business side of things, so I decided to go through a two-year program that would allow me to apply for the top business schools in Europe. Everything went according to plan. At 21 years old, I entered one of the top 10 business schools in Europe in 1996.
To complete my degree, I had to do an internship. I managed to get into the marketing support team of a large French bank in Paris called BNP Paribas.
The bank I did my internship with had a marketing support team in Hong Kong that needed someone to fill in for a member of the team that was leaving. That's how I left my family and friends in Paris and landed in Hong Kong in December 1999.
My first week there, I walked into the 15th floor of a glass building overlooking the streets and harbor of Hong Kong. I arrived wearing my new suit and tie and rang the bell. I was sent to meet with the director of personnel and was greeted with the words, "Welcome, we're glad to have you. Before you meet anyone on the team, I need you to go through a few things." She took me to a small windowless room and we sat down in front of a television and she popped a cassette tape into a VCR. It was a training tape that took me through compliance and what it was like to work at BNP Paribas. It looked like it dated from the 1980s and had lines that went down the screen and distorted the image.
She then handed me two huge binders and said, "Follow me please".
She led me to another conference room that had two chairs and a table without any windows. She said, "I'd love for you to go through these two binders in the next 48 hours," then promptly closed the door and walked out. I went through the compliance binder and the employee handbook by myself in that windowless room.
After a week, I had only met a handful of people on my team. After a month, I still didn't know what this company stood for or what people were really doing. I wasn't completely clear on what my role was other than my job description.
What I knew for sure is that I was expected to replace someone named Charles who'd been with the marketing support team for 4 years.
I asked Charles to describe the role in his own words and he said, "You're a translator. The marketing support team is essentially translating for the sales team what the investment fund managers are doing: their perspective on the markets, the products that they work on, the funds that they put together. The sales team then goes out and sells these investment products to retail banks armed with the materials we created for them."
I remember shadowing Charles in a meeting with the fund managers. It lasted about 30 minutes and he hardly asked any questions. One of the investment managers said, "Do your best. You'll be missed around here, by the way."
We went back to Charles' desk and I looked over his shoulder as he put together a PowerPoint presentation in under an hour and sent it to the sales team, copying me. He then looked at me and asked, "Got all that?" I didn't answer. "Good, because tomorrow, I'm out of here!"
After Charles left, I had a meeting with those same investment fund managers and it lasted almost three hours. The managers asked me to stop. They said, "Enough with the questions, we've got work to do." One said, "Charles would never have taken so long." Another said, "Oh I miss Charles, he was so great." One by one, they left the conference room and I sat there, looking down at my notes. After three years of self-tutoring, I finally got the hang of it and the meetings never lasted more than a half-hour.
One thing I noticed about the company is that every 3 months, someone would walk into my managing director's office and come back out shortly after with a big smile on their face. The MD would then come out and say, "Another resignation. I guess other banks pay better." He'd sigh and head to the coffee machine.
One day after one of our Monday morning team meetings, I walked back to my desk and typed three things into my search engine: film, business, and New York. A few months later I walked into my boss' office and I told him, "Lawrence, I quit," and got on a plane to New York.
KG: I have to tell you, I can really relate to a lot of what you're saying because I worked in corporations and had similar experiences. Did you even like investment banking?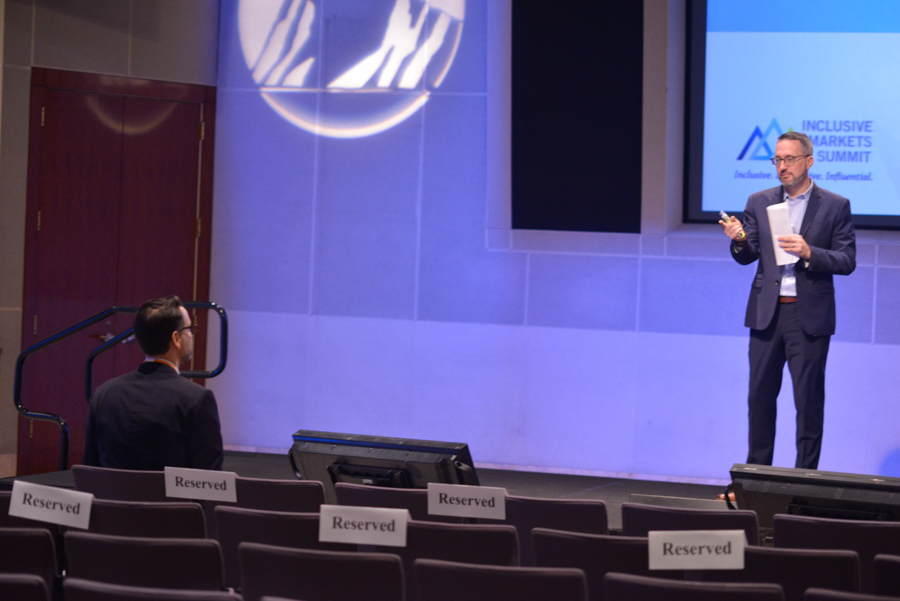 JD: I typed in those words "business", "film", and "New York" in my search engine not because I didn't like what I was doing at the bank or my team, but rather because I wasn't engaged in my work. After graduating from high school, a very good friend of mine had gone to film school and I met another person in Hong Kong who was going to work in film after starting his career in the corporate world.
One of the things I found when I typed in those words in my search engine was a continued education course in New York, where my sister lived. So I enrolled in a course at NYU called the "Business of Film" and started meeting people as soon as I arrived in New York from Hong Kong. I had given up a 3-bedroom apartment in the hills of Hong Kong and now I was living in a sublet apartment with a roommate from Texas in an East Village apartment.
KG: You've got me on the edge of my seat. What happened next? Did you immediately find a job?
JD: No. One day after I finished my 3-month course, I was sitting in front of my laptop looking at a page of job offerings in film production and distribution. I moved my cursor from "jobs" to "internships". I had a stack of emails and letters next to me that each said something to the effect of, "We regret to inform you that the position you applied for has been filled." These were all from film companies in New York.
I looked at internships. I went down the list and stopped to read one that said: "Oscar-nominated filmmaker is seeking an intern to work on his latest feature documentary that's just been bought by BBC and HBO." I clapped my hands together and sent my resume and cover letter. That's how I met the co-founder of Narativ, Murray Nossel, PhD, and now author of the book "Powered By Storytelling."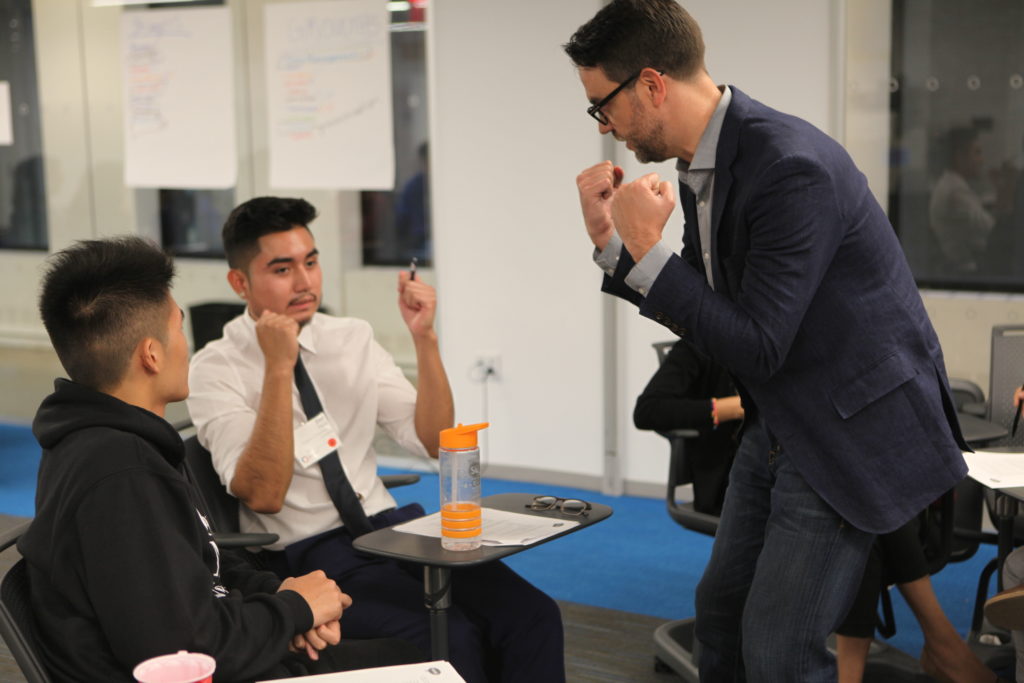 About two months into an (unpaid!) internship, Murray called me to say that he wanted me to be his production manager and that I would be paid. I did this for a year and we started to make mini-documentaries for organizations, about their products, services, and their impact on the people they served.
One day, Murray told me about Narativ for the first time. The films I worked on were part of a separate production company. He said to me, "I founded this company that's all about storytelling. And the reason I founded it has nothing to do with my film career. It's influenced by many different things. The fact that I'm a trained psychologist, that I have a PhD in social work and a minor in anthropology. The fact that I worked in the mid-1990s in an AIDS program, at the height of the epidemic when people were dying, young people were dying. And there was a need for advocacy and activism around HIV/AIDS at the time because people were not receiving the kind of care that they needed to receive."
He told me Narativ's Origin Story. He created a storytelling group for the AIDS Program that he was placed in as a PhD student in social work from Columbia University. People there were facing death and were afraid of leaving nothing behind. He created a space in which they could come in and tell the story of what happened to them. In exchange, people agreed to listen to those stories without judgment. They wouldn't ask questions about how these people felt about what happened to them or what they thought about what happened to them, only listen. Only when the person was finished telling their story and permitted others to ask questions might they ask questions. They could only ask questions that would have to do with what happened and nothing about what their judgments about them were or what they thought of at the time.
Now remember, this is a time of crisis. People were dying. At this time, the government of New York in Albany is threatening financial cutbacks on programs just like this one. So the members of the program made videos of their stories, got into a yellow school bus and went to Albany. They left their video tapes on the desks of legislators and said, "Listen to my story and tell me that I don't deserve the same care and rights as everybody else." These stories were not about AIDS. They were not about HIV. They were about people who had parents, people who had kids, young kids who would not remember them. These tapes were for their loved ones to remember them.
The stories portrayed functioning members of society who had jobs through this community center that Murray was involved with. At that time, the mindset of the broader population was that the virus happened to other people and that it wasn't about them. It was about people who were gay or substance abusers. These stories broke down that dominant narrative and those preconceptions people had. This changed the face of the epidemic when people started to hear those stories. Not only did the government not go ahead with those cutbacks, they actually put more money into these programs and they put more money into finding a cure. Within a couple of years, they found treatments that allowed many of these people to survive. That's the story Murray told me about Narativ.
KG: So what made you leap once again? This time, from being a production manager to being CEO of Narativ?
JD: When Murray told me about the listening and storytelling method that he and his co-founder Paul Browde created, I told him, "I think there's an opportunity here because of the lack of engagement I saw in the bank I was working in. I think if leaders had this kind of method and if employees were taught how to use it, maybe we'd see those engagement numbers go up and maybe we could find other applications for it within the business world." Murray asked me, "You know, I think we need someone to run that part of the business. Would you be up for that?" I told him I was. In 2006, I worked on a business plan to figure out how to monetize the idea while making a difference in how business people communicate, for the better.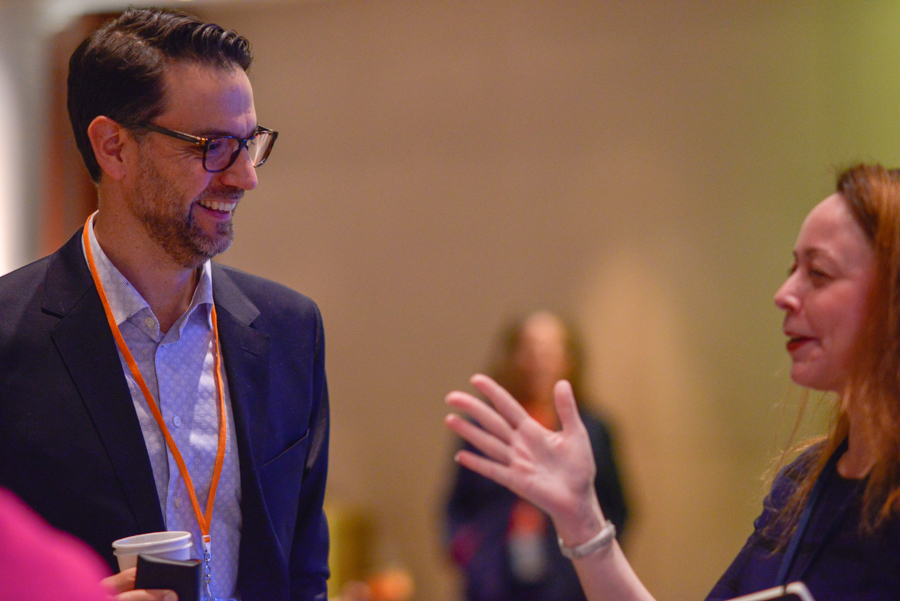 In 2007 we had our first corporate client, which was Time Warner. We worked for their internal audit department. It was a team-building exercise for about 50 people. We thought that we were on to something if we could get a group of accountants engaged with storytelling in 2007 when nobody was talking about it in the corporate world.
Then Disney came along and they asked us to do something, which was a much bigger enterprise. After that I remember a meeting with Murray where he said, "I think we need to make a decision here. Is this what we're going to do or are we going to keep doing this on the side in addition to the production work?"
I said, "You know, the film world is great, but it takes ages to see any of the fruits of your labor get to an audience." Many of the movies I worked on never saw an audience or saw an audience so small that I had no idea how it was received. Whereas in a storytelling training program, what I was witnessing was immediate. Within three hours I saw transformation and I saw people engaging with their work differently. I saw stories starting to live within organizations within weeks or months of our training program taking place.
I was ready to engage with Narativ full time at that point. I was named CEO in 2008. We then got our first long term contract with a big foundation here in New York, where we developed a training of trainers program so that people could use the Narativ method in more than 10 countries in several languages.
KG: Okay, so that was in 2008. 12 years have elapsed since then and it seems like Narativ's still going strong. Who are some of your clients? Do you focus on a particular size company?
JD: I would say it varies. We had the very fortunate experience of working with very large companies like Disney and Time Warner. Based on that we started working with Fortune 500 companies and those remain our biggest clients, as well as large foundations like UNICEF and the Open Society Foundations. There's also been a development in recent years of companies that were start-ups and are hitting a certain level of success and are growing rapidly. Those are the companies that interest us quite a bit because they don't yet have the structures in place that Fortune 500 companies may have. We have a chance with those clients to co-create a storytelling culture where listening and storytelling permeate the fabric of the organization, from the new hires to the most seasoned salesperson or executive. With millennials in particular, there's a desire for focus on a sense of purpose in one's work, so we have increasingly been working with those kinds of companies over the last three to four years.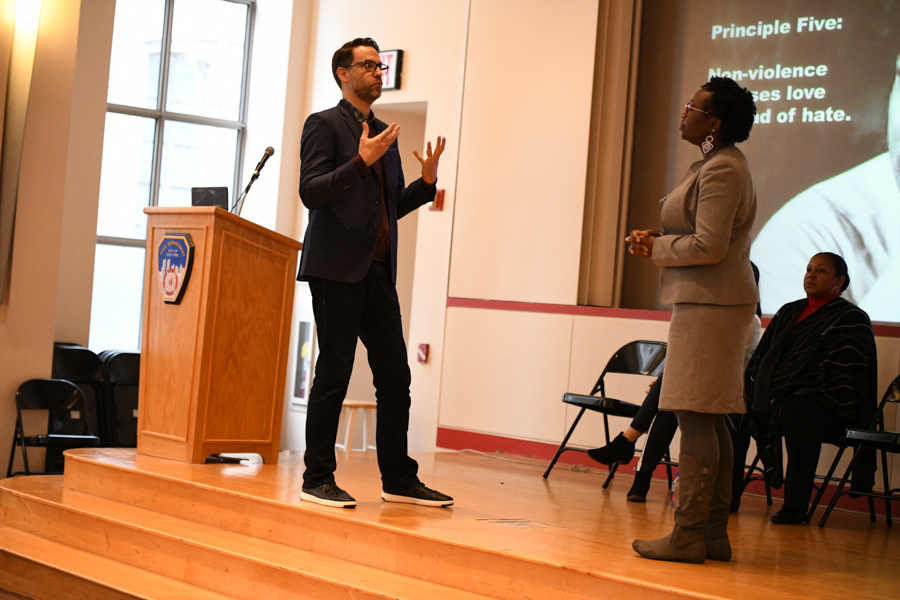 We rarely work with very small companies that have fewer than 10 or 20 employees. Our sweet spot is working with companies that have more than 100 employees or have a growth trajectory. We also do one-on-one coaching. I'll often coach startup entrepreneurs or executives of smaller companies, which may lead us to work with their teams as they grow. The majority are these larger companies where we add value to the systems that they have.
KG: I have to ask you about Disney. Aren't they the ultimate storytelling company? Why did they decide to bring in a storytelling company like yours?
JD: I know. It was really interesting. What you see as a consumer of Disney products is storytelling and what the company calls the Disney magic. They internally refer to their core mission as providing people with magic. For the emerging market sector leaders at Disney (over 100 countries represented and more than 50 languages), it's hard to think of selling merchandise as magic or even as storytelling. So we were brought in to reconnect these leaders to a sense of mission and purpose and bring them together, crossing cultural, language, and communication barriers to help them be better collaborators. Just because a company is known as a storytelling company doesn't mean that their employees view themselves that way. We worked with a group of over 100 emerging market leaders at a 3-day retreat. We taught them the Narativ method of listening and storytelling so they could not only leverage the power of storytelling but also have a common language that everybody could understand, no matter where you were from. Everyone's individual values were expressed and shared to form a collective set of values that everyone could get behind and actually understand. It's the difference between having a value statement on a wall of the company or in a brochure and actually living those values. That's what our method helped create in this instance: a shared understanding of values, which then led to a better understanding of the goals the emerging markets were aspiring to.
KG: How has the use of Narativ's listening and storytelling method evolved over the years? What are you focused on these days?
JD: After working more with internal communications and the team collaboration side of businesses, many of our clients and the ones we were referred to asked, "Well, what about training our sales teams to do this? They need to bring something much more personal to the table." We were encouraging people to tell stories about their own experiences of what it meant for them to be working in their organization. For salespeople, what does it mean to you to sell this particular product or service? What's your experience of the pain point or challenge you're solving? What's your experience of its solution? Move away from the dryness of product features and breathe life into how you talk about your product. Tell that story. Ultimately, what people are going to buy into is not the features of their product. It's how you represent that sort of challenge that your product or services is solving for and how you're going to solve a problem for those clients.
Finally, a few years ago, one client came to us and said, "We've been working together for more than 10 years now and it's been great, but now I have an expansion challenge. I'm used to onboarding people by having them shadow me but that's not enough because now we're growing too quickly for that. How do we transfer my stories, my knowledge, and my experience to these new people?"
We created a program together that consisted of a podcast and training modules that were 15 minutes long. New hires heard from people who were already in the company telling stories about situations that these new hires were very likely to come across.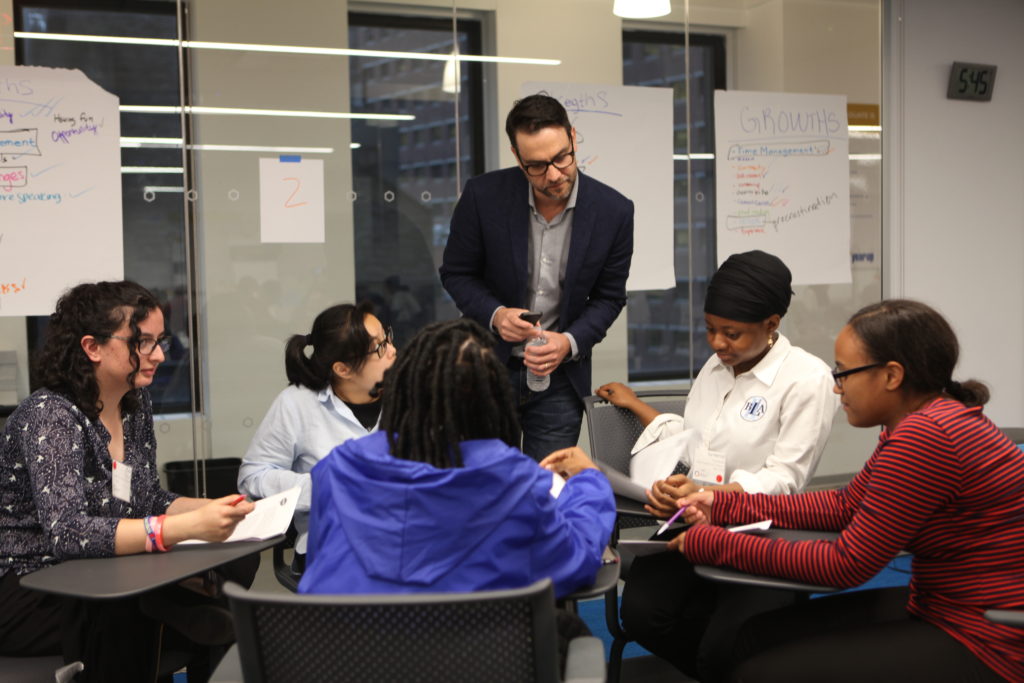 As a result, after going through this program, new hires were prepared like they had never been before in other jobs. They were prepared for what was going to come. They knew what kind of challenges they were going to have to face in a very real way because they'd listened to the stories and lessons learned from their peers in the company and people who'd been in their shoes.
We've now turned that experience into a systematic way of recording the knowledge that is contained in the stories that employees and leaders have. So now, with this client, the new hires from two years ago are telling their stories and recording them for the new hires of today. So we are constantly capturing new challenges and situations, and learning from them. Now let's get their stories of new challenges and new situations that are coming in.
This answers a real market need as well because we have a big engagement problem in the US and elsewhere. I just read a statistic from Gallup that 52% of employees are present but not engaged at work, and that 20%, one in five workers, are actively disengaged and are going to leave their job within a year. So how do you leverage and share people's knowledge to engage new hires from their first week? That's the inquiry we are and where we feel our method can have the most impact at the moment.
KG: How are you archiving these stories? Are you using some sort of story bank?
JD: Yes, absolutely. We call it the Narativ Story Library. And it's not just for onboarding purposes. If someone needs to listen to or watch how someone closed a sale before going into a meeting with a prospective client, they'll be able to do that through the Narativ story library. Same if they're looking for inspiration. They'll click on the "leadership" section of the library and choose from stories of people that have been or are currently in the organization. The list goes on, but broadly, a typical Narativ Story Library will have these categories: Onboarding, Leadership, Sales, Team Collaboration, Internal Messaging. Each of these will be broken down into stories that are situational so that employees can use them in a very specific way. One client told us that she remembered a story she'd seen in the Narativ Story Library when she was in a meeting that reminded her of that story. As a result, she said she was able to navigate that meeting successfully because she remembered how someone else had gotten through a similarly difficult conversation. The kicker for me was when she told me that the meeting was almost a whole year after she'd heard the story. She said the story stuck with her and when she needed it most, her brain just delivered it to her. That to me shows the power of storytelling and how we're all hard-wired for it.
KG: Can you give us a sense of your process?
JD: We have a word that represents the essence of what we're about: connection. We are here to connect people through listening and telling business-relevant personal stories. We call our methodology the listening and storytelling method because listening is just as important, if not more important than storytelling. So the first thing when we work with a client that is looking to leverage the power of storytelling to improve how they communicate, the impulse is to first look for stories. But it begins with listening. We have to listen to our clients and what their challenges and issues are. This is where collaborating with someone like Jules is fantastic because she's a great listener. So we start by listening to our clients to understand what it is that storytelling can be used for. We ask them the questions "Why story? Why now?"
We never assume that storytelling is the best way of communicating in every situation. Companies we work with need to understand why they need a story and why in this moment. Once we have the answers, then we start to listen for stories. We find the people who have the stories, meaning those who have the experiences that will illuminate or bring to life the messages our clients are trying to convey in a real, genuine and tangible way.
Then we work with groups and individuals, in person or virtually, where they learn our method for excavating, crafting and telling stories.
You might think that finding and telling a story that's business relevant can be easily done, but it's really hard and if you don't have a structured methodology to go through it and someone to help you through it then it's even harder.
KG: How do you measure what you do? Is it measurable?
JD: Yes. We actually wrote an article about the ROI of storytelling. I think the reason we initially had more success in nonprofit organizations and foundations was because they saw a direct correlation between how well they told their stories with how much money they could raise. Those clients call it advocacy and serving the call to action.
That translates to sales in the business world. For us, we can't always show that a good story helped close a sale. So what we do is we ask questions along the way that help show where and how storytelling was helpful to making a sale: Did you get another meeting with someone? How far down the sales funnel have you gone? We recently worked with a fintech company that was in a very competitive market. We knew their objective was to move from entry-level buyers to C-suite decision making executives. We then know to ask whether they had been able to engage their prospective buyer in such a way that they were referred to the next person up the chain. In more than 80% of the cases, people were given the name of a C-suite executive. And all of them said the stories they told made a difference in the level of attention they got in the room. One person told us that he would normally get questions about things he'd covered in the first 5 minutes of the presentation, so then he'd have to repeat the same information. When he told a story at the beginning of his presentation, he noticed that no one asked those redundant questions. They all immediately went into a dialogue with him, and he said that was a game-changer for him.
This type of feedback and qualitative measurement allows us to see where stories are helpful and where they're not. Of course, this is very dependent on listening, right? Each listener is different. Another sign of success for us is when people say "I felt like they were listening to me" and when we ask "How do you know that?" "Well, they weren't looking at their phones and they leaned in, and they asked more in-depth questions that raised the level of the dialogue."
Internally, when we work with leaders, our surveys ask questions about engagement and follow up. So when a leader works with us on the story of their vision and mission in order to rally everyone around a set of goals and values, we will then ask the listeners, i.e. the employees, what they got out of it and what impact the story has had on their day to day work. The word that comes back the most, whether it's in big companies like Time Warner, or smaller start up's, is trust. Employees trust their leaders more once they've heard them tell a genuine, real-world story about where they see the company going.
Finally, there's onboarding new hires. One way we measure success is by looking at levels of engagement and whether we have an impact on job performance and preparedness. One of our clients showed that what used to take 6 months to ramp someone up to a level where they could perform like other more senior employees, has now gone down to an average of 6 weeks!
I think back to my experience I told you about in Hong Kong. If many of my colleagues had had access to a tool like this that empowered them and didn't just teach them how to tell a story, then that would have engaged them like nothing else. Even for junior people, even someone like me who was just starting there, I had a story I could tell that was relevant to the mission and vision of the company that I was working for. Nobody cared to listen. So what went on in my mind was "I don't have a story because I don't have enough experience and my story has to be about the company."
But actually it doesn't. That's the beauty of what we do, I think. And I think Jules will agree that we find the stories that you have within yourself, within your own life experience. It doesn't have to be work experience as long as it relates to the values and purpose that underlie what it is that you're doing now. The very process of starting to engage with that kind of experience builds your confidence. It engages you; it gets into your passion, so that your whole demeanor completely changes.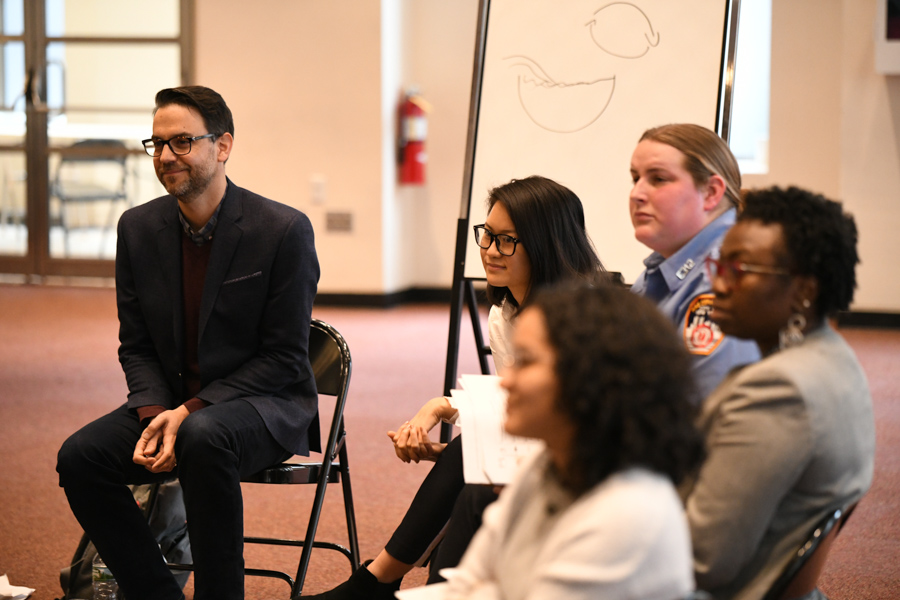 I worked with a group of product managers, software engineers and designers at Twitter. It was amazing to see the transformation of some people who said, "Oh, I'm really not comfortable speaking" but when we asked them to tell a story about where they came from, who they were and how that related to what they did, and gave them tools to do that, they started telling those more personal stories.
There was one guy who was just silent the entire time. And then when it came to him to present, he was a changed person. His whole body language was completely different. All of his colleagues who were there witnessed that and they said, "Wow, you know, I'm going to go to this person more often. I just thought this person was a closed book and maybe I couldn't trust him." Some people had written to him so they didn't bother interacting with him. But now, everyone was saying "I know I can go to that person. I can go to that person and ask them questions. I know that there's something there that engages them." It's like giving people a key to unlock these experiences so that even the most introverted person has a way to tell a story that's relevant to whatever it is that they're selling or whatever it is that they're talking about at work. And it's real and it's going to be interesting and engaging, provided they're given the space to do that and given permission to do that. That's when true empowerment happens.
KG: Do the stories make their way back to the boss or is the boss more or less like, "I don't really care?" Or do the bosses want to know the stories of their own employees and what kind of talent is right under their nose that they may not even recognize?
JD: It depends on the organization and on the boss!
Many times our point person is the chief people officer or the Chief Talent Officer or whoever's in charge of human capital and training. So the stories will live in that context. But the most successful companies we've worked with understand that the stories transcend any one area. They are absolutely leadership assets. One client that Jules and I have been working with is showing a real desire to bring in those leaders' stories because they do see the value of it. So the story bank we were talking about earlier needs to include the stories of leaders and leaders need to listen to them and watch them.
This is how leaders can pave the path ahead, by truly listening to the stories of their employees and managers.
We've seen leaders refer to some of the stories that came out of engagements, and we've seen leaders be part of some of our training programs. I remember a training session with Medium.com a few years ago, and the founder of the company was there. He's one of the original founders of Twitter and has a stake in many different companies and is a very busy person. But he spent two days with us and his entire staff, fully engaged in the content and listening to everyone's stories. The employees all fed back that this was very unique and made them feel valued and heard. They all went back to work and went the extra mile to perform to their goals.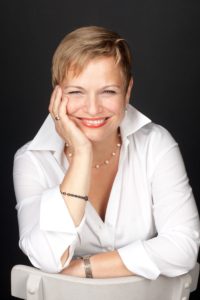 KG: How did the collaboration between you and Jules Ryan start?
JD: I would say one of our challenges has been that storytelling is so ubiquitous. You could be doing this in any organization. And honestly, the first few years, I knocked on absolutely every door.
I didn't make any distinction between companies, roles, or functions. There wasn't much of a focus in terms of the application of storytelling. Working with Jules has helped us focus on these areas of people management, talent development, talent management. We're seeing a need to update systems like onboarding that people have been using for decades and haven't been very engaging for people.
That's the context in which we met Jules, which was really interesting for me because she was coming from that world and, she was already using storytelling as a speaker and facilitator, using that language to connect with her clients. So we decided to join forces on certain projects. We're both motivated by raising the levels of people's engagement.
KG: Jules, why don't you pick up where Jerome left off and explain the origins of how you two met and then went on to successfully collaborate.
Julienne 'Jules' Ryan: So before I go to the initial meeting, I think it's helpful to give some context about me for a minute. During our interview with you, Kathy, on our recent zoom call, I scribbled a lot of notes and diagrams, because every time Jerome said something, it sparked a thought…
In the middle of the page I wrote the words "the aha moment" because even though I've talked a lot to Jerome in the past year, I now have more context regarding his work and personal backstory.
So here is a snippet of my back story…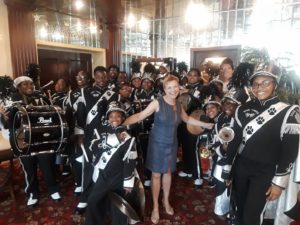 I was born in Brooklyn, raised in Queens, I am a first-generation American and I lived with people from many different countries and cultures. I was an incredibly shy child. However, I was very good at watching and listening to other people. I taught myself how to ask other people questions, I was always fascinated about people's backstories or why or how they did something. So now text let's flash forward to how my professional work. So I put that ability to good use when I became a recruiter in a Human Resources Department of a Retail Company. Looking back at how I approached my work, I realized I did something a little unorthodox when I was interviewing people for jobs, and later on when I worked people on employee relations and professional development issues. I used to ask people what I called " a hindsight 2020 question" so they could tell me about a time when something went wrong, what they learned and how it showed up in their life recently.
And as you know, when we go to an interview, we all practice our very curated, polished answers about what we think will impress people. My question took them by surprise, because I also shared a personal example from when I was a new, inexperienced and exhausted retail store manager and had made a disastrous hire. But I was honest, and therefore candidates and employees shared more information and I developed trust. This information helped me place them in roles, advocate for them and offer effective coaching when the situation called for it.
We formed a connection that was a little deeper because they knew I had taken the time to get to know them as more than just a name and a page and stats and facts.
I received some compelling feedback from my staff and clients at a pivotal point in my career. They shared that "when we came to your office and we were laughing when you were sharing a story, we were learning and it made a big difference regarding how we approached our work." Up to that point in time, I didn't fully appreciate the impact I had had.
Around that same time, I had another important experience. This one took place at a college mentoring event when a young immigrant student came up to me and said: "I don't think I am ever going to get a job, I don't have a good story to tell."
That short interchange prompted me to listen and pay attention to how we use our personal stories and how it can create issues for use when we ignore our gifts and the possibilities in our stories.
A beautiful gift of feedback and a brief conversation with a student changed how I viewed myself and my work. Since then I use the "story form" in a variety of ways, or as a speaker, as a workshop facilitator and as a coach.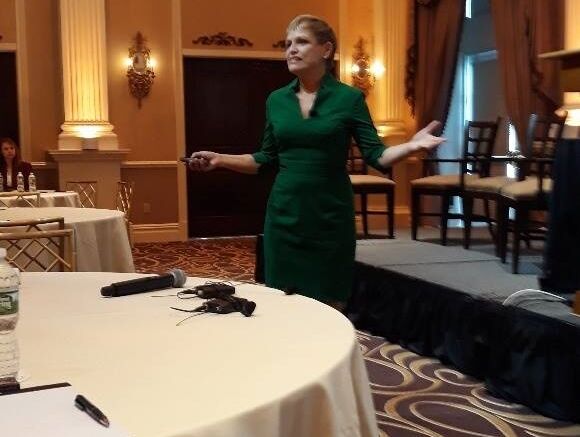 As a speaker, my goal is to connect with the audience using stories so I can create an interactive and engaged atmosphere that allows them to laugh and learn about the key do's and don'ts about communicating, leadership and teamwork. While I love entertaining a group, the part I like the most is when I see them connect and learn from each other….and quote me afterwards!
When I coach individuals, I show my clients how to listen to and use their stories to appreciate their talents, work styles and achievements. Using stories enables my clients to step away from the limiting, left-brain resume creation process and instead appreciate all of their life experiences. We use their key stories to identify optimal career choices.
Using stories also helps people take a step back and identify reasons for challenges at work. Repeating back a client's story script allows them to gain a fresh perspective.
So today I had the opportunity to listen to Jerome and hear interesting stories about what has informed his work and perspectives. So now it's time to share how we met and how the National Storytelling Network played a part.
I'm on the Board of the Storytelling in Organizations SIG and our group offers a monthly Story Lab Podcast that features interviews with applied storytellers from all over the world. It's an interactive session which allows us to learn about their background, experiences and their methodologies. One of those podcasts featured Artem Mushin- Makedonskiy, a new member and a Moscow based applied storyteller.
We had attendees from Russia and Europe. A young lady named Olga said that she worked with a group called Narativ that had offices in London and Brooklyn. Well, that caught my attention since Brooklyn is in my backyard! All right, it's 33 miles away, but it's kind of close!
When Jules and Jerome decided to collaborate…
Jules: I'm always looking for ways to develop working relationships and connect people. Connection is Jerome's favorite word and it's one of mine too. Olga and I had a follow-up conversation via Skype, and she took the time to talk to me about her creative work with Narativ, and she was gracious enough to introduce me to Jerome. Jerome exchanged emails and then began speaking and figuring out how we could work together. What I should share is that before I met Jerome, I was looking for folks to collaborate with where I could do my best work, grow as a storyteller and bring the most value to clients. I was seeking to work with people who shared my values and had complementary styles. We'll talk more about all the elements that go into finding those kinds of relationships.
Jerome: Timing is so important. The stories I would've told two years ago would have been different than the stories I told for this interview. However there is a lot more focus on engagement at Narativ. It is such a conundrum for so many organizations to engage people at work. It has so many ramifications around retention and attraction and recruitment and managing people, etc.
You just said the same thing, Jules. I think it's interesting because when you and I met, we had just come from working with a company, working with them to coach people on telling stories that could be used to help train new hires. Given where you were coming from, Jules, the timing was great, because your insights on knowledge transfer, human resources and areas related to these fields was hugely valuable to us, and it continues to be.
So when you reached out Jules, I didn't think "Oh, Jules does things that are too close to what we do. Maybe we're more competitors than collaborators and who knows how we're going to be able to collaborate." There are a few reasons why that wasn't the case. First of all, the way that she came to us was through a trusted source. It also put me on to the NSN, which I hadn't really had any direct experience with. I was interested in learning more about that. And then the third
thing, probably the most important, was that there was something that we both saw and that we were both aligned on.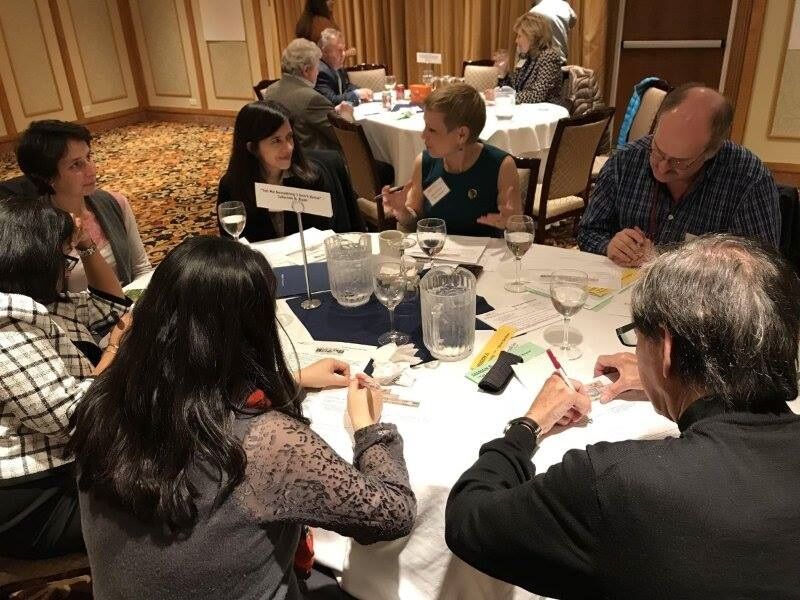 And that's who you are as a person, Jules. You know, that's what you want. You're building those relationships. And for me, we had made a strategic decision that we were only going to thrive through partnerships and collaboration. But we can't just partner with anyone. It has to be someone with whom there is a connection and a fit in terms of our business objectives and our clients.
Jerome: I'll just add one more thing about Jules. She was willing to sit down and listen as a learner — because we have a particular method that we deliver in our trainings. It's a method that's been there since the mid-1990s and was turned into the book Powered By Storytelling. She was willing to go through the steps of reading the book, learning the methodology, and collaborating on delivering a training under the Narativ name. As a result, I felt like this was someone I could trust. I trust Jules' expertise and experience in this field. Now we enjoy finding and working with clients we can collaborate with.
I should also say that the way we find facilitators and people to collaborate with at Narativ is not through promotion, but attraction. Jules was attracted to us because of mutual connections. All of our facilitators came to us in this way. That's really important because it means that they first saw something for themselves that wasn't part of a job offering. That connects all of our facilitators more than background, expertise and experience.
Jerome: Essentially, this is what we sell to the world. A method that you can use for yourself first and then apply to various fields and to your communications with other people. We really welcome those kinds of partnerships where people bring their own ideas, their own networks. We never say to anyone "you can only work with this set of clients", but we're very open to what people have to say and who they want to work with and what they can bring to the table. I think that's what's made a lot of our success: an openness to others' experiences. There's a risk to that. Not every partnership works, but on the whole, we've been able to see more positive results through partnerships than the opposite. Kathy, you were saying to us that maybe people think that if we're all doing storytelling, then we're all competitors or we're taking business away from each other. I totally get that because it goes through my mind all the time. I do think that it's worth going past that because the rewards are really great. We've grown — thanks to that world view. I don't think Narativ would be a 20-year-old company at this point without that kind of philosophy. For us it's about bringing people in and learning from them and putting yourself in a position of a learner as opposed to "my way or the highway"
Jules: Well, the words I wrote down as I was prepping and thinking about it, Jerome, is…it's the values that make a difference. It's all the words you see on walls and corporations. But seeing it in play is a big help in important ways like the sharing of materials, the investment of time.
One of the words that came up during one of my first in-person conversations in Brooklyn was "intention" and how the group uses it to prepare themselves for listening and being present. Part of me (the questioning Queens Girl side of me) was thinking, "hmm everyone has to share, but how does it play out when you have a large group meeting with your clients?
But then I thought about it some more and realized most of us go into a situation with an intention or a ready-made prescriptive action. It's a challenge to take a step back and really listen and then say, "Where's the opportunity?"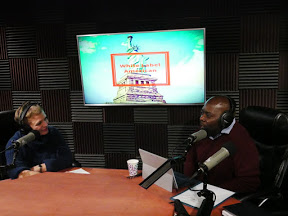 You know, sharing, sharing work is an opportunity. We can do more interesting work and allow us to stretch and develop our skills. So I think taking some chances can be good. And Jerome, going back to something you said earlier when we talked about organizations, I spent a lot of time working on challenging situations and it never fails to amaze me how stories can really make a difference. We have the benefit of knowledge transfer, and we can de-escalate conflicts. We live in a culture where a lot of time and money is wasted on lawyer's fees. If we took a moment to pick up the phone and spend time listening to another person and not our internal scripts, change can happen.
Jules: We all have assumptions in our heads. So I think this storytelling work brings the most value when it helps interrupt our thought processes. It really helps us listen to ourselves and others in a different way. It takes time, but if we are patient, we can build trust. And I think it's important to share that we can't always change each other's mind or our relationship, but at least we have context and we can use that information to inform our conversations going forward. And I think that allows us to take a big step towards building a healthier work environment.
And Jerome, you talk about people leaving, I used to have to provide simple statistics about why employees were leaving, and when employees respond to a survey they'll provide very standard answers like "it was more money" "a job that allowed for more growth." But when you sit down and you start to listen to people, many times the real reason they were leaving was "that they weren't heard" and "their skills and efforts weren't appreciated." Those are the two reasons many will take another job offer and then walk out the door. Somebody else had listened to them.
Kathy: Jules, you've touched on a little bit of your early life, but could you tell us more about it?
Jules: So as I said, I was born in Brooklyn and I was there for like a New York minute and then raised in Queens. Strict family. I am one of two kids. My older brother and I went to Catholic school, went to a Catholic high school and then went to Manhattan College in Riverdale, New York which was a fancy name for our West Bronx neighborhood. I studied psychology and urban studies. I always learned the most when professors shared personal stories or true case studies. When I wasn't studying, I was always reading biographies and was always curious to learn what informed people's experiences. When I was in high school and college, I was always interested in knowing students who came from other parts of the world or had different cultural backgrounds. I learned a lot about them when we sat down at lunch tables or kitchen tables to share a meal.
I also like podcasts. They are a great way to connect with people. I've been on a number of podcasts recently talking about communication challenges, building human connections and how we have more, more in common than we realize.
The same thing happened with how I started to learn and appreciate Narativ's story methodology. I learned it and I questioned some parts of it. Ironically, it wasn't until I went back and listened to a recording of a humorous presentation about communication challenges that I had given two years ago, that I realized how my perspective aligned with Narativ's.
I think it's a gift when somebody shares a story with us. When we present this work, we have to be vulnerable ourselves because we're sharing our mistakes. We're meeting with our group or individuals and sharing a personal piece of us right out of the starting blocks, not after multiple meetings or business lunches. When I walk into a room to present or facilitate my choice to display my vulnerability and authenticity is what contributes to the group's dynamic and enable me to establish a level of rapport and trust in a short period.
Jules: It's like when Jerome described the engineers at Twitter. The quiet engineer opened and shared and that changed everything. You're receiving a gift when someone shares something they never did before. You can't put a price tag on that experience.
Those experiences change the group dynamics. You talked about measuring outcomes before, and I take informal measurements regarding what's happening in the group. For example, when the sessions break up, are the participants lingering in the room, the hallway and the parking lot?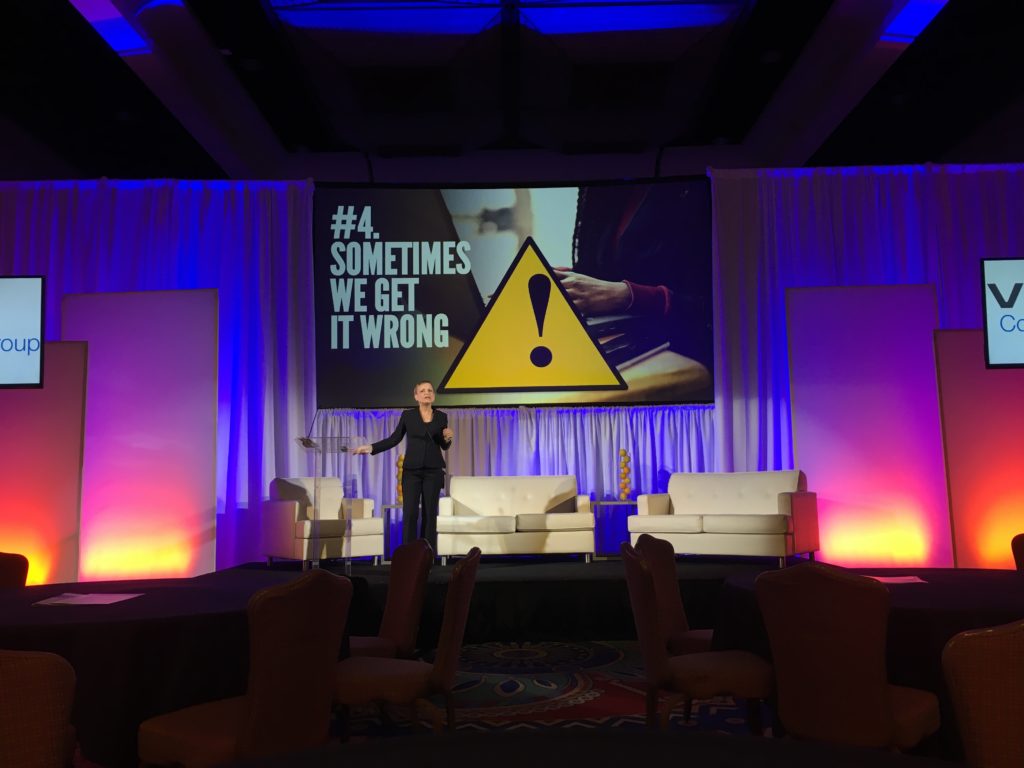 Do they let you or their HR person know that they continued to talk or connect afterwards? Because when I am presenting, I'm glad when they're enjoying the session, but I am interested in what's going to happen when they leave the room. What do we want to happen? Do we want them to use the experiences and pick up the phone? Given that people are operating in virtual environments most of the time it's important to establish trust and relationships. The other thing
that comes from this process is that people are more likely to share what's not going right, so you get a chance to do something about it before all heck breaks loose. I knew I was doing something right when employees of all levels would voluntarily show up in my office to confess a misstep or to get my input before things really went south. And now that I look back and I realized, that it was pretty amazing that those soft skills of listening, curiosity, and humor really made a difference.
Jerome: Jules came in and we had a first meeting about a year ago. I remember that meeting here at our office in Brooklyn. There was a quality of listening that was palpable. In other words, we were truly listening to each other. I know that because it generated thoughts and language that I had never formulated before. I think this is what we have in common: an ability to create a space for people to be listened to.
We also have a willingness to tell stories that show the vulnerability of being human. We tell stories about our ups and downs, just like I've done in this interview when I talked about how I wasn't finding jobs and had to take an unpaid internship after a career in finance. Not easy to tell that kind of story. But we do it because what connects us is vulnerability. It's the ups and downs.
If I just told you how great Narativ was and how I just went from going to business school to a career in finance to now being CEO of this company, it wouldn't be very interesting or engaging.
The leaders that fail are the ones who aren't willing to show that kind of vulnerability, who aren't willing to tell their full story and to be authentic and genuine. Not for the purpose of just sharing their deepest, darkest secret, but for the purpose of relating to a topic at hand, which is about the vision and the mission of the company and why their company is worth working for. They have to be willing to tell the story of how it actually happened, not the sugarcoated embellishment that we see in brochures, which nobody really trusts anyhow.
Don't be afraid of going into those moments that were uncomfortable for you. And then don't leave us in a tough moment. Tell us about how you got through that.
Jules: One of the things I think always resonates and that's why I thought it was such a special gift this year was the fact that our keyword around the work we're doing is as an association around "empathy". And that is something that drove Jerome and I to talk a lot about it and I also believe that the right stories show up at the right time. It's just like what the storyteller that Karen Dietz used in her interview with NSN in January. And it's true, when we are really listening, we can listening in new ways for the unexpected. And people show up, they talk about their pain, they talk about what they love to celebrate, what they're proud of. And sometimes they end up talking about things they didn't even know they had. Most of the time "it's hiding in plain sight" one of my favorite expressions. Our work helps them to appreciate themselves.
And it was a gift I got when I was told the storytelling was important and to do it, and not to dismiss it. And then when I embraced it, I was able to do the same for others. And we're learning. That's the other thing. We're constantly learning ourselves. Each relationship with the client is a new experience and I take away more than I can believe sometimes.
Jerome: Couldn't agree more. Kathy, I want to acknowledge you as a listener because it's really been great to be able to reflect back on experiences that I've had and to listen to Jules and I feel like you gave us a space to do that.
Kathy: I appreciate that, Jerome. It's been my pleasure. And it's been my privilege to get to interview so many talented and thoughtful storytellers in our Story Now! Interview Series. You and Jules have no idea how many times I was shouting (in my head) yes! yes! yes!! every time one of you said something which I could totally relate to. Given my own business storytelling background, I understood 100% of both your stories and where you were coming from. There's no doubt in my mind that the folks who have read this interview have been as inspired by your stories as I have. Thank you guys from the bottom of my heart!!!
CONTACT INFO: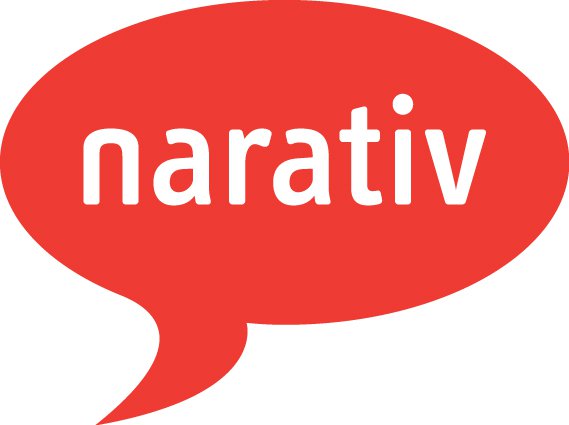 Narativ
Website: www.narativ.com
Instagram: @narativ
Twitter: @narativ
Facebook: facebook.com/narativ
Linkedin: linkedin.com/company/narativ-inc
Jerome Deroy
Twitter: @jeromederoy
LinkedIn: linkedin.com/in/jeromederoy
Facebook: facebook.com/jeromederoy
Julienne "Jules" Ryan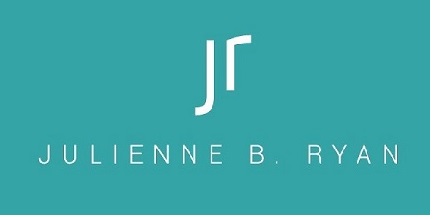 Click here for Jules' bio
Click here for Jules' speaker info
J Ryan Partners, Be engaged at work
Coach/Trainer/Facilitator/Speaker
Phone: (914) 310-1638
Email:
LinkedIn: http://www.linkedin.com/in/julienneryan
Website: www.jryanpartners.com/wp/
Facebook: https://www.facebook.com/beengagedatwork/
NSN loves publishing items submitted by the storytelling community! If you're interested in writing something for publication on the NSN website, newsletter, or Storytelling Magazine please contact the NSN office for more information.
Contact the National Storytelling Network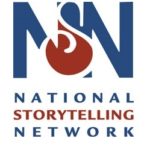 c/o Woodneath Library
8900 N.E. Flintlock Road
Kansas City, MO 64157
Telephone: (800) 525-4514
Website: https://storynet.org
Email:
Find us on social media!
Facebook: https://www.facebook.com/National-Storytelling-Network-217381542906/
Twitter: https://twitter.com/NSNStorytellers
Instagram: https://www.instagram.com/nationalstorytellingnetwork
YouTube: https://www.youtube.com/channel/UCBedmDdaRi9N-4Hs-QeYNqw