At the National Storytelling Network, our mission is to advance all forms of storytelling within the community through promotion, advocacy, and education.
STORY NOW! Interview Series
The theme of our 2019 annual conference was Story Now!
Now! From the boardroom to the classroom, and the page to the stage, personal stories and folktales are catalysts for change in every aspect of our lives.
Now! We are witnessing the power of stories to tear down the walls that divide us, build bridges between people and cultures, and connect us, human-to-human.
In this interview series, we'll talk to storytellers who exemplify this Story Now! movement.
Each month we'll sit down with an NSN member or member organization, from around the globe, and go behind the scenes to explore how they are personally harnessing the power of storytelling to tear down walls, to be a catalyst for change and connect us human-to-human. Through one-on-one, in-depth conversations, we'll discover the type of storytelling they do, how they do it, who their audience is and, most important, they'll give examples of the real world, tangible results they get.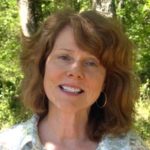 Kathy Greenamyre is NSN's Community Relations Manager. She will be conducting interviews and contributing content each month for our Story Now! Interview Series. Kathy is the owner of a video production company. She's interviewed hundreds of people over the past 12+ years. Her passion is to discover the world (and maybe even learn how to fix it) through listening to, recording and spreading personal stories.
---
Jackie & Papa Wright, Jr. – The "Wright" Entertainment (for children!) – St. Louis, Missouri
Kathy Greenamyre: Jackie, you were a Special Ed teacher for 32 years and started storytelling to teach and reach this population of young children. You started a drama program. Tell us about your very successful program and the years you spent with these kids.
Jackie Wright: My last 18 years of teaching were spent at North Technical High School in Florissant, MO. In 1999 I started a drama program for students with learning disabilities. It had to be called Modified Drama to distinguish it from the general ed drama program. The students in my drama classes were juniors and seniors. The program focused on three disciplines: puppetry, theater, and storytelling.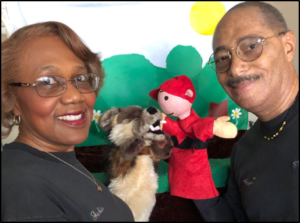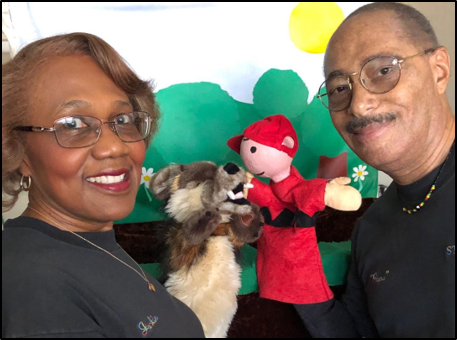 Our school had a Child Care program, so we had a built-in audience of little ones. We also walked to the special ed elementary school next door and to an elementary school two blocks down the street to perform our puppetry and storytelling. When my classes performed their annual play, their high school peers were their audience. Even though there was no budget, stage, supplies, or equipment, Modified Drama I and II were very successful. Working at a tech school helped. Every department pitched in if we needed them. One year our play had two female characters and I had a class full of boys. Cosmetology provided the wigs. The students not only had to learn puppets plays, scripts, and stories; but they also had to create all their props, scenery, and puppets. Many of them used puppets with their storytelling as well as for behind the stage puppet shows. My students listened to cassette tapes of various storytellers; but every May, I took them on a field trip to the St. Louis Storytelling Festival to give them the live experience of listening to many different types of stories from many different tellers.
The Modified Drama program was very popular. My very first class was written up in the school district's newsletter saying, "North Tech students used storytelling techniques they learned in class to entertain two first grade classes at nearby Robinwood School. They dazzled the youngsters by using sound effects, props and character voices." Several years later, President George W. Bush signed the No Child Left Behind Act into law in January of 2002. Only "highly qualified teachers" could teach a subject in order for schools to receive federal funding. My drama program was successful and well-received, but I was not certified to teach Drama. So, by 2004, the school district cancelled Modified Drama. The entire school was disappointed.
KG: Describe a success story that resulted from your Drama Program.
JW: Out of those five years of modified drama classes, I saw a lot of potential storytellers. Each year, my students participated on the Ruthilde Kronberg Youth Concert at the St. Louis Storytelling Festival. One of my students is still telling. He was in my class when he was a junior. His senior year, he needed an elective, so he came back to my class as a student assistant. He just couldn't stay away. I told him about our local storytelling guilds and his parents would bring him to meetings.
Now as a 35 year of man, he continues to come to guild meetings on his own. I continue to mentor him. He told me that storytelling gives him an outlet for his creativity, and with my help, he can focus on his creativity as it relates to storytelling. He is a volunteer for the St. Louis Storytelling Festival, and he has performed on the festival with New Voices.
KG: You mentioned that one of the biggest benefits that storytelling gave the kids was "confidence." Explain some of the ways you saw this confidence manifest itself in the kids' lives.
JW: The students who took my class were able to verbalize more, stay on target with conversations, and look people in the eye while talking to them. They expressed that they felt more comfortable talking to a group, talking in a group, and talking in a group where the people are strangers to them.
They developed pride because they knew that they learned a story thoroughly enough to tell to others, plus they knew that they could put together puppet shows and plays that others enjoyed and appreciated. I saw their sense of self-worth increase. They walked the halls of the school with their heads held high.
KG: Your program was so popular that you had people without disabilities ask to join. What do you think attracted others to your program?
JW: Seeing my students perform, seeing the fun they were having, and seeing the attention they received from fellow classmates was probably what attracted the other students to my program. However, general education students could not take my class.
KG: After you retired from teaching, you and your husband, Papa, started a company called, Wright Entertainment. What's your company's origin story?
JW: Actually, we were in the business of children's entertainment long before I retired. "Papa" was already doing percussion workshops. He hired someone else to work with him with the puppetry during the school year when I wasn't available. After I became a storyteller, we realized we had three distinct programs to offer: "Children's Percussion Workshop", "Story Time Puppets", and "Tales Told the "Wright" Way". So, we decided to put them all under one umbrella and really build a company called The "Wright" Entertainment. Clients hire us for either program and sometimes for a little bit of each.
KG: Who do you and Papa serve? And in what type of venues? For example, I know that you've been working in the St. Louis libraries for over 20 years.
JW: Our target audience is mainly children, although we tell to adults as well. Yes, we have worked with St. Louis City and County Libraries, as well as other libraries all over Missouri and Illinois. Other venues include public and private elementary schools; the Goddard Schools; the Hope Montessori Schools; the St. Louis Art Museum; Cerebral Palsy of Southwestern Illinois; Griot Museum of Black History; Housing Authority of St. Louis County, Family Investment Center; Children's Hope International Adoption Agency; Puppetry Arts Institute; Salvation Army Family Haven; Annie Malone Children's Home; Sickle Cell Disease Community Advocates, Inc.; The St. Louis African Arts Festival, and St. Louis Children's Hospital.
We've been featured tellers at the By Word of Mouth Storytelling Festival, the Missouri River Storytelling Festival, the Kansas City Storytelling Celebration, the Mid-Missouri Storytelling Festival, the St. Louis Storytelling Festival, and various other festivals throughout Missouri and Illinois. In 2015, "Papa" and I had the pleasure of telling on the Showcase Concert with other South-Central Regional tellers at the first NSN Conference held in our new home, Kansas City.
KG: Papa, you are the other half of Wright Entertainment. Your entire career has been as a performing artist. You're a Professional Percussionist and Puppeteer and have quite a long resume of accomplishments. Tell us about your talents and skills, and some of the prestigious organizations (like the St. Louis Conservatory) you've worked with.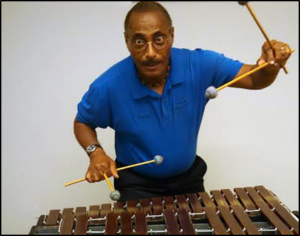 Papa Wright: As a professional percussionist, I play marimba, vibraphone, drum set, piano, mbira, Karimba, and at least 100 other percussion instruments. I taught percussion at the St. Louis Conservatory and School for the Arts, as well as St. Louis Community College's Applied Music students. I'm part of "The Storytelling Trio", which consists of storyteller Kathy Schottel on guitar, storyteller Ric Vice on bass, and me on marimba. We play at St. Louis Storytelling Festival fundraising events providing easy listening/background music to set the atmosphere.
I'm a teaching artist with Springboard to Learning, an affiliate of the national Young Audiences Arts for Learning Network and the St. Louis region's largest provider of in-school arts and cultural integration and enrichment programs. My program is called "The "Wright" Rhythms for Small Hands". I teach students about percussion instruments that are used for rhythm, melody, and sound effects. I was honored by Springboard with their Luminary Award for my many years of inspiring teachers and children with my percussion workshops and residencies in St. Louis Schools. I also received the Progressive Youth Connection's World of Children Award for my work with children through Young Audiences of St. Louis. Both Jackie and I were featured in the January 2018 issue of St. Louis Magazine for our storytelling, puppetry, and music.
As a professional puppeteer, Jackie and I perform 100-125 puppet shows a year. I was the President of the Puppet Guild of Greater St. Louis from 2005-2015. Our "Story Time Puppets" have appeared several times on the local television show, "Show Me St. Louis". All shows are live and interactive. I do all the voices for each character. Jackie and I have adapted familiar children's stories and turned them into puppet shows. Several of our shows are original stories.
We are members of Puppeteers of America and have performed at their regional festivals, as well as at the Puppetry Arts Institute in Independence, MO.
KG: Papa, how does what you do help to bring Jackie's stories to life?
PW: Some people might think I just do sound effects, but I really don't. Using various percussion instruments, I set the mood for the story. I build up tension, suspense, or excitement. Then, if needed, throw in a sound effect like wind or rain. We try to paint a picture with the words and the sounds. It's like I'm doing a slow dance or moving like Kungfu as I flow from one instrument to another. I dress in a white tuxedo shirt, black vest, and a black bow tie. I want to be recognized as a classical percussionist.
KG: You and Jackie are so popular in the St. Louis area that you have a following — families that follow you around to libraries and other venues. What do you hear from parents and how your program has impacted their children?
PW: All of our programs involve audience participation. Parents have said that they noticed how we held their child's attention and how well their younger children sat through the entire program. Others have indicated that their child never participates in activities because they are shy. After they see how much fun everyone else is having, they are eager to speak up and interact.
KG: You've written original music and have authored books. Tell us about some of your work. Seems like you've had a lot of success. What do you attribute that success to?
PW: My jazz percussion ensemble, "Rhythms in Motion" recorded original music on a CD co-produced with the Black Music Society of Missouri. I recently recorded a CD called Kuvuka, which in Swahili means "crossing, surpass, transcend". It is improvised music with me on drum set and Greg Mills on piano. Jackie and I published a story-coloring book, The Three Pigs of Piggyville, which is based on our puppet show of the same name. It is available for purchase
after we perform the puppet show. Jackie also edited A Pot of Mitzvot-18 Jewish Folktales, written by storyteller Diann Joy Bank. I attribute my success to talent and hard work.
KG: Any tips for other storytellers who'd like to break into a business like yours working with kids?
PW: The best advice I can give is to be original, be prepared, and build relationships with your clients.
KG: How do you market yourselves / your business?
JW: In the early years of our business, we passed out business cards and made brochures and mailed them out to area daycare centers, summer camps, etc. We also did Missouri and Illinois library showcases. It wasn't long before our clients began referring us to their friends and other organizations. We have built a relationship with a number of organizations who continue to hire us year after year. We don't have to call them, they call us. Some business relationships have lasted for as long as 25 years and counting. We set up a website a few years ago; however, most of our business is repeat business and by word of mouth.
KG: What's next for Wright Entertainment? Future plans?
JW: Papa is studying ventriloquism to add to his puppetry skills. He has just finished writing 20 children's songs. Storyteller Carol Watkins is writing the lyrics. I have been taking guitar lessons for the past two years to add to our children's programming. We wrote a story called Reuben, the Jealous Lion, which we are now sending out query letters to publishers. We're also in the process of developing a Dr. Martin Luther King puppet show for next year.
KG: Papa, talk a bit about where you were born and about the family you grew up in. Were there any early influences that might have led you to a career in storytelling?
PW: I was born in St. Louis, the second of seven siblings. When I was young, we didn't have a television, so the only means of entertainment was for us to entertain ourselves. My siblings and I would put on some kind of show every Saturday. I would do puppet shows and charge a penny. Sometimes we would put on talent shows, and I would do stand-up comedy. When we did get a television, I fell in love with "The Howdy Doody Show". Watching cartoons and
listening to the voices of the cartoon characters inspired me. I remember my mother carrying us to the library a lot. That's when I got into books and reading stories. There were no storytellers in my family, and I had no idea that someone could make a career out of telling stories.
As an adult, I met a man named Bert Minkin, who was a storyteller. He asked me to accompany his storytelling with my percussion instruments. That's when I realized you could make money telling stories. After working with Bert, I freelanced with other storytellers, such as Glynis Brooks, Gladys Coggswell, and January Kiefer. Once Jackie became a storyteller, no more freelancing. Jackie and I became a team.
KG: Jackie, same question. Tell us about your upbringing and family. Any storytellers in your family?
JW: I've lived in St. Louis all my life. There were no storytellers in my family. I would hear adult relatives tell personal stories from time to time, but I never thought of storytelling as a vocation. I knew I wanted to be a school teacher since I was in the second grade. So, after graduating high school, I earned a B.A. at Harris Teachers' College in St. Louis and an M.A. at Washington University in St. Louis and started a career as an educator. There were no early storytelling
influences in my life.
I'm a middle child, but I don't have middle child syndrome. I don't try hard to be noticed. In fact, I never thought I would become a storyteller, as shy as I was. A later influence led me to a storytelling career. I attended the By Word of Mouth Storytelling Conference in the summer of 1994 in Hannibal, MO. "Papa" was hired by Gladys Coggswell to do a percussion workshop to show tellers how to incorporate instruments into their storytelling. I was really impressed with
Gladys, the other tellers I met, and the stories I heard. It was a great atmosphere of comradery and fun. I wanted to become part of it, but I didn't think I had the courage to speak in front of an audience of my peers. I was comfortable speaking to a classroom of children. Nonetheless, Gladys encouraged me to try storytelling.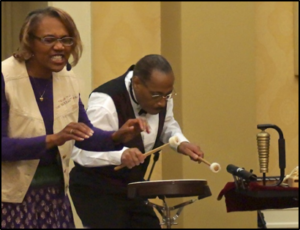 For a year, I did nothing to learn how to become a storyteller. I returned to the festival the next year and met Diann Joy Bank, a St. Louis storyteller who taught a storytelling workshop. So, in the fall of 1995, I signed up for her class. With Gladys's encouragement and Diann's mentorship, I became a storyteller. Now, I'm on the Planning Committee for the St. Louis Storytelling Festival, and I'm the MO State Liaison for the National Storytelling Network!
KG: What originally drew you to join NSN? What have been the benefits of being a member of NSN?
JW: After becoming a member of my local storytelling guild, St. Louis Gateway Storytellers, and my state storytelling organization, Missouri Storytelling, Inc., the next logical step for me was to become a member of the national storytelling organization, NSN. I was eager to connect with other tellers and to see what NSN had to offer.
As a member, I enjoy receiving the magazine and attending the conferences. At the conferences, I look forward to meeting new tellers from across the nation and ocean, sharing in the comradery with old friends, signing up for selected workshops, and networking.
KG: What could NSN provide to help you grow your business?
JW: Just keep doing what you're doing. I have taken information that I've learned in some of the workshops at the annual conferences and applied that new-found knowledge to our business.
KG: Finally, what, in your opinion, can NSN do to grow and spread storytelling throughout this country and the world, to bring about real change — real transformation in the culture? In other words, what, in your opinion, is NSN's superpower, and how could it be better utilized? Love to hear your honest thoughts.
JW: NSN is keeping the oral tradition alive throughout the United States and abroad. It creates a community and opportunities for its members to spread the art of storytelling. You have the special interest groups, the member grants program, the national storytelling conference, and the storytelling magazine. Those are of some of our superpowers. I want to believe that members are using these benefits to grow and spread storytelling and to bring about real change.
I do feel that it would be helpful if members would talk with others about NSN every chance they get to encourage other tellers and story listeners to support NSN by joining. Part of my job as Missouri State Liaison is to tell people about the benefits of NSN in hopes of them becoming members and to remind current members to renew their membership. It would be fantastic if the entire membership did the same thing.
​
​​To contact and follow Jackie & Papa:
Jackie & Papa Wright, Jr. – The "Wright" Entertainment (for children!)
Website: www.jackieandpapawright.com
Email:
Facebook: Facebook.com/Jackie Wright (Vaughns)
NSN loves publishing items submitted by the storytelling community! If you're interested in writing something for publication on the NSN website, newsletter, or Storytelling Magazine please contact the NSN office for more information.
Contact the National Storytelling Network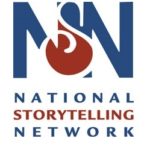 c/o Woodneath Library
8900 N.E. Flintlock Road
Kansas City, MO 64157
Telephone: (800) 525-4514
Website: https://storynet.org
Email:
Find us on social media!
Facebook: https://www.facebook.com/National-Storytelling-Network-217381542906/
Twitter: https://twitter.com/NSNStorytellers
Instagram: https://www.instagram.com/nationalstorytellingnetwork
YouTube: https://www.youtube.com/channel/UCBedmDdaRi9N-4Hs-QeYNqw