The Meaford Independent   October 3, 2018
Written by Bill Monahan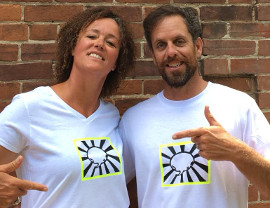 On November 3, the Meaford Culture Foundation will be presenting "an authentic entertainment experience ranging from the heartwarming to the hilarious," with the Georgian Bay Story Slam Grand Finale. It represents the culmination of a series of Story Slams that have been held in small venues around Georgian Bay.
The idea of a Story Slam is that storytellers compete for a prize to see who can tell the best story in a ten-minute space. It must be a true story told without notes, addressed directly to the audience. A panel of judges chooses the winner. The idea was the creation of Meaford resident Diana Young, inspired by poetry slams and Ted Talks. Together with her husband Collin, she organized the series, taking place at Heartwood in Owen Sound and Crow in Collingwood.
"I called it the Georgian Bay Story Slam," she said, "because my hope was to bring it up and down the coast, to be able to move and travel with it and find different arts communities in this area. Our shows have run between Owen Sound and Collingwood but people from all over Simcoe and Grey Counties have become involved."
Diana began to organize Story Slams back in the summer of 2017, and this show brings back the best of the stories told. From an interesting idea, it has grown into a show that is big enough to fill the Opera House at Meaford Hall. Part of that, Diana figures, is because of the times.
"There are some other storytelling festivals this fall," she said. "There's a storytelling festival going on in Collingwood. There's one in Durham. So it really is making a comeback. I think people are just really feeling the need to find this kind of connection. It's a really different thing in this 21st century where people are pretty much tied to their phones 24/7 and it's rare that we actually listen to each other like this."
But still she is surprised at the way it has caught on.
"I did not dream this big when we first started. I thought it would be just a little bit of a thing and it really took off and I started to see the potential that we could even fill a house like that. I got speaking to Joanne Mackenzie and the Meaford Culture Foundation was good enough to come alongside us. I guess they saw the value of it as a contribution to the local arts scene and the art of storytelling, and they decided that they would sponsor that event, so that's how we were able to do it at the hall."
With the Meaford Culture Foundation carrying the costs as part of their contribution to local culture, all proceeds will go to them and be recycled back into new community cultural programs.
This event is billed as the 'Grand Slam', with past winners and fan favourites from the five previous shows. Along with the five winners, there will be stories from three runners-up. The storytellers come from Flesherton, Owen Sound, Meaford, Sauble Beach, and other parts of the counties around Georgian Bay.
Every Story Slam includes musical interludes. Past performers have included Dave Hawkins, Honeymoon Phase, Culture Reject, and Jerome Godboo, among others. This show's musical guests are The Three Silver Hearts. Their unique sound has been described as "slightly dark, edgy and absurd reworkings of tin-pan-alley, blues and country standards, originals and contemporary covers delivered with ferocity and grim glee".
Their recent performance at Meaford's first Home and Home festival was like a round trip ticket to New Orleans, the Ozarks, and the Grand Ole Opry, with a few side trips along the way. They are an offshoot of The Silver Hearts, "a big conglomeration of a dozen or so artists" from Peterborough.
As always, Diana will host the evening, with stories and songs interspersed, and the stories will be judged by a panel that consists of two men and a woman. "Our final judge will be a female presence but for now we have confirmed Jeff Woods and Craig Smith."
Jeff Woods was a well-known rock-jock in Toronto for a number of years, where he interviewed a galaxy of rock who have woven their way into our DNA. He hosts the podcast 'Radios, Records, and Rock Stars', and has published a book of the same name. He has been a judge at past story slams, and gave it a go with his own tale at one of the slams.
Craig Smith is the producer of some of the area's best recent local records: 'Diving In', the great new spiritual-funk album from Jayden Grahlman; last year's 'Through The Tangle of Trees', from Drew McIvor; and 'One More Lumdy Lai', by Jon Zaslow. Craig is also a singer/songwriter and he hosts a Wednesday night open mic at Crow Bar and Variety in Collingwood.
"The final judge will be female, that's all I can confirm," Diana said.
A recurring part of the Story Slams has been the audience jar, where people in the audience can drop their names. When a name is picked at random, that person has a chance to tell a ten-minute story, completely impromptu, that could take home the prize.
That won't be part of this Grand Slam. Instead, Diana explained, "I'm inviting the audience to come up with one-line stories. They'll be given a piece of paper when they first come in the door and get seated and then probably during the first set of music I'll collect these slips of paper. We'll just read these one-line stories between storytellers."
The Grand Finale of the Story Slam provides a unique form of entertainment, where ordinary people share their personal tales. It can be spellbinding, side-splitting, or moving.
"I am extremely grateful for all those who have supported the Story Slam along the way this past year," said Diana. "We live in an area so overflowing with talented people who have shared generously of their gifts, and have had amazing and attentive audiences!"
This show at Meaford Hall is not the end. Diana intends to keep setting up new Story Slams and she encourages anyone who would like to take part to contact her at .