by Charles Temple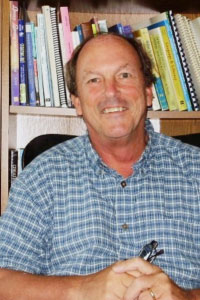 Storytelling can teach by imparting truths. But storytelling can also teach by inviting people to think for themselves and create their own truths.  When people come up with interpretations and support them with reasons, they are doing what is called critical thinking. And when different people work together to create responses to stories, they develop something more—like problem-solving, and respect for diversity, and the habit of cooperation—skills and habits that people who don't live in civil societies too often don't have and wish they did.
Years ago while working in Eastern Europe and Central Asia as a trainer for the Open Society Institute I stumbled the value of storytelling as a tool for sparking discussions and helping people think critically. Our task was to work with teachers who, shortly after the cataclysmic political changes of 1989, wanted to know how to teach students to think in diverse ways and come up with their own answers to questions. I wanted to demonstrate ways of doing that; and soon found that the quickest way to engage listeners in a pithy subject for a discussion was to tell them a story, usually through a translator who would retell the words in the local language, sentence by sentence.  And then everybody would jump in and say what they thought about it.
Fifteen years and forty countries later it has become clear that storytelling is just a wonderful way to provoke discussions that get everybody thinking together—and you don't have to go six thousand miles from home to do that. Here in the US, teachers in 45 states and the District of Columbia are now required by the Common Core Standards to teach the way those Eastern European teachers wanted to: so that students will learn to think deeply about issues they care about, stake out positions on those issues and support them with reasons, often in friendly debates with others. Storytelling is humanity's oldest and most engaging way of putting issues out there for debate. To provoke rich discussions, all you need is to present them in a way that invites questions rather than asserts answers. That, and a few strategies for inviting and hosting discussions.
Some stories pose their own questions. They have questions built right into them. "The Cow Tail Switch," from West Africa, and "The Theft of a Smell," from Peru, are examples. You can have a good discussion of each by asking for predictions about the end, or you can use a fancier strategy such as "Corners" that gives people group support as they think of reasons to back their answers.
Some stories contain moral dilemmas that invite exploration. These stories may not come right out and ask a question, but the questions aren't hard to find. "The Woman of the Sea," from Scotland, and "The King and the Shirt," from Russia, are stories that can invite listeners to voice their own questions. But there are strategies that can deepen the discussion and lead to debate. Some of those strategies are "Shared Inquiry," "Discussion Web," "Academic Controversy," and "Value Line."
And some stories seem straightforward, but can still yield up engaging issues with a little work. "Jack and the Beanstalk," from England; "Hansel and Gretel," from Germany; "The Boy Who Lived With the Bears," from the Seneca Indians of Upstate New York; "The Orphan Boy and the Elk Dogs," from the Blackfoot people of the Northern Plains; and "A Gift of Laurel Blooms," from the Appalachian Mountains in Kentucky, can all inspire interesting thoughts. But sometimes to get at the heart of these stories you need to to twist them around. And sometimes you need to climb inside the skin of the characters and see what they are going through.  Strategies like retelling them by casting people in different roles, or comparing them to other stories, or relating them to life, or dramatizing them can all lead to good discussions.
I look forward to seeing you in Richmond at the National Storytelling Conference this August.
About Charles
As a teacher, author of children's books and textbooks, and leader of workshops for teachers and writers, my work has taken me to more than 30 countries in North America, Central and South America, Europe, the Caucasus, Central and Southeast Asia, and East and West Africa–with support from USAID, the World Bank, UNESCO, CIDA of Canada, the Dutch government, the Open Society Institute, and the International Reading Association. I was born in North Carolina, and lived in South Carolina, Virginia, and Texas before moving to Upstate New York, where I chair the education department at Hobart & William Smith Colleges and have happily taught for thirty years.
Contact Charles
Charles Temple
Education Department
Hobart & William Smith Colleges
Geneva, New York 14456