by Regina Ress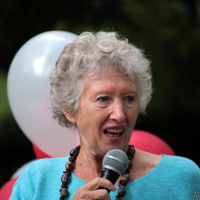 By the age of three or so, most of us can speak our native language. We've learned its basic structure, a lot of the vocabulary, and, remarkably, how to play with it to create fluid sentences. It is not memorized: it is "acquired." How do we do that? The great linguist, Noam Chomsky, has suggested a kind of built in "Black Box"….something inherent in all human beings that fosters this fundamental and oh-so necessary skill. What triggers that first learning? Listening to language. That is why is it so important for babies to be talked to, to be read to, to be told stories!
Because language learning begins with listening and speaking, storytelling is a fabulous tool for teaching language, whether one's first or tenth. Along with telling and listening to the basic narrative, traditional storytelling often has repetition and rhythm, audience participation such as "call and response," audience involvement through making predictions or suggestions during the telling, and often some opportunity for role play. From the original text come fluid telling, extemporaneous responses, and opportunities for linguistic improvisation. Reading and writing can be brought in as extensions, of course; however it is the oral-aural-oral experience which so directly opens the way for linguistic learning.
Besides enhancing the practice of the "four skills" (listening, speaking, reading and writing), storytelling teaches vocabulary, functions (making requests, asking questions, etc), and grammar.
It engages the "whole learner" and the "multiple intelligences." And it is a great way to create community, encourage cross cultural awareness and provide a safe space for personal expression.
I am a big advocate of the use of folk tales. Because they are simple in form while not being simplistic in theme and can be told with simple to complex vocabulary and grammatical structures, they are readily accessible and engaging to all ages and all learning levels. As they come from all cultures and often address shared problems such as dealing with the wily foxes and dangerous crocodiles of life, they are inclusive and can address the students experiences and challenges. The stories and the activities spun from them (including personal stories based on them) definitely help to promote a communicative classroom. And it makes teaching and learning enjoyable.
Join me at the NSN National Storytelling Conference in Kansas City for some language learning pedagogy wrapped in the form of storytelling fun.
Come learn more about this topic at Regina's workshop at the 2016 National Storytelling Conference, July 21-24, in Kansas City, Missouri. www.storynet.org/conference
About Regina
Regina has performed and taught from Brazil to Broadway, from homeless shelters and prisons to Lincoln Center and the White House. She's appeared in national and international storytelling festivals and August 6th will mark her 24th year telling stories in NYC's Central Park.   She teaches storytelling for NYU's Educational Theatre and Multilingual/Multicultural Studies Programs and ESL/Presentation Skills for foreign students at Santa Fe University of Art and Design. Regina produces the long running series Storytelling at the Provincetown Playhouse (NYC) and is the recipient of the 2015 NSN ORACLE Award for Regional Excellence – Mid-Atlantic. Her CD of New York stories won a 2014 Storytelling World Honor award.
Contact Regina
www.reginaress.com
www.facebook.com/ReginaRessStoryteller?ref=hl