by Michael Reno Harrell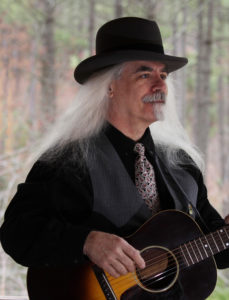 I've been singing songs and telling stories to audiences longer than seems possible; and making a living at it which has at times has seemed impossible. Traveling in these two worlds, music and storytelling, I find little crossover, but many things in common. For one thing, being a performing artist means you're always looking for work. And hopefully, rewarding work, both monetarily and artistically.
In storytelling as in music, festivals are the most lucrative and they get you in front of real fans. By real fans I mean that the audiences at folk music festivals or storytelling festivals are there for one reason, to listen to the performers. Which is unlike being asked to perform in a tent at the county fair on the midway across from the Tilt-A-Whirl.
But, storytelling festivals are often too few and too far between for most fans and tellers. Now, as we all know, storytelling fans are as loyal as White Sox fans. There just aren't enough of them in many areas to fill a festival tent. So, many fans are left with very few opportunities to see professional level storytelling.
Here's where the storytelling world needs to take a tip from the folk music world. The folkies have, for many years, been devotees of the house concert. I have done tons of them and find them to be one of the most rewarding events I'm involved with, both for the audiences and the performer.
There may not be a thousand storytelling fans in your town, but there may be twenty who would love to spend an evening or Sunday afternoon taking part in a pot luck dinner and sitting around in a living room or on a patio and listening to a professional storyteller. And if those twenty storytelling fans had the opportunity to each invite an uninitiated friend to accompany them and discover the art, well that seems feasible. That makes forty listeners.
Now, say these forty folks each give a $15 donation to the artist. That's $600. Now if 25% of those folks buy a CD at $15, that's an additional $150, bringing the take to $750 plus a meal and a room for the night to the artist. I'll come to your house for a deal like that, because it's what's known as that elusive thing we all call the "Win, Win Situation". The artist gets to perform for good pay before an appreciative audience, the audience gets to spend quality time up close and personal with the artist and the art of storytelling gets advanced.
Let's say that several local tellers would like to get some pointers from a teller who is coming to their town to perform at a house concert. Maybe an afternoon workshop could be offered at say $25 per attendee. Say ten tellers came. Now, the teller has $1000 in his or her pocket next morning on the way to where ever and has expanded and solidified their fan base.
Take it from a guy who has reaped the rewards of the house concert in the music world, it will work for storytelling. Try it!
About Michael
Michael Reno Harrell has performed and taught workshops at major folk music and storytelling festivals and venues for over 40 years. He has been a featured teller at the National Storytelling Festival, NSN's National Story Night, Teller In Residence at the International Storytelling Center and will be performing for the Saturday evening Midnight Cabaret at the 2011 National Storytelling Festival. Michael is a published author, has recorded thirteen CD's, two DVD's and performs a one man play. He and his wife, Joan reside in a house owned by two benevolent felines in the mountains of Western North Carolina.
Contact Michael
Website: www.michaelreno.com
Email:
828-438-1927