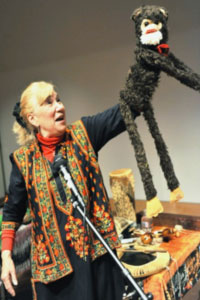 When I first found The Orchard I fell in love with its setting of rolling hills, trees, and artists' sculptures. I knew it would be perfect for storytelling, which I began in 2013 along with my new friend, Bob Reiser. The chickens, the "Square Gazebo" and the Apple Store all attract gatherings of apple pickers, walkers, and talkers. We feel so fortunate to have this beautiful venue atop a hill with a view of the Pioneer Valley's surrounding mountains. You've got to see it to believe it!
The Storytelling in the Orchard Series
The series is supported in part by a grant from the Easthampton Cultural Council, a local agency which is supported by the Massachusetts Cultural Council, a state agency. I am honored to direct this series that is FREE for adults and children. It is held at the Park Hill Orchard, 82 Park Hill Rd, in Easthampton, MA.
I just had a great time sharing Puppets & Sound Stories over Labor Day weekend, where people picked apples and then picked a story from the Story Tree. It's not too late to join the fun though with events in September and October.
Next up is Tim Van Egmond performing "A Harvest of Stories and Hammer Dulcimer Music" on Saturday, September 6 at 4 pm (rain date, September 7). Tim is a multi-talented storyteller, singer and musician who transports people to the wellspring of wisdom, humor, inspiration and renewal found in the traditions of multicultural tales and folk music.He has been selected by the Massachusetts Cultural Council both for its Creative Teaching Partners roster for Residency Programs in schools, and its Touring Program. His engaging warmth and dynamic performance will by turns tickle your ribs, make your spine tingle, and warm your heart in an uplifting experience of enjoyment and enchantment. "Tim is a triple treat. He can sing, he can play a variety of wonderful instruments, and he can tell whopping good tales!" Jane Yolen, renowned author and storyteller.
On Saturday, September 20 at 4 pm (rain date, September 21), Bob Reiser presents "Apple Sauce! Stories for All Ages." Bob is an expansive and joyous storyteller, teacher, and an award-winning author of books for adults and children. Accompanying himself with flute and drum, Bob brings warmth and wit to traditional and original stories. A quote from Pete Seeger says it all, "Bob Reiser is a wonderful storyteller, with tales for every age and temperament. I hope he keeps on for another half century."
Rona Leventhal, will perform "Travelin' Shoes: A Multicultural Storytelling Extravaganza" on Saturday, September 27 at 11 am (rain date, September 28). Rona is an international Storyteller, Improv Theatre and Movement Specialist, Team Building Facilitator and certified Teacher. For twenty-four years she has used her passion for story, teaching, literacy development, movement, spoken word and communications to inspire and help others to free their body/mind, find their own voice and help them in their work and life in a fun, interactive and safe environment. Rona has performed at the National Storytelling conference, at international venues and at local schools and libraries throughout the country.
"Songs and Stories in the Orchard" with John Porcino is on Sunday, October 5at 2 pm (rain date, October 19). John's performances are a mix of stories and songs that come to life with warmth, humor, a playful touch of audience participation, and a twist of music from around the world. His performances are geared to the wit and intellect of each age group: adults, young adults, pre-school, elementary, junior and senior high schools and family audiences.
Our last show for this year will be on Saturday, October 11 at 2 pm – a Story Slam to give everyone the opportunity to tell. To sign up, call Gail Herman at 413-203-5247.
What a treat it is to gather in the apple orchard and share stories during this beautiful time of year. Join us if you can!
About Gail
Creative storyteller and arts consultant, Dr. Gail N. Herman, has performed and taught storytelling in the U.S., Europe, the Caribbean, Ghana, India, and Oman. She taught storytelling for Lesley Univ., UConn, Garrett College and Mount Holyoke College's JTerm. She works with schools to infuse storytelling and the kinesthetic, musical, and visual aspects of learning into language arts, reading, social studies and science.  Gail uses a variety of puppets and musical instruments for sound effects along with mime and Organic Storytelling™. Gail is a member of NSN, LANES, National Association for Gifted Children, National Association for the Education of Young Children and Massachusetts Children's Music Network.
Contact Gail:
www.gailherman.net
413-203-5247 • 301-501-0044 (cell)