Ahval (Turkey)   December 16, 2018
A generation ago, when electricity came to Kurdish villages in Turkey,  storytelling by local bards gradually ended.
However, two and a half years ago, in Diyarbakır, the Amîdart Kültür Sanat Bileşkesi (Amîdart Intersection of Culture and Art) was founded.
Amîdart's slogan is "no place but everywhere." They  tell stories as well as host concerts, folklore nights, workshops, and seminars about art, architecture, music, and more. The name for the organization comes from Diyarbakır's old name, Amîda. Their mission is to make sure Kurdish folklore is never forgotten.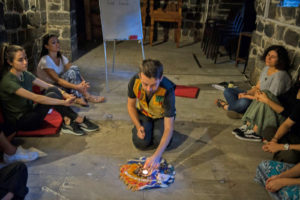 "Folktales are a powerful way to pass traditions along," said Amîdart member Murat. "Remembering the roots of these stories helps to keep society alive. By telling these stories, we form a bond with history—the things that happened, the sadness, and the joy. We build a bridge between the storyteller and the listener."