Folktales from different island of Indonesia; Aceh and Padang from Sumatera Island, Java and Bali. Enjoy the stories, we will take you there.
Ayo Dongeng Indonesia is an organization that initiate the annual "Indonesia International Storytelling Festival" since 2013. It's also have a voluntary based community, with more than 150 storyteller, writer, and support volunteer. Ayo Dongeng Indonesia now gathered Indonesian Storyteller to be part of this NSN's event.
Presented by Ayo Dongeng Indonesia.
http://www.ayodongengindonesia.com
If You Would Like To View This Video You May Purchase Access In The Digital Library. If You Have Already Purchased Access And Are Having Difficulties Viewing The Content, Please Contact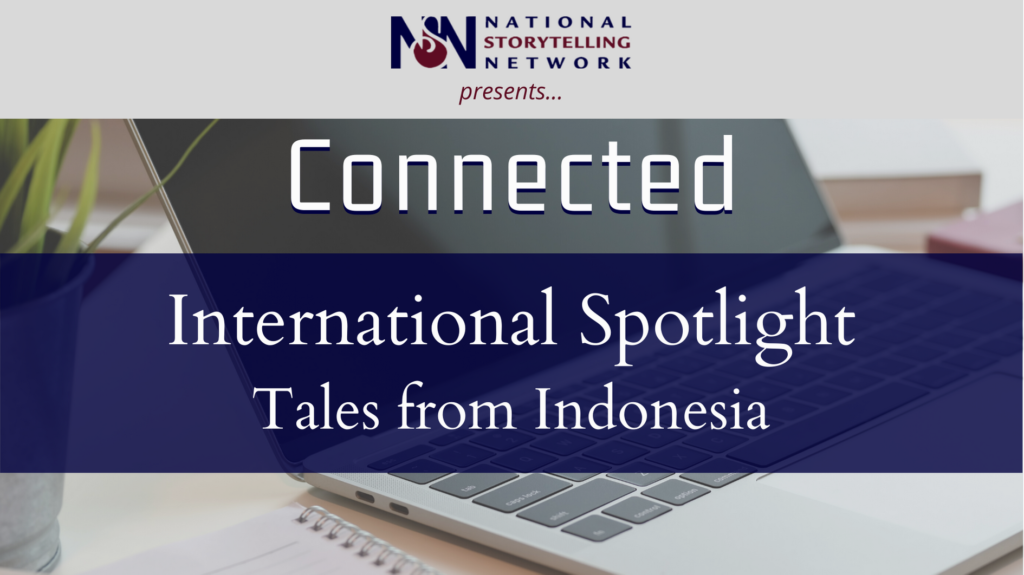 Stories
TBA told by Agus PM Toh
Storyteller and theater artist from Aceh, famous with the unique props when telling stories using used materials. His real name is Agus Nuramal, but he is more famous by the name PM Toh as a storyteller from Aceh. He began telling stories since 1990 with unique objects and combining it Acehnese singing. He tells stories for children and adult in such a beautiful way.
The Minangkabau Coffee told by Bie
Ujang, honest young farmer, worked in a coffee plantation. He got this one thing that he found really hard to resist. Coffee aroma.
A young and talented storyteller, who also happened to be a film maker, Bie from Padang. She will mesmerize us with a story from Padang. Bie likes to tell stories in various media, such as writings, films, and oral storytelling forms. She loves to learn new ways to tell stories too! Her favorite food is tempe.
Full Moon Night's Song told by Ariyo Zidni
Director of the Indonesia International Storytelling Festival, Ariyo Zidni, also known as Kak Aio (Big Brother aio), is a performer, children story writer, storytelling coach, and master softskill trainer using storytelling. He is the co-founder of the Ayo Dongeng Indonesia (Storytelling Community), The Nest (adult storytelling community), Reading Bugs (read aloud group), and FEAST.
Ande-ande Lumut told by Uncle Gery
A journey of a Prince who tried to find, and bring back his beloved wife, The Princess. And old Javanese romantic story.
Started the journey in 1991, being a winner in National Storytelling Competition in Indonesia. Since then, attended to hundreds of storytelling performances (in small and big scale events). A radio dubber and storyteller, and he also write/create stories for radio.
Suwidak Loro told by Rona Mentari
Story of Suwidak Loro with incomparable beauty, with song that praised her beauty. Beauty with sixty strands of hair and two teeth.
Young passionate storyteller from Indonesia. She is known for her unique storytelling performance by using traditional Javanese style and her little guitar. Her vision is to spread the goodness of storytelling in Indonesia and share Indonesian stories to the world. She has been telling stories around Indonesia as well as overseas such as New Zealand, India, Australia, Singapore, and UK.
The Songs to Beg for Rain told by I Made Taro & Gede Tarmada
Story about three singers, a duck, cricket, and farmer, sang their pray for rain in a long dry season.
Father and son, famous duo master storytellers and artist from Bali. Since 1973 started doing storytelling for small children group. The group then called 'Rumah Dongeng' (The House of Tales), developed and changed bigger into 'Sanggar Kukuruyuk'.
Presenters:
Agus PM Toh
Bie
Ariyo Zidni
Uncle Gery
Rona Mentari
I Made Taro & Gede Tarmada