The Taos News   October 11, 2018
By Tempo staff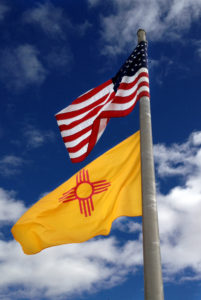 The way a story is told makes all the difference. It can simply entertain or help put a toddler to sleep, but when a story grabs you and pulls you into its world, engrossed in all its drama, comedy or pathos, it's a story well- told.
Stories well-told is what the Taos Storytelling Festival is all about.
For the past 19 years, the Society of the Muse of the Southwest has hosted the festival, an annual mecca for storytellers and lovers of stories of all ages.
This year, the event's theme is "Migration." It will take place Friday and Saturday (Oct. 12-13), first at the SOMOS Salon Space, 108 Civic Plaza Drive, then, for its Grand Finale, at the Taos Community Auditorium at 145 Paseo del Pueblo Norte.
The festival will once again feature national and internationally renown tellers. The 2018 lineup, hosted by director James Navé, includes Minton Sparks, Debra Ehrhardt. Francisco "Cisco" Guevara, as well as regional storytellers competing in a StorySLAM to determine who will be the Taos StorySLAM Champion, 2018.
"The Taos Storytelling Festival has grown into one of the most exciting, sweetest, thought-provoking storytelling festivals in America," an online description reads. "It's exciting because storytelling inspires a spectrum of emotions, which will make you laugh, smile, cry, chuckle, wonder, question, listen, and engage. It's sweet because, when you gather with storytellers and those who love stories, a bright mode of lighthearted communication emerges, generous, open and curious. It's thought-provoking because the stories you'll hear will give you intellectual anchors, such as images, metaphors, lines, narratives, jokes and wisdom, which will inform your thinking for years to come."
For Jan Smith, SOMOS executive director, the festival is a doorway that sets the stage for a vivid experience. "A good storyteller can weave you through the spectrum of emotions and create an image that returns months and years later: a line, metapho, or moral that sticks with us – an intellectual anchor that we can draw upon," she says in a statement. "Being engaged with a fine storyteller is a workout for the soul, a bright mode of communication and connection in this quick throwaway society. SOMOS has created an annual event that provides just this kind of outlet and opportunity."
Navé echoes that sentiment, saying that "storytelling is one of the most influential and important of all art forms open to everyone who wants to participate. All you have to do is tell your story."
Who are the 2018 invited storytellers? Here's a brief rundown quoted from the festival website:
• Minton Sparks is a decorated poet, storyteller, author and playwright. Her spoken word/honky-tonk hybrid performances elicit whoops, hollers and great praise from beer-swilling good ole boys and latte-sipping intellectuals alike. Guitarist John Jackson will join Sparks for the Saturday night Grande Finale. He is a seasoned road warrior who has played with the likes of Bob Dylan, Lucinda Williams, Kathy Mattea, Shelby Lynne and Tom Jones.
Sparks has presented her work at prestigious events, such as the Geraldine R. Dodge Poetry Festival and Berry College's Southern Women Writer's Conference (alongside Maya Angelou and Kaye Gibbons), and has performed in the American Songbook Series at the Lincoln Center, appeared at the venerable Old Town School of Folk Music and graced the stage at the Grand Ole Opry at the Ryman Auditorium. Sparks has been featured on NPR's "All Things Considered," BBC's "Bob Harris Show," and "WoodSong's Old-Time Radio." For more, visit MintonSparks.com
• Debra Ehrhardt is a Los Angeles-based playwright, actor, producer, storyteller and a Kingston, Jamaica native. At the age of 7, Ehrhardt started dreaming of leaving Jamaica and coming to America. During the turbulent 1970s of the Manley Era, Ehrhardt, then 18, decided to pack her bags, say goodbye to her homeland, and immigrate to New York City, where she launched her career as a working actor and storyteller.
Her solo play, "Jamaica Farewell" (touring nationally) is a defining immigration story in which she tells of her long journey into the world of adventure, bravery, foolishness, love, loss, hope and success. Like so many people in our time, Ehrhardt understands, all too well, what it means to search for home. A member of the Writer's Guild of America, Ehrhardt is adapting "Jamaica Farewell" for the big screen. For more, visit JamaicaFarewellthePlay.com.
• Francisco "Cisco" Guevara is considered a local storytelling legend. Owner of Los Rios River Runners, the multigenerational New Mexican will be back for his 15th appearance on the Taos Storytelling Festival stage. Guevara draws his outrageously true stories from his Hispanic and American Indian heritage and from his dynamic experiences as a river guide over the last quarter century. Some say he understands the language of the beaver, the mountain lion and the famous dipper bird that walks under water. Guevara can also tell you which trails renegade bandits followed in1897. For more, visit LosRiosRiverRunners.com.
• Festival Director James Navé is a poet, storyteller, radio-host, presentation coach and creativity consultant. His signature Imaginative Thinking Brainstorm Workshops have helped many people launch successful careers in the creative sectors, such as advertising, design, journalism, writing, publishing, public speaking and numerous entrepreneurial arenas. He is also the host and producer of Twice-5-Miles Radio for Asheville's WPVM 103.7. For more, visit JamesNave.com
The festival offers not only opportunities to listen to great storytelling talent, but also a chance to learn from them in workshops and competitions. For more on the festival, visit taosstorytellingfestival.com. somostaos.org or call SOMOS at (575) 758-0081.