By Anne Shimojima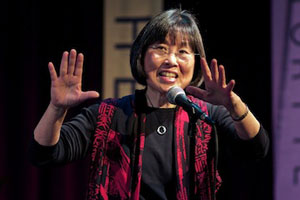 Of all the storytelling projects I've been involved with in the last thirty-plus years, none has been more meaningful, more revealing, or more personally satisfying than the story of my own family's journey from Japan to the United States and their incarceration during World War II. But it was a surprising turn for me, a teller of folk tales who came from a family that never talked about the past.
It all began with the idea to create a family photo book and the surprising discovery that my cousin had photographs and documents from our grandmother that went all the way back to Japan, some over a hundred years old. It was then that I realized it wasn't enough to make a photo book. I had to get the story. I had only one living relative on my father's side who had lived in a camp, my 91-year old aunt, so I broke family tradition and interviewed her. She showed no reluctance talking about what must have been painful memories and she helped me to understand what my grandparents went through as they lost the life they had spent thirty-five years building.
From there the family history project grew into slide shows of our four generations, a DVD, a notebook of historical documents, and three different photo books. But then the biggest surprise of all – I decided to develop a story for performance. I now tell this story with a slide show of photographs from my family and the National Archives because I want you to see the horse stalls, the barracks, and the guard towers. The story has become even more important in our current atmosphere of increased fear and suspicion, and I want people to understand what really happens when people are incarcerated for the crime of looking like the enemy.
Nine years ago I began to give my workshop on creating family history projects. It is not a genealogy workshop. Instead it gives ideas on how to share your own family history discoveries. I give oral history interviewing tips, show how I found historical documents, and demonstrate how I edited photos and created a photo book and video slide shows.
My current workshop is an update of the workshop I presented at the 2008 National Storytelling Conference. Since then I've learned about new technologies, websites, and tools to create a project that your family will treasure and that you can use to create your own story.
Learning from the past helps to ground us in the present and strengthen us for the future. May your family's story be one that gives you insight and meaning in your own life, and may it be a gift for future generations.
About Anne
Anne has been a storyteller for over thirty years, performing at such places as the Smithsonian American Art Museum, the Chicago History Museum, the 1st Asian American Storytelling Festival, the Stories Connect Us All Online Storytelling Festival, the Hans Christian Andersen statue in New York City, and as Teller-in-Residence at the International Storytelling Festival. In 2017 she will be a New Voice at the National Storytelling Festival. Anne delights in performing at schools, museums, libraries, gardens, senior centers, conferences, and anywhere people like to hear a good story.
The story Hidden Memory is available for audio download with a lesson plan and discussion questions at http://racebridgesstudio.com.
Contact Anne
Website: http://anneshimojima.com
Email: