by Mij Byram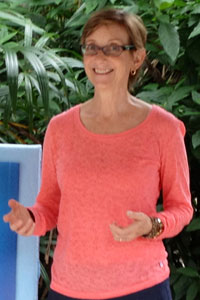 It was the second day of torrential Florida rains. At the Florence Fuller Child Development Center, first and second graders came into the lunch/story room all herky-jerky and bouncy-flouncy after their milk and cookies snack. They were unable to sit or even stand still for more than 3 seconds. The energy was palpable and frenzied. What to do? Let them move. Move in unison. From an array of choices I chose a few yoga moves and a little Qi Gong with some imagery.
I told them I had a scary story for them. They liked that idea. I turned off half the florescent lights and told them the "Twinkies" story. A story about a time when I was 7 and felt invisible and scared and how I used feeling invisible to my advantage, how I overcame fear by facing fear and about how things have changed now that I can look back years later.
The kids of course wanted to know if it was a true story, (it was) and how I could turn invisible. I told them what it felt like. Many kids acknowledged feeling that way themselves. Others wanted to try it.
We all stood, each child directed their eyes to the floor, hands at their side, we slowed our breath, put our focus inward and floated out of the room through the busy office past receptionist and office workers, past administrators and clients and for those few minutes on a rainy day those children knew what it felt like to be invisible. It was not a feeling of helplessness or vulnerability. It was the feeling of a new power, power over ourselves and our environment.
Children need to hear stories not just because storytelling promotes literacy or builds character. Those are indeed benefits, but not the only reason for telling stories to children. The pure pleasure and joy of listening to stories is reason enough.
If story is a seed of creativity and if growing storytellers is what we do, then we need to plant the seed in fresh and fertile soil. Our future healers and heroes, politicians and peddles, warriors and woodcutters, teachers and tricksters, all need stories told eye to eye and heart to heart. And they need them today.
Telling stories to children is no less important, no less challenging or serious, than telling to adults. It is just the opposite. Telling stories to young children is not for the weak or weary, the unskilled, inflexible or undeveloped. Children deserve all the best there is. The same rules apply. Know and respect your audience. Treat them honestly and with integrity, be present, give the best you have to give.
About Mij
Children now in their teens are telling the stories they learned from Miss Mij. She connects with the young listener because she remembers what it's like. If you have ever been young or short, you'll appreciate her point of view. She believes in serious play.
Mij offers workshops, playshops and storytelling programs for children and adults and has published a monthly online newsletter, South Florida Storytelling News, since 2005.
TELLING LITTLE ONES AND I DON'T MEAN LIES is a workshop about knowing and respecting the youngest audiences and connecting with them through play. This workshop will be presented at the NSN National Storytelling Conference, Richmond VA., August 1-4, 2013
Contact Mij
Website: www.Mijbyram.com
Email: