by Mountain Man Bob
Click to Listen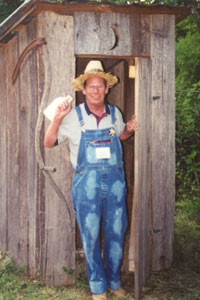 In 1996 I wanted and needed a tall tale story. My vivid imagination went to work and that's how I came up with the idea to grow a big watermelon. This story has been a big hit wherever I tell it.  But one of the best benefits I have received from this story is how to outline a story before I begin writing.  In the unique process that I use I can start at any point in the story and work forward or backward in my outlining process.  I have taught this process in workshops and it has been beneficial to many people in writing a story.
About Mountain Man Bob (Phillips)
Bob is one of the seven founding members of the Jonesborough Storytellers Guild founded in 1994. In 2000 he was selected as one of seven finalists to compete in the National Storytelling Competition held in Hillsboro, Ohio and captured first place.
He lives in a 150 year old log cabin at the foot of the Cherokee National Forest.
Currently he has 3 CD's for sale.
Contact Mountain Man Bob
Email:
Listen to one of his stories at www.storytellersguild.org
Podcast: Play in new window | Download