by Steven Henegar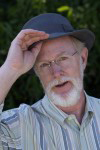 I grew up under the flight path of a large mid-western air base. So, our perpetual neighborhood baseball games were wrapped in the sounds of bombers landing and laced with the shadows of fighter jets that dashed through our back yards. The Cold War was all around us, but the neighborhood kids simply incorporated those intrusions into our play.
Thinking back, I wasn't amazed as much by the lie that was "duck and cover" when you lived a half mile from the air base, as by how kids managed to fit that uncertainty into their everyday lives.
About Steven
Monologist and storyteller, Steven Henegar, celebrates the wonderful variety of stories that we use to share our lives, calling up the everyday and the fantastic to discover those feelings and experiences that connect us all. The twenty-five year veteran performer and workshop leader blends the easy conversation of his family's storytelling with the focused energy and incisive images drawn from a decade in the theater as an actor, writer and director.
He served as artist-in-residence at colleges through the prestigious North Carolina Visiting Artist Program, as well as working with the Washington State, North Carolina Mountain Arts and South Carolina arts-in-education programs.
Contact Steven
Website: www.stevenhenegar.net
Email:
Podcast: Play in new window | Download