told by Kim Weitkamp
Click to listen to story by Kim Weitkamp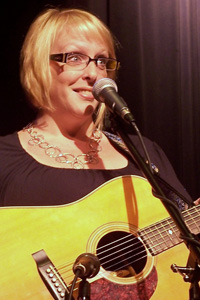 I was commissioned by a museum to write a Christmas story for their gingerbread house exhibit. Fun or what? So, I thought to myself, when I was a kid, what was the thing I loved most about winter? Sledding.  What would be the coolest thing that could happen with my sled? If it could fly. What would be the funniest thing? If people thought it was a UFO. That is how it began and this story and song are the result. When I share this story and song in schools I always allow a question and answer time afterwards because, it never fails, 50 kids throw their hands in the air and ask if it is true.  I tell them what I heard my friend Antonio Rocha say once; it is truly a story. Then I move into a story about Einstein as a young boy and how he made something that seemed impossible, possible. At the end I challenge them to invent and create. It is one of my favorite school programs. Side note. I never cease to be amazed at how many grown men request this story at my shows. I guess there is a little kid in all of us. Merry Christmas – may your holidays and new year be filled with out of this world adventures.
Song:  Let's Go Sledding
About Kim
Kim is a sought after storyteller, humorist and musician sharing her original stories and songs at theaters and festivals throughout the United States.  Kim's many performances include Timpanogos and The National Storytelling Festival, and she most recently completed her holiday tour, "A Not So Silent Night," with Andy Offutt Irwin and Bil Lepp.  Kim's CDs have received two Storytelling World Awards.  Check out Kim's website to see where she's performing next, and definitely make plans to enjoy being with her at the 2013 National Storytelling Conference in Richmond, Virginia, August 1-4.
Contact Kim
Website: www.kimweitkamp.com
Email:
Podcast: Play in new window | Download