By Sara Armstrong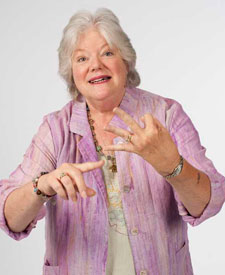 Who are your heroes? Do you consider yourself one? How important is it for children to believe they can perform heroic acts and make a difference in the world? Inspiring stories, short films, and artwork focusing on these ideas and more can be found at the MY HERO Project website.
At a session at the recent NSN conference, I was delighted to share a little bit about the work of the MY HERO Project. For over 16 years, children and adults from around the world have contributed stories, short films, and artwork focusing on heroes and heroism. Available for all to see—and contribute to!—the collections tell amazing stories of people (and animals!) who have done extraordinary things, from simple, meaningful acts of kindness to those who have become martyrs for a cause.
Did you know there are at least 23 kinds of heroes? At MY HERO, you will see and read about heroes who are angels, animals, artists, business people, community members, earthkeepers, explorers, faith heroes, family heroes, freedom heroes, hero's hero, heroes in the news, lifesavers, literary heroes, musicians, peacemakers, poets, scientists, sports heroes, teachers, heroes who are women, writers, and young heroes. In some of my workshops, I challenge participants to write down at least one hero in each of the categories…. Then you can go online and see if others have written about any of your heroes—if not (or even if they have), you can contribute your story and share it with the world. (Go to www.myhero.com. Select the "Content" pull-down menu and choose Stories to see what's there already.)
By the way, all content that is shared on MY HERO is vetted and does not celebrate violence, racism, or any other negative behavior. And if you see a story in which only the first name is given as author, you know it was written by a student. First and last name—an adult is the writer.
In Cincinnati, we heard some talk about digital storytelling—the possibility of including a "strand" in next year's Richmond, VA conference. I know a number of you don't consider digital storytelling "real" storytelling. However, I'd invite you to look at the examples I shared in my session from the MY HERO short film collection, and then I suspect you'll want to explore more on your own. For me, a good digital story involves aspects that enhance the story, rather than take away from its power. One of my favorite MY HERO short films is called "Lunchtime." Go to www.myhero.com; select  the "Content" pull-down menu, and choose Films. Then enter the title in the search box. I think this is a very powerful story, simply and elegantly told. Other favorites include "Cookie Girl in the Hot Zone," Doctor Willie," and "Biblioburro"—although there are many, many stories that will touch your heart. Perhaps you are working on a story of your own that you'd like to submit and share. You'll find instructions on how to do that on the website.
Art celebrating heroes and heroism can also be found through the "Content" tab.
Other features include a section for Educators that includes lesson plans (e.g., how to approach the question of the difference between a hero and a celebrity with students), and a way to gather stories on a topic or from your own school or group in one place for students (and others) to see. A calendar marks birthdays of heroes and other events, with links to stories in the database. And you can download "The Educator's Guide to the MY HERO Project," a free pdf.
There is even a selection of audio files, a Newswire section that includes only the good news that is currently taking place. A section of MY HERO also exists in Spanish: Mi Heroé. By the way, this wonderful non-profit provides all materials on the website at no cost.
Who are the heroes in your life? Do you celebrate them through story, film, or art? Perhaps now is the time—and you can take the opportunity to share your heroes' work with the world through the MY HERO Project website.
About Sara
Sara Armstrong PhD is an educator with 40 years experience. As an independent educational consultant, she now develops curriculum and professional development plans for teachers, speaks at conferences, and conducts workshops on topics that include project-based learning, information literacy, digital storytelling, and integrating technology effectively into the curriculum. She brings story into her work with teachers, and has served for many years on the Bay Area Storytelling Festival Committee. Sara was secretary of the NSN Board, recently completed two terms on the Storytelling Association of California's Board of Directors, and serves on NSN's Awards Committee and the management team for the SIO SIG.
Contact Sara