Told by Joyce Geary
Click to listen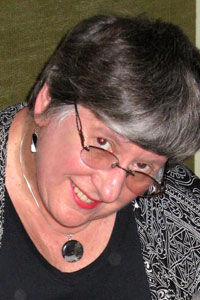 I heard parts of the "Lady Who Wore Red" all my life. My mother and three of her brothers wrote their "memoirs" each focusing on different life events written in  different styles. After reading the four memoirs, I asked if they all lived in the same family! And, of course, they didn't – each had a different perspective because of the family positions they held. Through saving and sharing family stories, I know both my mother and the larger picture of family history better.
I also love family stories, because often, after I tell such a story, people come up to me and apologize for "mentally leaving" when something I said triggered a memory from their own lives. I always tell them that "leaving" validates my story and my goal to have them find their own stories to share.
Telling at the 2012 National Storytelling Conference Showcase in Cincinnati was great even though I later realized that I had left out one of my favorite parts! It was about Mom's studio picture in a "red, itchy dress and REAL girl shoes and socks" when she was four as a "surprise" for my grandmother  – a "surprise" that lasted until Mom returned home from town and blurted out the whole magical day's story!
About Joyce
Joyce Geary is eclectic in her interests and storytelling.  She loves to be with family, travel, read, swim, teach, and hike. She tells whatever brings listeners into the story. That might be a 1st person 1863 teacher at the Ohio Historical Village or Noah's wife telling the family story as she cleans out the ark. Recently it was a potpourri of stories for 6th graders at camp – kids she's shared with for years and watched their love and knowledge of story grow. Joyce has also presented a week long "how to" class in the Cascade Mountains and story time with senior citizen groups.
Contact Joyce
Website: www.socotales.org/
Email:
Podcast: Play in new window | Download