The Mining Journal   October 10, 2018
By Corey Kelly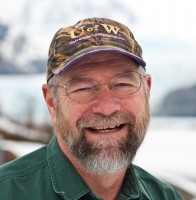 MARQUETTE — Pete Griffin, the Storytelling Ranger, spoke in front of a warm fire to a crowd in the Heritage Room of the Peter White Public Library Monday evening. Griffin told stories about the natural world, and the human one, by incorporating his experiences of growing up in Upper Peninsula and working as a U.S. Forest Service ranger.
Recently, he performed during The Red Jacket Jamboree series at the Calumet Theatre. Even if you've listened to one of Griffin's stories before, each telling is a unique experience.
"My stories change a little bit. I don't memorize them line by line," Griffin said. "I tell folks that hearing an oral story is like seeing a snowflake. A snowflake lands on the back of your hand, the first snowflake of the season, and you look at it and admire, but when it melts, you'll never see that exact snowflake again. That's what oral storytelling is — you'll never hear the stories I did tonight the exact way I told them tonight."
Griffin started his career with the U.S. Forest Service as a wildlife biologist in 1973. He began his storytelling career by accident after he was promoted to district ranger in the Tongass National Forest in Juneau, Alaska. His department started recording short natural history vignettes for radio. Soon enough Griffin was that district's main storyteller.
Now retired from the forest service, Griffin travels around the country as a professional storyteller. With every story, he tells he hopes to educate the audience about the natural world and discuss people's relationship to it, reflect on his past and "look for the humor in those situations."