by Willy Claflin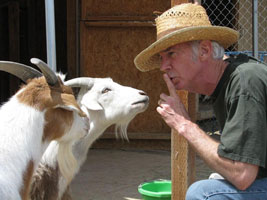 I'm really looking forward to joining all of you at the National Storytelling Conference in Richmond this August 1-4.  Last summer we planted a seed.  A new domain name was registered: The American Storytelling Festival.  A new festival was proposed.  Somewhat tongue in cheek, it promised to be Everything You Ever Wanted.  But now, seriously, I'm asking you to join me and help make it happen!
Whether you are discontented with the limitations of Jonesborough, or simply eager to share your vision of the Perfect Festival, please come to our brainstorming session on Sunday morning, August 4, 9-10:30 am in Richmond, Virginia.  What would you most like to see in a new national festival?  True diversity in tellers, tales, and audience? Epics, slams, traditional stories, monologues?  Workshops on improvisation or "going deep"?  If you could have Anything You Like, what would it be?
This will be a true brainstorming session: any and all ideas are welcome and will be considered and recorded.  Questionnaires will be sent to all participants afterwards, just in case there was something you forgot, or didn't have time to say!
At the end of this time together, you will have the chance to join an active network of tellers in developing themes and programs for the new festival.  Goals and timelines will be established, and next steps identified.  You will have the opportunity to take an active, ongoing role in shaping the festival and help us decide issues like: What kind of festival best suits the storytelling community's needs? What kind of outreach is necessary to recruit tellers from a wide variety of ethnic and cultural groups?  Where should we hold the Festival?  What kinds of venues best support a diversity of tellers and tales?  Shall we incorporate workshops?  How long should the Festival last? Any suggestions, all ideas, every fantasy will be considered.
OK, some of you may be thinking—that's great, but really, how can we organize and pay for all this?  Ah, you're in luck!  For those hardy souls wishing to deal with the nuts and bolts of finance, I'll see you at Ellen Munds' wonderful Friday intensive on fundraising and finance.  Ellen really knows what she's doing, and if you come, well…then, you'll know too!
But no pre$$ure!  Just come share your dreams on Sunday.  Let's do this!
Thank you all for all you do,
Willy Claflin
P.S.  For those of you unable to attend the conference or attending a different session on Sunday, your ideas are welcome also.  Comment here on the blog!
About Willy
Willy Claflin is a one-man festival. Spanning historical sagas, intergalactic yarns, Mother Moose Tales, and counter culture misadventures, he covers the full spectrum of spoken word entertainment.  A headliner and master of ceremonies at the National Storytelling Festival, Willy is a favorite at festivals throughout the U.S. He also has many award-winning recordings and is the co-author (along with Maynard Moose) of three award-winning children's books.  Willy's tribute to Gamble Rogers was a highlight of last year's National Storytelling Conference. Original, traditional, historical, personal, comic—regardless of genre, Willy fits any playbill.
Contact Willy
Website: www.willyclaflin.com
Email: