Isthmus   October 18, 2018
By Catherine Capellaro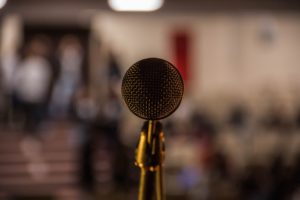 Nestor Gomez says he is the last person you'd expect to see sharing personal stories in front of a large crowd. "I used to stutter badly," says Gomez, one of 10 storytellers who will perform at the annual Moth GrandSLAM Championship on Oct. 19 at the Barrymore Theatre. "My mother used to sell clothing to the neighbors and send me to collect the payment. I used to stand outside the door rehearsing what I was going to say."
But Gomez figured it out — and then some. The Chicago resident has won 35 Moth StorySLAM contests, and is a three-time GrandSLAM winner. The Moth is a national organization based in New York City with dozens of national chapters, including one formed in Madison in 2016. In addition to live events, the group releases a weekly podcast and The Moth Radio Hour, which broadcasts on more than 400 stations. At live events, like the ones that take place the second Monday of each month at the High Noon Saloon, attendees vie for a chance to share a story (under five minutes, no notes allowed) on a theme.
After immigrating to Chicago with his siblings when he was 15, Gomez, who was undocumented, felt held back by his status, his English and his stutter. But he married soon after high school and became a father; he pushed himself to talk to people, hoping to work his way up the corporate ladder at a fast food restaurant. On the side, he wrote poems. One day at a poetry event, he noticed a flier for The Moth. "I remember telling my girlfriend I wanted to try it and she was like 'maybe?' says Gomez. "I almost gave up because I thought people wouldn't understand my English." He told a story that night about coming to the U.S. and hanging out with Mexican kids whose Spanish was very different from his. And he was completely hooked.
Gomez's story, "Undocumented Journey," puts you in the shoes of a terrified 15-year-old, told to keep silent for days as he and his siblings, including an infant, fled the civil war in Guatemala. By the end, the listener experiences the joy of Gomez's reunification with his mother and finally being able to speak.
Gomez says the Trump administration's anti-immigrant policies make it crucial that we understand the impact of policies on the human beings who live and work here. "A lot of people don't have any idea about the immigration experience," says Gomez. "Some people think you just apply for citizenship like you apply for a license. There are so many different levels to the immigration process."
After his success with The Moth, Gomez launched a traveling storytelling show dedicated to immigrant stories, titled 80 Minutes Around the World. The show features a diverse cast with varied experiences. "It has always been important, but it's even more important now to tell the stories of immigrants because the immigrant community is being really attacked," he says.
"I never thought I would be a storyteller," says Gomez, "but it took over my life in a positive way. There were times in my life when I went through really bad times and I thought I would end my life. Now I know we should never give up because we never know what life has waiting for us."