by Elaine Muray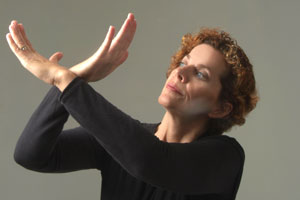 At the end of July, I will have the honor of providing a workshop at the 2014 NSN Conference entitled: The Prism of Performance: Bringing Light and Color to the Stage.  This workshop, designed for all levels of tellers, will help them to learn some staging techniques, tricks, and exercises used by by some of the best stage performers. Ever since I can remember, I have wanted to move…whether it be dancing, cheerleading as a teenager, or my love of performances which use the full scope of the body to communicate intention. My influences primarily come from the stage of physical theater, with my biggest influence coming from Eastern European theater, which use the full palette of tools in their work. Specifically, my biggest influence comes from the Caucuses and the work of Georgian performer/director Paata Tsikurishvili (artistic director of Washington, DC's Synetic Theater), whom I've worked with for over 15 years. Paata's collaborative approach and his insight into how and when to best incorporate physicality, has been one of the greatest gifts I have received as a performer.
If you are looking for new ways to approach your work, the workshop will cover areas not often covered in the storytelling art form. We will cover space, timing, texture, rhythm,  prop management, and much more. This is not a mime workshop, but rather an opportunity to discover how to use your body and the stage in the most efficient way, so as to best move your story forward.  The workshop is designed to work with all levels of physicality as well as experience in storytelling. Time permitting, participants will be able to share snippets from their work, and receive input from the collective experience of some of the best.
I am looking forward to sharing the gifts I have received in my own development as a storyteller. Won't you join me on stage?
About Elaine
Elaine Muray integrates movement and narration to deliver tales from around the world as well as personal stories.  She has performed at the Australian Storytelling Festival, the Northlands Storytelling Conference and the Jemez Storytelling Festival. In 2008 was chosen by her then Pacific peers to perform at the NSN All Regions Concert, representing the 5-state Pacific Region. Elaine has been directed by some of the best in physical theater, including Tony Montanaro and James Donlon.  The majority of her work is a result of over 15 years directing by the director of Washington, DC's Synetic Theater, Paata Tsikurishvili, who hails from the country of Georgia, and whose "mark" can be seen in most of her pieces.
Contact Elaine
Website: www.embodiedvoicestoryarts.com
Email: